SPLS Stock: Is Staples Inc.'s 6.58% Dividend Yield Safe?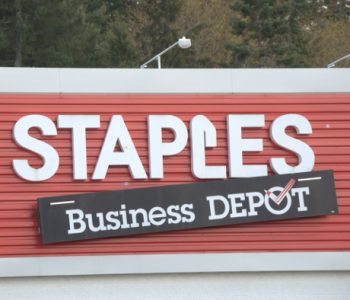 Staples Stock Offers Top Dividend In Retail Space
Staples, Inc. (NASDAQ:SPLS) is one of few specialty retail players offering a high dividend yield. But before you decide to invest in Staples stock, you need to be convinced that this company has the means to survive the onslaught by much bigger online rivals like Amazon.com, Inc. (NASDAQ:AMZN).
The story of SPLS stock is a heart-wrenching one. The brick-and-mortar office supplies chain is struggling to recover from the fallout it faced earlier this year, when regulators blocked its merger with Office Depot Inc (NASDAQ:ODP) on antitrust grounds. Investors punished Staples so badly that SPLS stock plunged about 25% and longtime chief executive officer Ron Sargent resigned. (Source: "Staples' Licensing Push Moves the Company Beyond Office Supplies," Bloomberg, October 19, 2016.)
The Federal Trade Commission killed the deal, fearing that merging the two biggest office supply retailers would hurt customers by reducing the competition. This standoff led the retailers back to square one, where they continued to face a tougher market because of stiff competition as Amazon, Best Buy Co Inc (NYSE:BBY) and Wal-Mart Stores, Inc. (NYSE:WMT) expanded their office supplies offerings. (Source: "Staples and Office Depot to Terminate Merger Agreement," Staples, Inc., May 10, 2016.)
For income investors in SPLS stock, this wasn't good news. Staples stock tumbled this year, losing more than 35%. Despite the turmoil that Staples stock faced, the company promised to defend its dividend.
SPLS stock currently offers a 6.58% dividend yield, one of the best on the street at a time when S&P 500 companies are paying an approximate two-percent yield on average. In its statement on terminating the acquisition of Office Depot, Staples management assured investors that it plans to maintain its $0.12-per-share quarterly dividend and would resume its share buyback plan during the second quarter of 2016. The company expects share repurchases of approximately $100.0 million.  (Source: Ibid.)
So what is the future of this office retailer that is offering one of the top dividend yields in this space? And how long it will take for SPLS stock to recover from the mess created by the foiled acquisition attempt?
If you look at the earnings report of the most recent quarter, you'll see signs that the company's turnaround strategy has started to show some signs of success. Excluding the impact of charges taken during the second quarter of 2016 related to termination of the agreement with Office Depot, the company reported an approximate four-percent increase in its net income to $79.0 million, or $0.12 per diluted share. (Source: "Staples, Inc. Announces Second Quarter 2016 Performance," Business Wire, August 17, 2016.)
The new management, led by Shira Goodman, is trying to reposition Staples for sustainable long-term sales and earnings growth. The first part of this strategy includes licensing its name and acquiring more revenue from business services.
Staples plans to use its well-known brand as having the power to disrupt markets such as online document storage because they are fragmented. Licensing could also push the Staples name into new channels of distribution — rather than just its own stores.
The company is also increasing its offering of products and services beyond office supplies and is pursuing market share gains in core categories like ink, toner, and paper. On the cost-cutting side, Staples is closing down unprofitable stories in North America. By the end of this year, Staples is planning to have closed 50 more stories following its 300 store closures since 2011.
Final Thought on SPLS Stock
I think this is a testing time for investors in Staples stock. Going forward, I see two possibilities for the depressed SPLS stock; either the company's turnaround strategy will work and it will regain its lost grounds in the office supply retailing, or Staples will be acquired by a big company looking to add brick-and-mortar operations to its online business model.
There has been speculation in the market that with Staples stock so depressed, it makes sense for Amazon to buy Staples' network of more than 1,600 giant superstores, which could be utilized to augment its online presence.
I don't think income investors have much to lose from here. From this point forward, it only can be a good news for SPLS stock.