Hess Midstream Stock: 8%-Yielder Raised Dividend & Guidance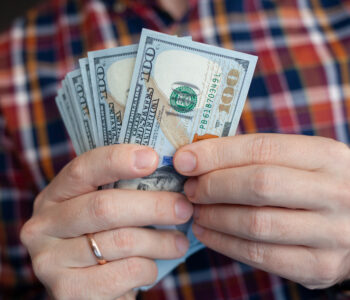 HESM Stock Is Poised to Reward Long-Term Investors
Things are looking up for Hess Midstream LP (NYSE:HESM).
Crude oil prices have been bullish in the second half of 2023 on the heels of record-high demand and production cuts by the Organization of the Petroleum Exporting Countries Plus (OPEC+).
In June, oil was trading near $67.00 per barrel, but by late September, it had rallied to about $95.00 per barrel.
Around that time, JPMorgan Chase & Co (NYSE:JPM) said Brent crude oil could hit $150.00 per barrel by 2026. (Source: "JPMorgan Analyst Sees Energy Supercycle With Oil as High as $150," Oilprice.com, September 22, 2023.)
Since then, oil prices have slipped to about $85.50 per barrel, but the World Bank has warned that major escalations in the Israel-Hamas war could send oil to $157.00 per barrel. (Source: "World Bank: Major Escalation in Israel-Hamas War Could Send Oil Soaring to $157," Oilprice.com, October 30, 2023.)
Whether near-term or long-term, Hess Midstream LP is ready to take advantage of the energy market's strengths, as well as its potential weaknesses and inherent volatility.
Why?
Unlike most energy companies, the partnership is on the receiving end of 85% fixed-fee, revenue-based contracts to gather, process, move, store, and export crude oil and natural gas.
About Hess Midstream LP
Hess Midstream owns, operates, and develops oil, gas, and water midstream assets in the prolific North Dakota Bakken shale region. Hess Midstream provides services to Hess Corp. (NYSE:HES) and a number of third parties globally. (Source: "About Us," Hess Midstream LP, last accessed October 30, 2023.)
As a result, the partnership's bottom line isn't susceptible to fluctuations in oil and gas prices. Hess Midstream is like a tollkeeper that collects money whether its clients use its pipelines or not.
Minimum volume commitments provide the company with downside protection. Its contracts, which are set on a rolling three-year forward basis (send or pay), cannot be adjusted downward once set. Any shortfall payments are made quarterly.
Hess Midstream LP locks its customers in to long-term contracts; its current commercial contracts extend through 2033. In order to achieve contractual returns on its deployed capital, its fees for all future years are set annually in the initial term of the contract. On top of that, the partnership's fees escalate each year based on the Consumer Price Index (CPI).
This provides the company with reliable, growing cash flow, as well as opportunities to expand its business and provide accretive financial gains to buy-and-hold Hess Midstream stockholders.
Acquisition of Hess Corp.
In late October, Chevron Corporation (NYSE:CVX) announced a definitive agreement to acquire Hess Corp. in a deal valued at $53.0 billion. (Source: "Chevron Announces Agreement to Acquire Hess," Chevron Corporation, October 23, 2023.)
This is important news for Hess Midstream LP. That's because Hess Corp. uses Hess Midstream's infrastructure. The big question is: How exactly will the mega-deal affect Hess Midstream?
For now, Hess Midstream's contracts with Hess Corp. are intact through 2033. So far, Chevron hasn't indicated whether it will also purchase Hess Midstream. Chevron has said it's looking to divest itself of $10.0 to $15.0 billion, but it hasn't revealed what that will involve.
Hess Corp. owns 37.8% of Hess Midstream LP, which Chevron Corporation will be acquiring. It would make sense for Chevron to also purchase the remaining stake of Hess Midstream.
After all, Hess Midstream is responsible for supporting Hess Corp.'s crucial operations in the Bakken. Hess Corp. and third-party customers pay Hess Midstream to gather and process their production in the Bakken. As output rises, Hess Midstream generates more money. Snapping up Hess Midstream could give Chevron more control over the Bakken.
There is some precedence. In October 2020, Chevron Corporation acquired Noble Energy Inc. Then, In March 2021, Chevron acquired Noble Midstream Partners LP. Noble Midstream had been supporting Noble Energy Inc in the Permian Basin and the Denver-Julesburg Basin.
Time will tell what Chevron will do. Until then, there's no reason not to take advantage of Hess Midstream's reliable, growing, high-yield dividends.
Hess Midstream LP Reported Great Q3 Results & Raised Guidance
For the third quarter ended September 30, Hess Midstream announced that its net income increased by 3.3% year-over-year to $164.8 million. (Source: "Hess Midstream LP Reports Estimated Results for the Third Quarter of 2023," Hess Midstream LP, October 25, 2023.)
After deductions for noncontrolling interests, the net income attributable to Hess Midstream in the quarter was $35.3 million, or $0.57 per share. That's compared to $0.53 per share in the third quarter of 2022. Meanwhile, the company's net cash from operating activities was $215.5 million.
Hess Midstream's adjusted earnings before income, taxes, depreciation, and amortization (EBITDA) in the third quarter were $271.0 million, up by 6.8% from $253.6 million in the third quarter of 2022.
Its distributable cash flow grew by 4.3% year-over-year in the third quarter to $224.1 million, while its adjusted free cash flow advanced 4.5% year-over-year to $162.7 million.
Commenting on the results, John Gatling, Hess Midstream LP's president and chief operating officer, said, "We delivered another strong quarter driven by increased uptime, continued gas capture, and additional third-party volumes and, as a result, we are raising our operational and financial guidance for the second time this year." (Source: Ibid.)
Thanks to its excellent year-to-date operational performance, Hess Midstream raised its full-year 2023 guidance for gas gathering, gas processing, and crude oil terminal throughput volumes (compared to the midpoint of its prior guidance range).
Hess Midstream LP raised its full-year 2023 financial guidance (compared to the midpoint of its prior guidance range) to the following:
Net income of $615.0 million
Adjusted EBITDA of about $1.0 billion
Distributable cash flow of about $845.0 million
Adjusted free cash flow of about $635.0 million
Hess Midstream Stock's Quarterly Distribution Increased for 3rd Time in 2023
Thanks to its high cash flow generation, Hess Midstream has been able to keep raising its quarterly distributions. HESM stock's reliably growing dividends can help income hogs weather volatile oil and gas prices.
In October, the company declared a quarterly cash distribution of $0.6175 per share, for a yield of 7.96%. (Source: "Distribution Payments," Hess Midstream LP, last accessed October 30, 2023.)
This represents a 2.7% increase over the $0.6011 that Hess Midstream stock paid out in the previous quarter and a 9.7% increase over the $0.5627 it paid out in the same period last year. Hess Midstream has actually raised its distribution almost every quarter since it went public in 2017.
Commenting on the dividend increase, Jonathan Stein, Hess Midstream LP's chief financial officer, said, "We continue to execute a unique and differentiated financial strategy, prioritizing consistent and ongoing return of capital to our shareholders." (Source: "Hess Midstream LP Announces Distribution Per Share Level Increase," Hess Midstream LP, October 23, 2023.)
Stein continued, "[W]e have increased our distribution level for the third time this year, and once again utilized our excess adjusted free cash flow beyond our growing distributions…consistent with our target of at least 5% growth in annual distributions per Class A share through 2025."
He added, "We expect to continue to have more than $1 billion of financial flexibility through 2025 that can be used to support our return of capital framework, including potential additional and ongoing unit repurchases that could support further distribution per share level increases."
HESM Stock Has 29% Upside
As outlined earlier, Hess Midstream LP has been reporting terrific financial results, and it recently increased its full-year financial guidance. This has helped energize Hess Midstream stock's price, which—as of this writing—is up by 4.5% year-to-date and 11.5% year-over-year.
HESM stock is currently trading near $29.50 per share, which is within striking distance of its all-time high of $31.81.
Wall Street expects Hess Midstream stock to surpass that level over the coming quarters. Of the analysts providing a 12-month share-price forecast for Hess Midstream LP, their median estimate is $35.00 and their high estimate is $38.00. This points to potential gains in the range of 18.5% and 29.0%, which would put HESM stock in record-high territory.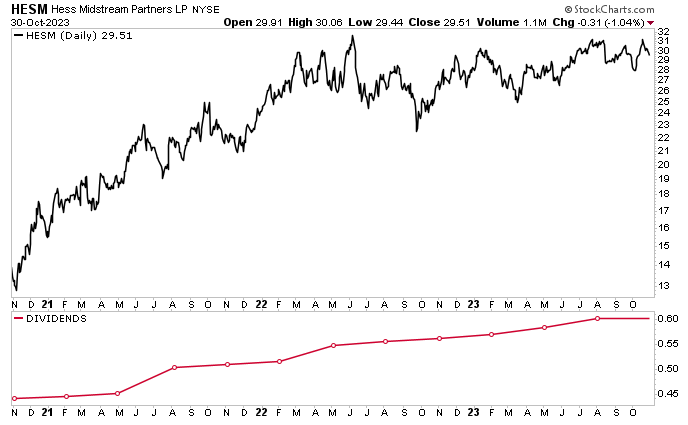 Chart courtesy of StockCharts.com
The Lowdown on Hess Midstream LP
The energy sector was the biggest winner in 2021 and 2022, and it's shaping up to be a big winner in 2023, too.
Hess Midstream LP has been one of the oil and natural gas industry's most successful companies. As noted above, 100% of its fee-based contracts minimize commodity-price exposure, and 85% of its revenues are protected by three-year minimum volume commitments. Moreover, its annual fee increases are based on CPI escalations.
So, it doesn't really matter how the economy does this year or what the price of oil and gas is; the partnership's cash flow is protected and growing.
This helps explain why Hess Midstream LP has been able to increase its EBITDA every year since the company formed in 2015, even during two oil price downturns. It also explains why management has been able to increase Hess Midstream stock's distribution for the last six years (and counting).