Hess Midstream LP: 8.2% Yielder Raises Dividends for 17 Straight Quarters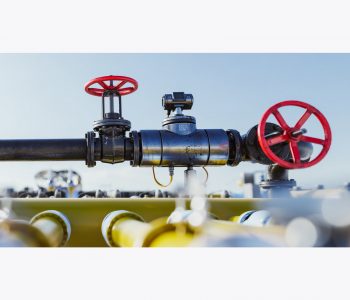 HESM Stock Has Rising Payouts & Bullish Share Price
Income hogs want two things out of their investments: rising share prices and reliable, high-yield dividends. Hess Midstream LP (NYSE:HESM) does just that, and it goes one better: it raises its payout quarter-after-quarter. Hess Midstream stock has done so since it went public in 2017.
So far, HESM stock has raised its quarterly distributions for 17 consecutive quarters. Thanks to its strong free cash flow and dividend coverage of 1.4 times, it appears to have every intention of continuing this growth trajectory. (Source: "Distribution Payments," Hess Midstream LP, last accessed September 1, 2021.)
Most recently, in late July, Hess Midstream announced that its board of directors approved a second-quarter distribution of $0.5042 per share. That represents an 11% increase over the first-quarter 2021 payout of $0.4526 and a 15.6% increase over the second-quarter 2020 payout of $0.436.
While the second-quarter distribution works out to an annual payout of $2.02 per share, that number is always changing. Since its first distribution in the second quarter of 2017, Hess Midstream stock has raised its dividend by 86.5%.
| | |
| --- | --- |
| Quarter | Distribution Per Share |
| Q2 2021 | $0.5042 |
| Q1 2021 | $0.4526 |
| Q4 2020 | $0.4471 |
| Q3 2020 | $0.442 |
| Q2 2020 | $0.436 |
| Q1 2020 | $0.431 |
| Q4 2019 | $0.426 |
| Q3 2019 | $0.4112 |
| Q2 2019 | $0.397 |
| Q1 2019 | $0.3833 |
| Q4 2018 | $0.3701 |
| Q3 2018 | $0.3575 |
| Q2 2018 | $0.3452 |
| Q1 2018 | $0.3333 |
| Q4 2017 | $0.3218 |
| Q3 2017 | $0.3107 |
| Q2 2017 | $0.2703 |
(Source: Ibid.)
The big question is whether HESM stock's distribution is safe. The answer is yes. Hess Midstream LP has said it expects to target annual distribution-per-unit growth of at least five percent through 2023.
In addition to providing income investors with reliable payouts, Hess Midstream stock also provides investors with significant capital appreciation.
Trading near record levels, HESM stock is up by:
20% over the last six months
35% year-to-date
54% year-over-year
400% since bottoming in March 2020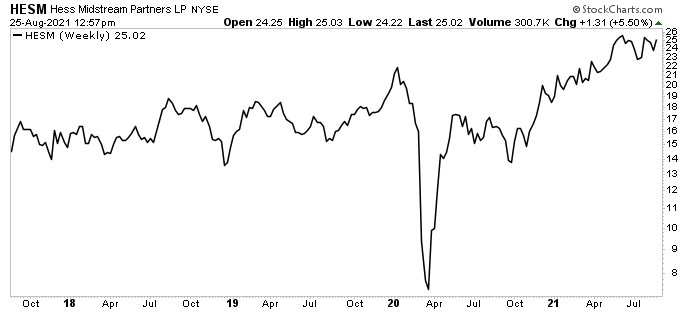 Chart courtesy of StockCharts.com
Why are investors so bullish on Hess Midstream stock?
For one thing, the company has a reliable cash flow. A fee-based midstream energy partnership, Hess Midstream LP owns, operates, develops, and acquires oil, gas, and water midstream assets in the prolific North Dakota Bakken Shale Region. The company provides fee-based services to Hess Corp. (NYSE:HES) and third parties.
Because the partnership signs 100% fee-based contracts to gather, process, move, store, and export crude oil and natural gas, its bottom line isn't as susceptible to fluctuations in commodity prices.
Minimum volume commitments provide Hess Midstream LP with downside protection. Its contracts are set on a rolling three-year forward basis (send or pay). Moreover, the contracts cannot be adjusted downward once set, and any shortfall payments are made quarterly.
The company also locks in its customers to long-term contracts, with commercial contracts extending through 2033. Fees are set annually for all future years in the initial term in order to achieve contractual returns on capital deployed. On top of that, the fees escalate each year at the rate of the Consumer Price Index (CPI).
This provides Hess Midstream LP with a reliable and growing revenue stream and free cash flow.
Great Q2 Results
For the second quarter ended June 30, Hess Midstream announced that its revenue climbed by 9.2% year-over-year to $294.8 million, while its net income increased by 50% year-over-year to $162.0 million, or $0.44 per share. (Source: "Hess Midstream LP Reports Estimated Results For The Second Quarter Of 2021," Hess Midstream LP, July 28., 2021.)
The company's adjusted earnings before interest, taxes, depreciation, and amortization (EBITDA) for the second quarter of 2021 were up by 33% at $230.2 million. Its adjusted free cash flow for the second quarter of 2021 was $162.6 million, more than double the $72.2 million recorded for the same prior-year period.
"Hess Midstream delivered another strong quarter, marked by higher gas capture and lower than expected costs," said John Gatling, president and chief operating officer of Hess Midstream. (Source: Ibid.)
"Looking ahead, we are poised for organic growth and continued adjusted free cash flow…Furthermore, our decision to return capital to shareholders underscores our confidence in Hess Midstream's financial stability and trajectory for future volume growth."
Hess Midstream LP Raises Full-Year Guidance
Following the great year-to-date 2021 results, Hess Midstream revised its full-year guidance. The company now expects to report:
Net income of $590.0 to $610.0 million
Adjusted EBITDA of $880.0 to $900.0 million
Distributable cash flow of $765.0 to $785.0 million
Adjusted free cash flow of $600.0 to $620.0 million
The Lowdown on Hess Midstream Stock
Hess Midstream LP is an excellent oil and gas dividend company.
As mentioned earlier, the partnership has long-term commercial contracts that extend through 2033. For 2021 and 2022, 95% of its revenue is protected by minimum volume commitments. This provides the company with a solid balance sheet and differentiated cash-flow stability.
That's more than enough to allow HESM stock to provide high-yield dividends and raise them quarter-after-quarter.