Hess Midstream LP: 8.4% Dividend & Rising Share Price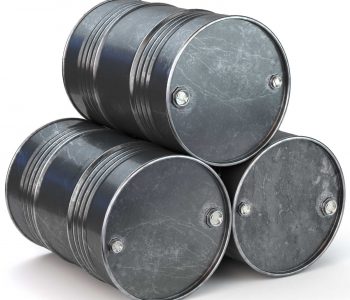 Hess Midstream Stock Has Raised its Dividends for 15 Quarters Straight
If you're looking to get in on the rebounding global economy, the energy sector—and Hess Midstream LP (NYSE:HESM), in particular— might be a good place to start.
Not only has HESM stock been on a tear, up 513% since bottoming in March 2020, Hess Midstream stock has also rallied 12% since the start of 2021. Better still, the dividend has also been rising. In February, the company (previously known as Hess Midstream Operations LP) raised its quarterly dividend payout by five percent on an annual basis to $1.79 per unit.
And that's key. It's easy to find a company that lures you in with a big dividend yield, but there's usually a catch: its share price has tumbled. And there's no better way to erode your principal investment than by getting sucked into investing in a stock with a massive dividend and plunging share price.
It's tough to find a financially robust company that provides a big dividend that's not only safe, but also growing. If you can find a stock that provides a juicy dividend that rises in step with its share price, you're onto something.
That's HESM stock.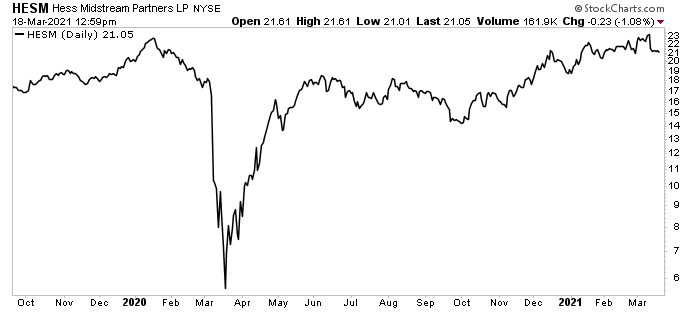 Chart courtesy of StockCharts.com
A fee-based midstream energy company, Hess Midstream owns, operates, develops, and acquires midstream assets in the prolific North Dakota Bakken shale region. The company provides its services to Hess Corp. (NYSE:HES) and a number of global, third-party crude oil and natural gas producers. (Source: "Investor Relations Presentation: February 2021," Hess Midstream LP, last accessed March 19, 2021.)
Because the company inks 100% fee-based contracts to gather, process, move, store, and export crude oil and natural gas, its bottom line is not as susceptible to fluctuations in commodity prices.
Hess Midstream LP provides critical infrastructure and charges its clients inflation-busting tolls. Best of all, the company has inked long-term contracts with its customers, extending through 2033. On top of that, it secures minimum volume commitments, set on a three-year rolling basis and currently set through 2023. This provides the company with a reliable and growing revenue stream and free cash flow.
In the fourth quarter of 2020, Hess Midstream announced that its revenue increased five percent year-over-year to $266.5 million. (Source: "Hess Midstream LP Reports Estimated Results for the Fourth Quarter of 2020," Hess Midstream LP, January 27, 2021.)
The company's net income was $132.3 million, versus $75.1 million in the fourth quarter of 2019. After deduction for noncontrolling interests, its net income attributable to Hess Midstream was $6.6 million, or $0.36 per share.
Perhaps most importantly, the company reported fourth-quarter distributable cash flow of $176.8 million and adjusted free cash flow of $126.6 million. That's the money Hess Midstream uses to pay its dividend.
The company says its goal is to provide investors with sustainable distribution growth, targeting at least five-percent annual dividend-per-share growth, with 1.4× coverage through 2023.
In February, Hess Midstream LP announced that its board declared a quarterly cash distribution of $0.4471 per share. This represents a 1.2% increase over the third quarter and a five-percent increase on an annual basis. Hess Midstream stock's yield stands at 8.4%, with an annual dividend rate of $1.79. (Source: "Hess Midstream LP Increases Quarterly Distribution," Hess Midstream LP, January 25, 2021.)
The fourth-quarter dividend increase isn't anything new for HESM stock. Hess Midstream has given investors raises for the last 15 consecutive quarters.
| | |
| --- | --- |
| Period | Dividend Cash Amount |
| Q4 2020 | $0.447 |
| Q3 2020 | $0.442 |
| Q2 2020 | $0.436 |
| Q1 2020 | $0.431 |
| Q4 2019 | $0.426 |
| Q3 2019 | $0.411 |
| Q2 2019 | $0.397 |
| Q1 2019 | $0.383 |
| Q4 2018 | $0.37 |
| Q3 2018 | $0.357 |
| Q2 2018 | $0.345 |
| Q1 2018 | $0.333 |
| Q4 2017 | $0.322 |
| Q3 2017 | $0.311 |
| Q1 2017 | $0.27 |
(Source: "HESM Dividend History," Nasdaq, last accessed March 19, 2021.)
Thanks to its strong balance sheet, the company doesn't need to raise equity to fund its capital plans and financial growth. To that end, in 2021, Hess Midstream says it expects to generate between $610.0 and $640.0 million in free cash flow. That's more than enough to cover Hess Midstream stock's dividend. In fact, it leaves the company with about $100.0 million in spare change. (Source: "Hess Midstream LP Announces 2021 Guidance," Hess Midstream LP, January 25, 2021.)
The Lowdown on Hess Midstream LP
Hess Midstream LP is an excellent energy company that provides investors with strong capital appreciation.
Thanks to its long-term contracts, it has reliable revenue and cash flow, which is more than enough to cover HESM stock's high-yield dividend and allow the company to raise its dividend quarter-after-quarter.