Hershey Co Handing Out Sweet Dividends to Shareholders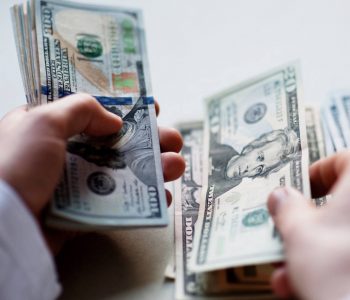 Hershey Co's Expansion Should Satisfy Investors' Cravings for Returns, Dividends
For decades, people have enjoyed Hershey Co (NYSE:HSY): getting some "Reese's Pieces" in your Halloween loot; biting into a "Kit Kat" bar at break time; chowing down on "Milk Duds" at the movie theater.
And the candy giant has served up some sweet returns for shareholders, too.
For the 20-year period ended October 22, Hershey stock has delivered a tasty total return, including reinvested dividends, of 788%. This has beaten the pants off of the broader market, which posted a total gain of only 147% over the same period.
Admittedly, Hershey Co's 2.2% payout might not impress some yield hogs. But the company's growth prospects mean that payout will likely rise in the years ahead. And income investors have good reason to believe Hershey stock will continue to deliver outsized returns in the years ahead.
Hershey Co has several things going for it: a collection of iconic brands have allowed the company to dominate the U.S. candy market; deep relationships with retailers allow management to hog all of the best shelf space; and raw size allows management to spread their overhead costs across a wider base of sales to undercut competitors on price.
This has allowed Hershey Co to consistently post outstanding returns. Last year, for instance, gross margins topped 56%. And since 2014, the company has generated $0.21 in profit on every dollar bond holders and shareholders invested into the business. That puts Hershey Co in the same league as wonderful companies as Johnson & Johnson (NYSE:JNJ), Coca-Cola Co (NYSE:KO), and Procter & Gamble Co (NYSE:PG).
But Hershey Co is no longer your grandpa's chocolate company. Over the past few years, CEO Michele Buck has been diversified the business into a snack foods behemoth.
She acquired Amplify Snack Brands for $1.6 billion in 2019, which added a number of fast-growing brands like "SkinnyPop" popcorn, "Oatmega" cookies, and "Paqui" chips. And last year, she bought nutrition bar maker ONE Brands in a $400.0-million deal. (Source: "How Hershey CEO Michele Buck came to create a 'snacking powerhouse'," Food Drive, June 23, 2020.)
Buck has made strides to build up Hershey's e-commerce business, too. The shift online has predictably come with hiccups, which you would expect from a 100-plus-year-old company that has historically relied on impulse purchases.
But in recent years, management seems to have "cracked the code" of selling snack foods online. Marketing teams have redesigned packaging to make their products more appealing to online shoppers, in addition to creating"thumb-stopping displays" and shareable content.
The end result has been candy lovers now have multiple options to get their hands on their favorite treats.
These efforts, however, have started to pay off.
For the first three months of 2020 (before the impact of the coronavirus really took hold), non-generally accepted accounting principles (GAAP) diluted earnings increased three percent to $1.63 per share. Management credited much of this to emerging snack brands like SkinnyPop, "Pirate's Booty," and ONE Brands. (Source: "Hershey Reports First-quarter 2020 Financial Results," Hershey Co, April 23, 2020.)
And once the company works its way through the current pandemic disruption, management expects those solid results to keep rolling in. Last summer, executives reaffirmed their long-term growth outlook. They predict that sales and profits will continue to grow at a low- to mid-single digit annual clip. A combination of cost-cutting and higher prices should also boost margins. (Source: "Hershey Reports Second-quarter 2020 Financial Results; Provides 2020 Business Update," Hershey Co, July 23, 2020.)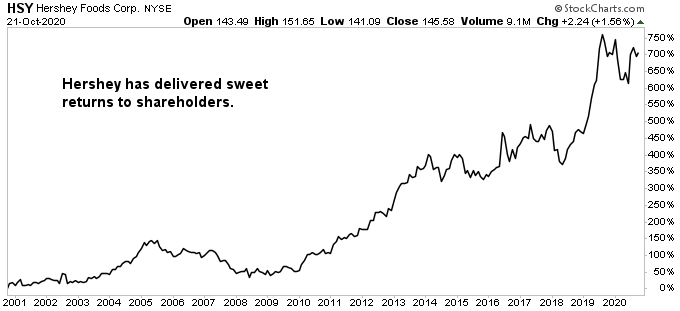 Chart courtesy of StockCharts.com
Of course, Hershey Co faces headwinds.
Rolling shutdowns have closed traditional outlets, like malls and movie theaters, where the company could push its products. COVID-19 could also put a damper on Halloween sales, the most important season for a chocolate manufacturer.
No doubt, COVID-19 will have an outsized impact on the company's next few quarters. But the pandemic will likely be temporary (I doubt people will ever stop eating chocolate). And as the economy begins to reopen, shareholders can expect the business to return to normal profitability.
That should mean more tasty returns for owners of Hershey stock in the years ahead.