Hershey Co: Iconic "Forever Asset" Has Paid Dividends Since 1930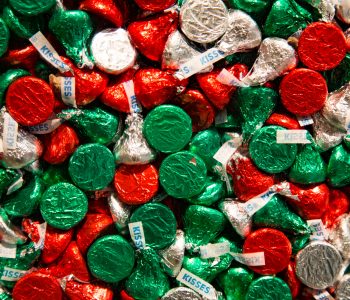 iStock.com/gsheldon
Hershey Co Delivering Sweet Returns for Income Investors
This company tops the list of the world's "forever assets." That's because this stock has raised its dividend for over a decade and hasn't missed a payment since 1930.
You won't see it covered often in the business news, however. Why? Because it's a "get rich slow" story, and that just doesn't get eyeballs like the daily stories on cryptocurrencies, earnings reports, and unicorn tech startups.
Meanwhile, shares recently notched a fresh all-time high of $132.00. Since 2009, the stock has crushed the NASDAQ Composite Index. More impressively, this company managed to achieve these returns with a fraction of the risk in the tech-heavy benchmark.
I'm talking about the iconic chocolate maker Hershey Co (NYSE:HSY).
HSY Stock: Will Investors Have a Break?
Analysts drool over companies with a billion-dollar brand. Hershey has several, including "Kisses," "Kit Kat," "Twizzlers," "Ice Breakers," and "Reese's Peanut Butter Cups." Such a collection of marquee products means the company earns $0.45 out of every dollar spent on chocolate nationwide.
Beyond raw market share, brand recognition allows the company to raise prices. Food companies have struggled in recent years to offset higher ingredient and transportation costs. Hershey, in contrast, has always managed to pass on these expenses to customers without any dip in volumes.
You can see this strength show up in the firm's financial results. Over the past decade, Hershey Co has earned $0.81 in profit on every dollar equity-holders invested into the business. Notably, management generated those returns without an excessive amount of debt.
Admittedly, sales growth has slowed in recent years. People can eat only so much chocolate and sweets. But as you might expect, Hershey's recent bull run coincides with the company finding new ways to boost sales.
The big idea is that management wants to turn Hershey into a snack foods leader. Last year, executives started this process by acquiring Amplify Snack Brands Inc., owner of "SkinnyPop" popcorn and snack brands, in a $921-million transaction. They followed that deal by buying Pirate Brands, a division of B&G Foods, Inc. (NYSE:BGS), for $420.0 million. (Source: "Hershey to buy cheese puffs maker Pirate Brands for $420 million," Reuters, September 12, 2018.)
Those bets have started to pay off. Last quarter, management reported SkinnyPop and "Pirate's Booty" have started gaining market share in the grocery aisle as Hershey muscles retailers to give those brands more shelf space. That has provided a sudden jolt to the company's profits, with executives predicting earnings per share will rise between five and seven percent this year. (Source: "Hershey Reports First-quarter 2019 Financial Results; Reaffirms 2019 Net Sales And Earnings Outlook," Hershey Co, April 25, 2019.)
This could just be the beginning. In April, Hershey named Steve Voskuil as the company's chief financial officer. Voskuil is an experienced dealmaker from Kimberly Clark Corp (NYSE:KMB). Moreover, the firm's debt-to-EBITDA ratio stands at only 2.0 — well below the industry average of 3.0. That leaves executives with lots of financial wiggle room to make acquisitions. (Source: "Michele Buck Announces New Leaders To Hershey Executive Team," Hershey Co, April 18, 2019.)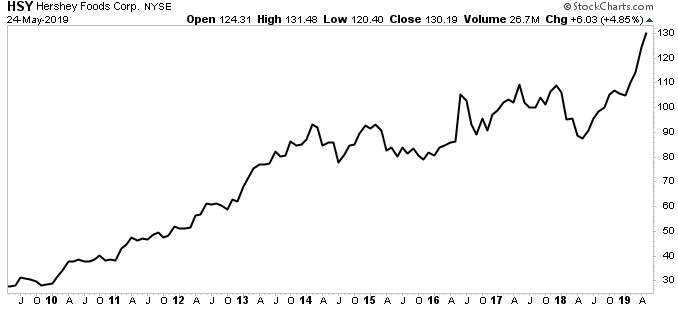 Chart courtesy of StockCharts.com
Such a financial position has allowed Hershey to reward shareholders. In 2018, executives boosted the company's quarterly dividend 10% to $0.72 per share. Management also juiced the firm's stock buyback program, repurchasing over $250.0 million in shares over the course of the year.
The Bottom Line on HSY Stock
Those hikes will likely continue. Hershey Co has long vowed to maintain a dividend payout ratio of around 50%. With earnings per share poised to grow at a high-single-digit clip over the next five years, investors can expect their distributions to grow more or less in-line with profits.
HYS stock represents the ultimate "forever asset:" a wonderful, timeless business that spits out steady cash flow to shareholders. And with the company expanding it snack food empire, those distributions should keep growing.
That should mean more sweet returns for investors.