Here's Why Microsoft Stock Could Reward Income Investors Big Time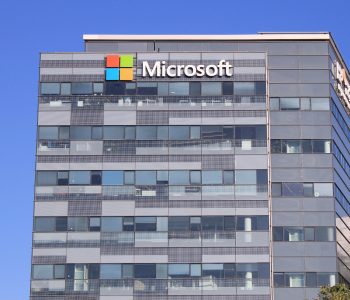 MSFT Stock Delivering Enormous Returns
Some say that small companies have the biggest growth potential. But established companies can deliver solid returns too. Just take a look at Microsoft Corporation (NASDAQ:MSFT) stock. The company was already commanding hundreds of billions of dollars of market cap, yet in the last five years, Microsoft stock surged 132%.
As a matter of fact, Microsoft has been one of the best long-term growth stocks on the market. If you bought shares of MSFT stock 30 years ago and held on to them till today, the return would be more than 28,000%.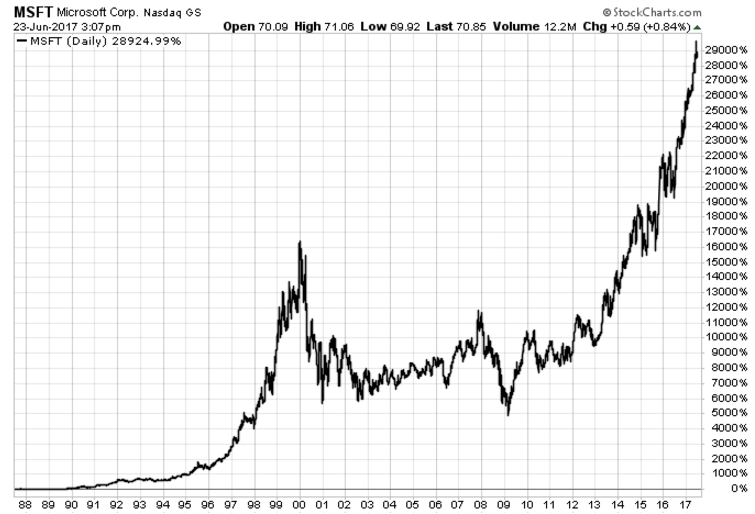 Source: StockCharts.com
Of course, past performance does not future results are set in stone. And due to Microsoft stock's impressive performance, its shares are no longer cheap. But there could still be a reason for investors to consider this Redmond, Washington-based tech giant: dividends.
Microsoft Stock is a Dividend Giant
To see why Microsoft stock is a dividend giant, here is a number: $3.0 billion. For many tech companies, it would be great if they can earn that amount of profit in a year. But for Microsoft, it only took one quarter.
And it's not even Microsoft's entire quarterly net income. That $3.0 billion is the amount of dividends Microsoft paid to its shareholders in the three months ended March 31, 2017.
In today's world, revenue can be booked ahead of time. Earnings can be adjusted. But dividends are always cold, hard cash paid to shareholders.
What's more is that the company has been consistently raising its payout. Compared to other blue-chip names, Microsoft stock has a relatively short dividend history, with its first quarterly dividend paid in 2004. But since then, the company has increased its dividends every single year. From its first quarterly payment of $0.08 per share to today's $0.39 per share, Microsoft stock's quarterly dividend rate has increased 387.5%. (Source: "Dividends and Stock History," Microsoft Corporation, last accessed June 23, 2017.)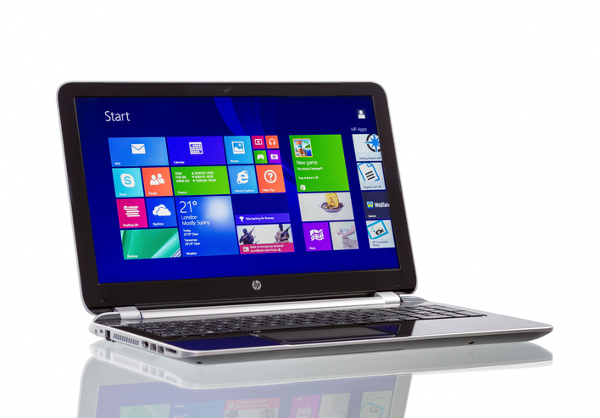 Here's another number: 90.2%. That's Microsoft's market share in today's desktop operating system industry. The company's various versions of "Windows" operating systems–including "Windows 7," "Windows 8," "Windows 10," and "Windows XP"–are dominating the desktop operating system marketplace. (Source: "Desktop Operating System Market Share," NetMarketShare.com, last accessed June 23, 2017.)
In other words, if you are reading this article on a desktop computer, there is a good chance that you are using one of Microsoft's products.
The keyword here is "ecosystem." At the very core, Microsoft is in the software and services business (although it does have hardware offerings, such as the "Surface" lineup of two-in-one tablets). Having hundreds of millions of active users on the company's ecosystem creates endless monetizing opportunities.
For instance, Microsoft generated $8.0 billion of revenue from its Productivity and Business Processes segment in the March quarter. The segment's main offerings are Microsoft's "Office" commercial and consumer products and cloud services. (Source: "Earnings Release FY 17 Q3," Microsoft Corporation, April 27, 2017.)
In particular, "Office 365," a subscription-based productivity software, has amassed 26.2 million consumer subscribers. The product is also widely used by businesses. In the most recent quarter, Office 365 commercial revenue increased 45% year-over-year.
Even "Windows," which many consumers upgraded to the latest versions of for free, is still a moneymaker for Microsoft. In the quarter, Windows revenue from original equipment manufacturers (OEM) increased five percent, while Windows commercial products and cloud services revenue grew six percent.
Don't forget that Microsoft also has an entrenched position in the booming cloud computing industry. For the quarter, the company's server products and cloud services revenue increased 15% year-over-year. In total, Microsoft's Intelligent Cloud segment brought in $6.8 billion of quarterly revenue.
Also Read:
Will Microsoft Raise Its Dividend in 2017?
MSFT Stock Dividend 2017: Microsoft Yield, Dates, Splits, Prediction, and Everything You Need to Know
Returning Value to Shareholders
Of course, in the tech sector, there are companies growing at a much faster pace than Microsoft. But as we saw earlier, few companies have the ability to pay dividends as substantial as Microsoft.
The reason is that Microsoft's business is already established. The company still needs to reinvest for future growth in this fast-changing industry. But because it has a recurring business large enough to cover its distributions, its dividends are more than safe.
Besides, paying a dividend is not the only way through which the company returns value to Microsoft stock investors. The company is also buying back its shares. Last September, when Microsoft announced its eight-percent dividend hike, it also announced a new $40.0-billion share repurchase program, which has no expiration date. (Source: "Microsoft announces quarterly dividend increase and share repurchase program," Microsoft Corporation, September 20, 2017.)
Last quarter, on top of its $3.0 billion of dividends, Microsoft spent $1.6 billion buying back its shares. That brings the company's total quarterly shareholder return to a whopping $4.6 billion.
With stock buybacks, investors don't get a check in the mail. But because it reduces the number of shares outstanding, a share repurchase program can increase existing investors' ownership in the company.
Bottom Line on Microsoft Stock
At the end of the day, keep in mind that Microsoft has quite a bit of cash—$126.0 billion by the end of March. to be exact. While most of it is stored overseas, President Trump's plan to offer a onetime tax holiday on cash repatriation could lead to multinational corporations bringing some of their cash back to the U.S. If that happens, Microsoft might choose to return some of that cash to shareholders. It could do that through increases to its regular dividend rate, more buybacks, or maybe even paying a special dividend.