Hercules Capital Inc: 7.4%-Yielding Stock Has Paid Special Dividends for 4 Straight Years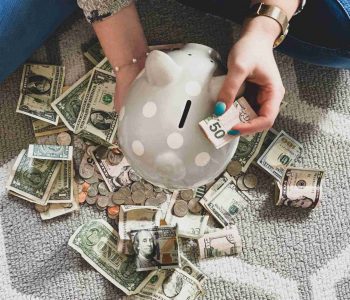 Hercules Capital Stock Up 66% Year-Over-Year & Set for Further Growth
Hercules Capital Inc (NYSE:HTGC) is an excellent business development company (BDC) that provides investors with strong capital appreciation and high-yield dividend growth. Sure, HTGC stock cratered by close to 60% during the March 2020 stock market crash, but it has rebounded since then.
Currently trading at record levels, Hercules Capital stock is up:
25% year-to-date
67% year-over-year
215% since bottoming in March 2020
In addition to rewarding buy-and-hold investors, HTGC stock is also an amazing opportunity for passive-income hogs.
For starters, Hercules Capital Inc has raised its annual dividend every year since its 2005 initial public offering (IPO), from $0.33 per share in 2005 to $1.28 per share in 2021.
Thanks to its strong cash position, the company has also paid out five supplemental cash distributions over that same period. Most recently, it has paid out special distributions over the last four consecutive years. (Source: "Second Quarter 2021 Investor Presentation," Hercules Capital, July 29, 2021.)
In April, it announced a supplemental quarterly cash distribution of $0.28 per share, distributed equally ($0.07) over each of the four quarters of 2021. This is in addition to the previously announced regular cash distribution that Hercules declared for the first quarter of 2021 of $0.32 per share. (Source: "Hercules Capital Announces Fiscal 2021 Supplemental Cash Distribution of $0.28 Per Share," Hercules Capital Inc, April 27, 2021.)
Without the supplemental distribution, Hercules Capital's annual dividend payout stands at $1.28 per share, representing a yield of 7.4%. With the extra $0.32 per share, that works out to a 2021 payout of $1.60 per share, for a yield of 9.2%.
The company has a long history of providing investors with high-yield dividends. The five-year average dividend yield stands at 9.6%.
That payout is safe, too. The company's payout ratio is just 45.2%.
Since going public in June 2005, Hercules Capital Inc has paid out $18.83 per share, or $1.1 billion, in historical cumulative distributions.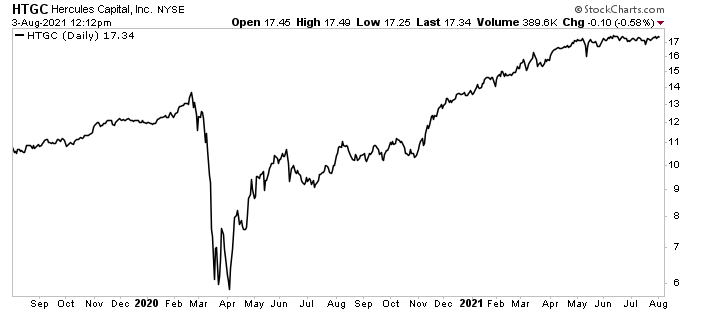 Chart courtesy of StockCharts.com
Hercules Capital flexes its muscles as the largest and leading specialty financing provider to innovative venture-, growth-, and established-stage companies in the technology, life sciences, and sustainable and renewable technology industries.
The company's primary business objective is to increase its net income, net operating income, and net asset value (NAV) by investing in structured debt with warrants and equity of venture capital-backed companies in technology-related industries.
Its current warrant and equity portfolio consists of 93 companies with a fair value of $276.6 million and enterprise value of $3.2 billion. It has lots of room to invest, too, with $610.0 million on its balance sheet.
What makes Hercules Capital Inc different from other BDCs? It has:
No direct exposure to oil, gas, metals or minerals
No exposure to collateralized loan obligations
No exposure to commercial mortgage-backed securities
No exposure to residential mortgage-backed securities
Instead, the company is:
Focused primarily on pre-IPO, including mergers and acquisitions (M&A) with businesses at their expansion and established stages
Generally the only lender, and 82.1% of the loans are "true" first-lien senior-secured
Concentrated on its majority of debt investments that include warrants for potential additional total return
Amortizing short-term maturities of 36 to 42 months
Since its inception, Hercules Capital has invested $12.0 billion in over 530 companies. Over 200 of its portfolio companies have completed or announced an IPO or M&A since inception.
Some of its portfolio companies are Fastly Inc (NYSE:FSLY), Docusign Inc (NASDAQ:DOCU), Box Inc (NYSE:BOX), Plug Power Inc (NASDAQ:PLUG), and 23andMe Holding Co. (NASDAQ:ME).
In 2020, the company reported record net investment income (NII) of $157.1 million ($1.39 per share), representing a 9.7% increase from 2019. (Source: "Hercules Capital Reports Fourth Quarter and Full-Year 2020 Financial Results," Hercules Capital Inc, February 23, 2021.)
That momentum has continued in 2021. For the year-to-date period ended June 30, it has reported:
NII of $71.5 million, or $0.62 per share
Record new equity and debt commitments of $971.7 million, an 85.8% year-over-year increase
Record total funds of $634.0 million, a 73.3% year-over-year increase
Net debt investment portfolio growth of $139.3 million
Unscheduled early loan repayments of $359.4 million
Record undistributed earnings spillover of $160.0 million, giving it additional flexibility to invest and deliver high shareholder returns
"During Q2 2021, Hercules generated 100% coverage of our base dividend distribution with NII, delivered solid NAV accretion and maintained our strong liquidity position to fund our disciplined and controlled growth strategy," stated CEO/CIO Scott Bluestein. (Source: "Hercules Capital Reports Second Quarter 2021 Financial Results," Hercules Capital Inc, July 29, 2021.)
As a result, Hercules delivered net debt portfolio growth of nearly $57.0 million and achieved the highest internal credit rating in its history. This operating performance led to record levels of new debt and equity commitments of nearly $972.0 million for the first half of 2021.
The Lowdown on Hercules Capital Inc
As mentioned earlier, Hercules Capital Inc is an under-the-radar BDC that provides investors with strong capital appreciation, a frothy, high-yield dividend, and special dividends.
Thanks to a booming economy and rising interest rates, the company should earn higher income, which should help boost its profit margins and payouts to Hercules Capital stock investors.