Hedge Funds Quietly Buying ESRT (NYSE:ESRT) Stock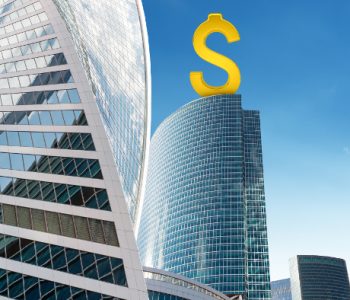 Billionaires Bullish on Top Dividend Stock
Today's chart highlights where elite investors can find a top dividend stock: trophy assets.
Trophy assets make up the highest-quality, one-of-a-kind properties; think of the best land or the best buildings. These assets always command top dollar and usually outperform over time.
Case in point this time: Empire State Realty Trust Inc (NYSE:ESRT). This firm owns the famous Empire State Building, along with a collection of properties across the Greater New York Area. And while you might not have ever heard of it, hedge funds love this top dividend stock for a couple of reasons.
First, Manhattan represents some of the most valuable land in the world. The tiny 34-mile island is home to Wall Street, the United Nations, and America's most important companies. That exclusivity has driven big gains for Manhattan's most prized properties.
ESRT owns 14 office buildings totaling some 10.1-million rentable square feet. The Empire State Building, one of the world's most recognizable skyscrapers, stands as the crown jewel in the company's portfolio. Tenants will pay extra to stay in these types of towers, which results in oversized cash flow for owners. (Source: "Properties," Empire State Realty Trust Inc, last accessed April 11, 2017.)
Better still, such trophy assets can be near crisis-proof. New York represents one of the strongest real estate markets in the world, with the nation's lowest vacancy rates. Properties lose less value in recessions and rebound faster in a recovery.
This value-retaining quality makes trophy assets a kind of safe haven. Buyers will pay a premium for these rare buildings. And as they attract global investors, these assets stay more liquid than generic properties on the market.
Given this, it should be no surprise that Empire State Realty Trust has raked in profits. Since going public in 2013, the fund has crushed the broader market. Today, ESRT stock pays a quarterly dividend of $0.10 per share, which comes out to an annual yield of two percent.
I expect these kind of returns to continue. Management keeps finding new ways to grow earnings, including renovations, rent hikes, and buying new properties. These should translate into growing dividends over time.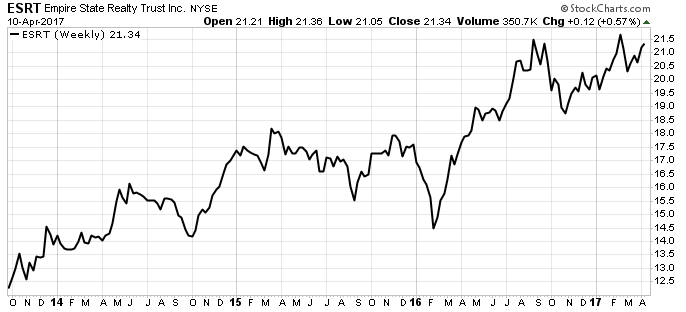 Source: StockCharts.com
Of course, I'm not the only one who likes this top dividend stock. Last year, the sovereign wealth fund of Qatar made a $622.0-million investment in the firm. Other money mavens–including Jim Simons, Ken Griffin, and D.E. Shaw–also own a stake. (Source: "Empire State Realty Trust Inc. (ESRT) – Hedge Fund Holdings," Insider Monkey, last accessed April 11, 2017.)
What could these elite investors see in ESRT? I'd say it can mean only one thing: they know trophy assets represent the best place to stash wealth.