Healthcare Services Group, Inc.: Quiet Company Delivering Double-Digit Returns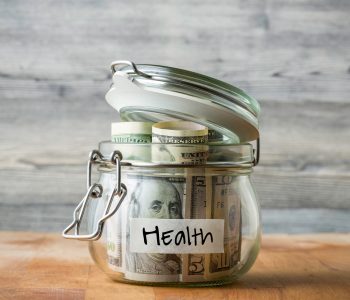 iStock.com/foto-ianniello
Quiet Stock Pays Dividends
Today, we check in on another winner from a graying America.
Regular readers have heard our bullish case for the healthcare sector before. As baby boomers age, they'll need more drugs, more tests, and more checkups.
This boom has created a bonanza for investors. Thanks to the growing demand for healthcare services, we've seen related firms post growing dividends over the past few years. You've also seen that reflected in the share prices for many companies, like Johnson & Johnson (NYSE:JNJ), Eli Lilly And Co (NYSE:LLY), and Bristol-Myers Squibb Co (NYSE:BMY).
Case in point: Healthcare Services Group, Inc. (NASDAQ:HCSG). The company provides dining, laundry, and housekeeping for hospitals and senior living facilities. Not exactly the most exciting business around, but longtime shareholders have quietly made a fortune.
With more than 10,000 boomers turning 65 each day, HCSG's profits keep growing. The company netted $88.2 million in 2017, up 14% year over year. Management sees that growth rate accelerating in 2018 on the back on higher healthcare spending, President Donald Trump's tax cuts, and new cost containment strategies. (Source: "Healthcare Services Group, Inc. Reports Results for the Three Months and Year Ended December 31, 2017," Healthcare Services Group Investor Relations, February 6, 2018.)
Much of that growth gets paid out to shareholders. In January, management boosted the quarterly distribution to $0.19 per share. This represented the company's 58th consecutive dividend increase since the business began paying investors in 2003. (Source: "Healthcare Services Group, Inc. Increases Fourth Quarter Cash Dividend, Provides Update on 2017 Results," Healthcare Services Group, Inc., January 30, 2018.)
That has translated into respectable returns. Since we recommended shares to Retirement Riches readers in late 2015, the stock has delivered a total return of 30%.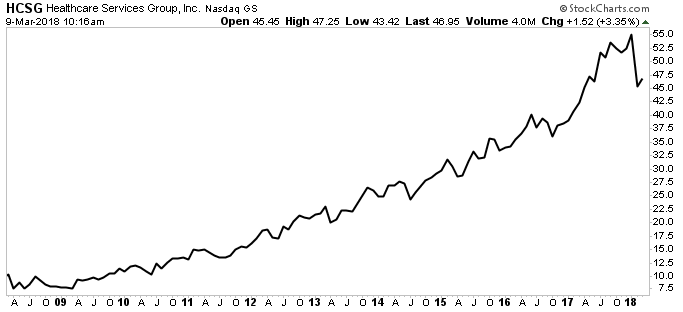 Chart courtesy of StockCharts.com
The bull market in healthcare is still on.