Harvest Capital Credit Corp: Can You Count on This 9% Yield (Paid Monthly)?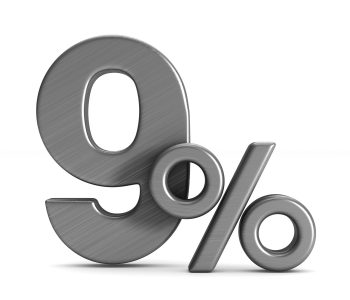 iStock.com/ISerg
A High-Yield Stock to Think About
As I've said plenty of times, ultra-high-yield stocks are usually not the safest bets. In this day and age, it's not uncommon for investors to get into a high-yield stock, only to find out that the company can't really afford its dividend payments. And very often, that scenario results in a dividend cut.
A year ago, Harvest Capital Credit Corp (NASDAQ:HCAP) was paying monthly dividends of $0.095 per share. Since HCAP stock was trading around $10.00 apiece at the time, that monthly dividend policy gave the company a staggering annual yield of 11.4%.
However, dividend safety wasn't exactly Harvest Capital's strong suit. In 2018, the company earned a core net investment income of $0.93 per share, representing a sharp decline from the $1.40 per share earned in 2017. And since HCAP declared total dividends of $1.14 per share during the year, the profit was not enough to cover its dividend payments. (Source: "Harvest Capital Credit Corporation Announces December 31, 2018 Financial Results," Harvest Capital Credit Corp, March 15, 2019.)
Unsurprisingly, under-earning its dividends has led to a payout cut. In fact, management announced that decision even before reporting full-year earnings. In February 2019, Harvest Capital declared a monthly dividend rate of $0.08 per share, a 15.8% decline from the prior rate. In their related press release, management said that the decision was, "due to the continuation of a very competitive investment environment." (Source: "Harvest Capital Credit Corporation Declares Dividends for January, February and March," Harvest Capital Credit Corp, February 15, 2019.)
"We are very active in originating new deals but have had an unusually high rate of deals that have not closed," said company Chairman and Chief Executive Officer Joseph A. Jolson. "That, coupled with continued high payoffs have put us in a net cash position to start the year, making our first quarter of 2019 earnings outlook well below our current dividend rate."  (Source: Ibid.)
That did not sound good, but at least it served as a warning that the first-quarter results would be less than stellar. Indeed, that was the case; in the first quarter of 2019, Harvest Capital's core net investment income came in at $0.12 per share, which, as management expected, was "well below" the company's quarterly dividend obligation of $0.24 per share. (Source: "Harvest Capital Credit Corporation Announces March 31, 2019 Financial Results," Harvest Capital Credit Corp, May 14, 2019.)
Still, that doesn't mean we should ignore Harvest Capital stock completely. This is because, while past results weren't that cheerful, the company does have a chance of covering its payout later this year.
"Assuming the M&A market remains robust and credit spreads are at least stable, we're optimistic about the second half of the year and our ability to deploy capital at levels that will enable us to earn our dividends," said Richard Buckanavage, Managing Director and Head of Business Development. (Source: "Harvest Capital Credit Corp. (HCAP) CEO Joseph Jolson on Q1 2019 Results – Earnings Call Transcript," Seeking Alpha, May 14, 2019.)
The Bottom Line on HCAP Stock
Don't forget that, despite having a lackluster dividend history, the company has a solid business model in place. Harvest Capital Credit Corp provides customized financing solutions to small- and medium-sized businesses in the U.S, with a focus on debt financing. The returns are pretty decent: by the end of March 2019, the weighted average yield on the company's total investment portfolio was 12.2%.
Also, with Harvest Capital stock trading at $10.58 per share, its reduced dividend rate still translates to a rather impressive yield of 9.1%.
HCAP may not be a safe dividend stock right now, but if the company can improve its dividend coverage later this year as management predicts, its oversized yield could be added to an income investor's watchlist.