13.7%-Yielding Green Plains Partners Stock Trading at Record Level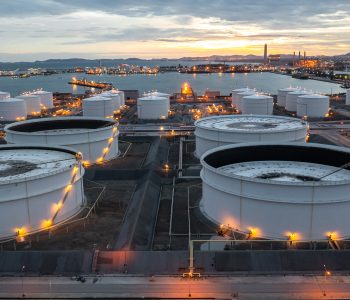 GPP Stock Perfect For Income & Growth?
Energy stocks were the biggest winners in 2021 and 2022, but they've been taking a back seat to technology stocks in 2023. As of this writing, tech stocks are up by 37% year-to-date and energy stocks are down by two percent.
Tech stocks are being fueled by a handful of artificial intelligence (AI) companies, while energy stocks are being held back by weaker demand from China and ongoing fears of an upcoming recession.
Green Plains Partners LP (NASDAQ:GPP) is one energy stock that's been seriously bucking that trend, though.
Thanks to consistent cash flow driven by reliable operations, the company has been able to maintain its cash distribution to Green Plains Partners unitholders. The partnership currently pays dividends of $0.445 per unit, for a current yield of 13.7%. For context, most dividend-paying tech stocks pay yields below two percent, and the U.S. inflation rate is currently about four percent.
Industry tailwinds and Green Plains Partners LP's strong financial results have been helping juice the price of GPP units. On July 11, Green Plains Partners units hit an all-time record high of $13.71. That put Green Plains Partners stock up by:
7.5% month-over-month
9.8% over the previous three months
13.3% year-to-date
26% year-over-year
Thanks to the partnership's strong financial results, expanded operations, recent joint ventures, and organic industry growth, the outlook for GPP units is bullish for the remainder of 2023 and for 2024.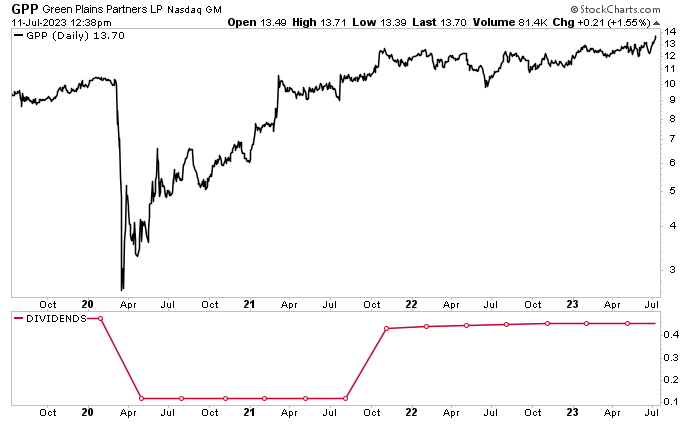 Chart courtesy of StockCharts.com
About Green Plains Partners LP
Green Plains Partners was formed by its parent company, Green Plains Inc., to provide ethanol and fuel storage, terminal, and transportation services in the U.S. (Source: "Who We Are," Green Plains Partners LP, last accessed July 13, 2023.)
The fee-based partnership's network includes 29 biofuel storage facilities at or near its parent company's 11 ethanol production plants in Illinois, Indiana, Iowa, Minnesota, Nebraska, Tennessee, and Virginia. These facilities have a combined throughput capacity to support Green Plains Inc.'s approximately one billion gallons of annual production capacity.
Green Plains Partners LP's biofuel storage assets have a combined capacity of about 25.9 million gallons. Its biofuel terminals have a total storage capacity of 6.9 million gallons.
The company's transportation assets include a fleet of approximately 2,500 leased railcars. These railcars are dedicated to transporting ethanol and other fuels—under commercial agreements with Green Plains Inc.—to refiners throughout the U.S. and international export terminals.
Q1 Revenues Up 8.8%; Net Income at $0.42/Unit
For the first quarter ended March 31, Green Plains Partners announced that its total revenues increased by 8.8% year-over-year to $20.8 million. Its net income was $9.9 million, or $0.42 per unit, compared to $10.4 million, or $0.44 per unit, in the same period of 2022. (Source: "Green Plains Partners Reports First Quarter 2023 Financial Results," Green Plains Partners LP, May 5, 2023.)
The partnership also reported first-quarter adjusted earnings before interest, taxes, depreciation, and amortization (EBITDA) of $12.5 million and distributable cash flow of $10.8 million. That's compared to adjusted EBITDA of $12.6 million and distributable cash flow of $11.2 million in the same period of 2022.
The company ended the first quarter with $18.1 million in cash and cash equivalents, as well as total debt of just $58.6 million.
Green Plains Partners LP Maintains Dividend at $0.455
In April, Green Plains Partners announced a quarterly distribution of $0.455 per unit, for a current yield of 13.7%. Green Plains Partners LP has held its quarterly dividend at $0.455 per unit since November 2022. (Source: "Distribution History," Green Plains Partners LP, last accessed July 13, 2023.)
As you can see in the above chart, Green Plains' distribution (the red line) fluctuates along with supply/demand metrics.
GPP stock's share price cratered in March 2020, during the opening weeks of the COVID-19 pandemic. The company's board took that opportunity to reduce its cash distribution to $0.12 per unit. The reduction was expected to free up $33.8 million of cash annually, which the company planned to use to pay down its debt and strengthen its balance sheet. (Source: "Green Plains Partners Reduces Quarterly Distribution," Green Plains Partners LP, April 16, 2020.)
Before the pandemic, Green Plains Partners units' quarterly distribution stood at $0.475, a level that the company held it at for eight quarters. In November 2021, management raised Green Plains Partners stock's distribution from $0.12 to $0.435 and then kept raising it over the next four quarters.
I wouldn't be surprised to see the board increase GPP stock's quarterly distribution over the coming quarters to at least where it was before the pandemic.
The Lowdown on Green Plains Partners Stock
Thanks to its fee-based structure, reliable operations, and supply agreements, Green Plains Partners LP is able to generate consistent cash flow, which it returns to GPP unitholders in the form of ultra-high-yield dividends. The same metrics that have been driving GPP stock's dividend higher have been helping energize its share price, which is at a record level.
Keep in mind, the energy sector is cyclical, so Green Plains Partners units won't be flying high for eternity. Their price and dividends will fluctuate, but find me a stock that doesn't go up and down.
Dividend hogs just need to understand the ultra-high-yield stocks they're investing in and keep an eye on economic conditions and earnings. That's because a recession, pandemic, or another black swan event can seriously undermine dividends and share prices. But again, the same can be said for any stock.
Lately, Green Plains Partners LP has been reporting strong cash generation, and its outlook is excellent. As such, buy-and-hold income investors have been enjoying the ride.