Green Plains Partners Stock: Reliable 12.2%-Yielder Hikes Dividend for 3rd Straight Quarter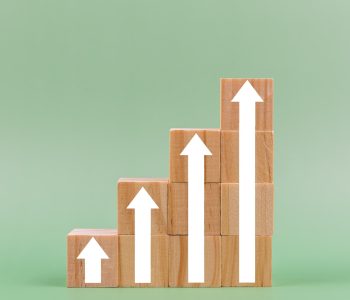 Green Plains Partners LP Diversifying Its Operations
The yield on a U.S. 10-year Treasury Note is currently three percent, slightly higher than it was a year ago but still pretty miserly. It's especially low when you consider that inflation is at a four-decade high of 8.5%—and it's not as if wage increases are keeping pace.
With inflation heating up, where can cash-strapped and income-starved investors find safe, high-yield dividends? The yield on traditional blue-chip stocks is reliable and tends to grow every year, but the dividends aren't astronomical. That's the tradeoff. The S&P 500's current yield is a paltry 1.4%, its lowest level since the beginning of the millennium and one of its lowest readings on record.
Investors who are looking for reliable, inflation-trouncing, high-yield dividends might want to put Green Plains Partners LP (NASDAQ:GPP) on their radar. Green Plains Partners is a fee-based limited partnership that was formed by its parent company, Green Plains Inc., to provide ethanol and fuel storage, terminal, and transportation services. (Source: "About," Green Plains Partners LP, last accessed May 6, 2022.)
The partnership owns 32 ethanol storage facilities at or near its parent company's 13 ethanol production plants in seven U.S. states. The plants have a combined annual ethanol production capacity of approximately 1.1 billion gallons. Their combined storage capacity is about 31.9 million gallons.
Green Plains Partners LP provides fuel terminal services and logistics solutions through its wholly owned subsidiary BlendStar LLC. The terminal facilities at eight locations in seven south-central U.S. states have fuel holding tanks and access to major rail lines for transporting ethanol or other fuels. The fuel terminal facilities have a current combined total storage capacity of approximately 6.8 million gallons.
The company's transportation assets include a leased railcar fleet of about 2,840 railcars, with an aggregate capacity of 85.2 million gallons. The railcars are dedicated to transporting ethanol and other fuels under commercial agreements with Green Plains Inc. to refiners throughout the U.S. and international export terminals.
There's more to Green Plains Partners LP than oil and gas, though. The partnership has also been benefitting from its parent company's transformation from a traditional ethanol business into a sustainable biorefinery company. Green Plains Partners has been producing value-added ingredients used in livestock feed, aquaculture diets, and pet food.
The partnership has also been producing clean sugar and renewable corn oil, a raw material that's used in renewable diesel and specialty alcohol.
This segment is expected to provide Green Plains Partners LP with more predictable earnings than the volatile ethanol market. This should also help Green Plains Partners stock avoid volatility.
GPP Stock's Performance
In early 2020, energy stocks took a nosedive, and GPP stock was no exception. In less than two weeks, the stock cratered by more than 70% to $2.92 per share on concerns about COVID-19. The initial fears were justified. The shuttering of the global economy due to COVID-19 and the resultant recession certainly put a dent in the demand for oil and gas. The concerns were short-lived, however; over the following 18 months, Green Plains Partners stock's price trended steadily higher.
In November 2021, GPP stock hit an all-time high of $14.66. This represents a 373% increase from its pandemic lows.
Admittedly, shares of Green Plains Partners LP haven't moved much since then. That said, they've held their own, which is more than you can say for the broader stock market. As of this writing, GPP stock is up by:
Five percent over the last three months
One percent year-to-date
24% year-over-year
Trading at $13.81 per share, Green Plains Partners stock needs to climb by just three percent to get to its record high.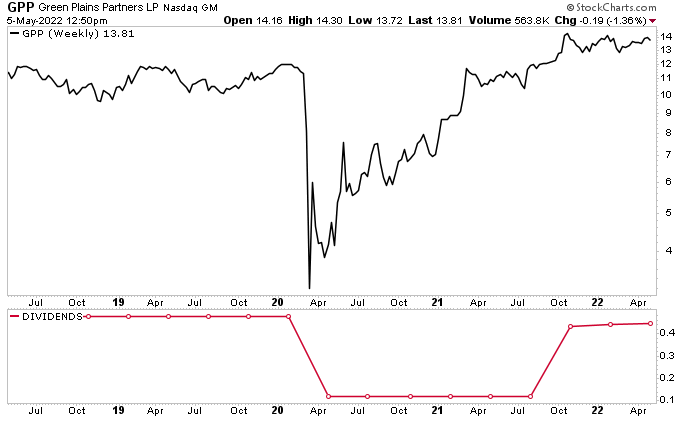 Chart courtesy of StockCharts.com
Solid Q1 Financial Results
For the first quarter ended March 31, 2022, Green Plains Partners reported net income of $10.4 million, or $0.44 per share, compared to $10.7 million, or $0.45 per share, in the first quarter of 2021. (Source: "Green Plains Partners Reports First Quarter 2022 Financial Results," Green Plains Partners LP, May 2, 2022.)
The partnership reported first-quarter 2022 adjusted earnings before interest, taxes, depreciation, and amortization (EBITDA) of $12.6 million, versus first-quarter 2021 adjusted EBITDA of $13.8 million. Its distributable cash in the first quarter of 2022 flow was $11.2 million, compared to $11.7 million in the same period in 2021.
For the three months ended March 31, 2022, Green Plains Partners LP's distribution coverage was 1.1 times.
Also during the first quarter of 2022, Green Plains Partners LP charged Green Plains Trade $1.1 million related to the minimum volume commitment for the quarter, resulting in a credit to be applied against potential excess volumes in future periods.
Green Plains Partners LP Raises Dividend for 3rd Consecutive Quarter
On April 21, Green Plains Partners LP's board of directors increased GPP stock's first-quarter distribution to $0.445 per unit, for a yield of 12.3%. This represents the third consecutive quarter in which the partnership has raised its quarterly dividend.
In the fourth quarter of 2021, Green Plains Partners stock paid out $0.44 per unit. In the same period of 2020, its distribution was $0.12 per unit.
As you can see in the above chart (the red line in the bottom section), Green Plains Partners LP slashed its dividend by 75% in April 2021 from $0.475 to $0.12 per unit. Dividend hogs cannot have been pleased with GPP stock's price and dividend getting crushed. At the same time, the company didn't suspend its dividends like some companies did. Moreover, the temporary dividend reduction freed up roughly $33.8 million annually, which the company used to reduce its debt.
Green Plains Partners LP's high-yield dividend is safe; the current payout ratio is just 65.6%. This gives the company more than enough financial wiggle room to maintain or even increase its payout in 2022.
The Lowdown on Green Plains Partners Stock
To reiterate, Green Plains Partners LP is a fee-based fuel and transportation services company that continues to deliver stable financial results.
The limited partnership's steady operating results and low leverage ratio have resulted in consistent cash flow generation, which has allowed management to increase GPP stock's ultra-high dividend for the third consecutive quarter. If the company continues to do well financially, it could keep increasing the stock's dividends.