Green Plains Partners LP: 12.4%-Yielding Energy Stock Up 84% in 2021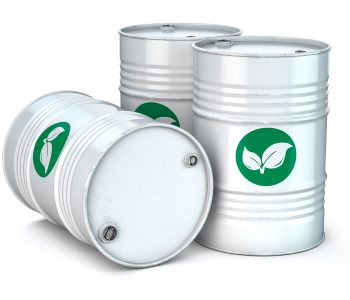 GPP Stock Is a High-Yield Play Worth Considering
When it comes to high-yield dividend stocks, analysts will tell you it's not about the actual yield, it's about whether the company has a solid balance sheet, a long operating history, and a low payout ratio. This helps conservative analysts justify only touting blue-chip stocks with yields around 2.5%.
There's no shame in that; those analysts have button-up-collar reputations to protect. It's much more fun, though, to find high-yield dividend stocks with healthy balance sheets, significant cash flow generation, growing operations, bullish share prices, and ultra-low payout ratios. That's exactly what you get with Green Plains Partners LP (NASDAQ:GPP).
Green Plains Partners is a fee-based, limited partnership formed by its parent company, Green Plains Inc., to provide fuel storage, terminaling, and transportation services. (Source: "Our Operations," Green Plains Partners LP, last accessed December 16, 2021.)
The partnership owns 32 ethanol storage facilities at or near its parent company's 13 ethanol production plants in Indiana, Illinois, Iowa, Minnesota, Nebraska, Tennessee, and Texas. The facilities have a combined ethanol production capacity of approximately 1.1 billion gallons annually. The combined storage capacity of the company's ethanol assets is approximately 31.9 million gallons.
Green Plains Partners LP provides fuel terminal services and logistics solutions through its wholly owned subsidiary BlendStar LLC. The fuel terminal facilities at eight locations in seven south-central U.S. states have fuel holding tanks and access to major rail lines for transporting ethanol or other fuels.
The company's fuel terminal facilities have a current combined total storage capacity of approximately 7.2 million gallons.
Green Plains Partners' transportation assets include a leased railcar fleet of approximately 2,840 railcars with an aggregate capacity of 85.2 million gallons. The railcars are dedicated to transporting ethanol and other fuels to refiners throughout the U.S. and international export terminals.
Green Plains Partners LP Is Transforming Its Operations
Green Plains Partners is well positioned to benefit from its parent company's ongoing transformation from a traditional ethanol business into a sustainable biorefinery company producing value-added ingredients for livestock feed, aquaculture diets, and pet food.
To that end, during the third quarter, Green Plains Partners LP:
Began operations at Green Plains Wood River LLC's MSC protein system
Broke ground at its Mount Vernon and Obion locations for construction of MSC protein technology
Signed a memorandum of understanding in the pet food vertical for sales of ultra-high protein through 2023, with higher volumes in 2022
Announced a turnkey solution for MSC protein technology with Tharaldson Ethanol, a 175-million-gallon facility in Casselton, ND.
On top of that, Green Plains Partners LP is focusing heavily on the production of clean sugar and renewable corn oil, a raw material that has seen its price double in the past year due to growing demand for renewable diesel and specialty alcohol.
This should help provide Green Plains with a higher value stream and more predictable earnings compared to the more volatile ethanol market.
Green Plains Partners Stock's Performance
As you can see in the chart below, GPP stock tanked during the early days of the COVID-19 pandemic. With many businesses shuttered and a global recession, there wasn't much demand for oil and gas.
It's been all uphill for Green Plains Partners LP since the dark months of spring 2020, with Green Plains Partners stock erasing all of its earlier losses. As of this writing, GPP stock is up by:
Six percent over the last three months
16% over the last six months
85% year-to-date
345% since bottoming in March 2020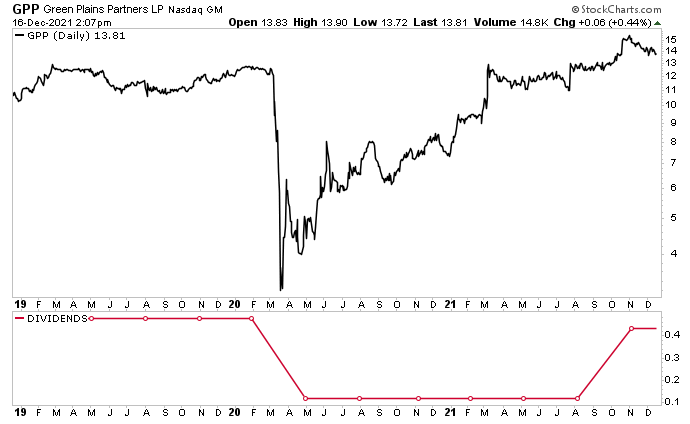 Chart courtesy of StockCharts.com
Green Plains Partners LP's Dividend Surges 262%
Tough economic environments, like a pandemic that brought on the worst economic crisis in 100 years, can cut into a company's dividend, even with a fee-based company like Green Plains Partners LP. In April 2020, the partnership reduced its quarterly distribution by 75% to $0.12 per unit. It was an astute move, one that freed up approximately $33.8 million annually, which the company used to reduce its debt.
In October 2021, Green Plains Partners LP declared a quarterly dividend of $0.435 per unit, for a yield of 12.4%. This represents a 262% increase over the $0.12 it paid out in the previous quarter.
The payout ratio on that dividend is just 27.9%, giving the company plenty of financial wiggle room to continue paying high-yield dividends.
Green Plains' dividend hike comes on the heels of debt refinancing. The company's debt facility was converted into a $60.0-million term loan facility that will mature in 2026. (Source: "Green Plains Partners Completes Debt Refinancing," Green Plains Partners LP, July 26, 2021.)
"With the closing of this transaction, the partnership's board intends to return to its prior strategy of maintaining a 1.1 times coverage ratio on normalized trailing 12-month distributable cash flows, thus enabling higher distributions for our unitholders in the future, beginning with the third quarter of this year," said Todd Becker, president and CEO. (Source: Ibid.)
Great Q3 Results
For the third quarter, Green Plains reported net income of $9.4 million, or $0.40 per share, compared to $10.3 million, or $0.44, in the same prior-year period. (Source: "Green Plains Partners Reports Third Quarter 2021 Financial Results," Green Plains Partners LP, November 4, 2021.)
The partnership also reported adjusted earnings before interest, taxes, depreciation, and amortization (EBITDA) of $13.5 million and distributable cash flow of $11.5 million. In the third quarter of 2020, the company's adjusted EBITDA were $13.9 million and its distributable cash flow was $11.3 million.
As of September 30, Green Plains Partners LP's total liquidity consisted of $14.2 million in cash and cash equivalents. Its total outstanding debt was $59.6 million.
"We were pleased to increase the distribution for the quarter, returning capital to unitholders consistent with our prior guidance," said Becker. "The partnership continues to be well positioned to deliver stable and consistent cash flows for its unitholders." (Source: Ibid.)
During the third quarter of 2021, Green Plains Inc.'s average production utilization rate was approximately 75% of capacity. The company's ethanol throughput was 182.3 million gallons, which was below the contracted minimum volume commitment. As a result, Green Plains Partners LP charged Green Plains Trade $1.9 million for the quarter.
The Lowdown on Green Plains Partners Stock
As mentioned earlier, Green Plains Partners LP provides fuel storage and transportation services. Because it's a fee-based limited partnership, it generates consistent cash flows through long-term minimum volume contracts. This helped the company weather the COVID-19-fueled economic downturn and report excellent results in 2020 and 2021.
There's always room for improvement, though. Green Plains Partners' parent company's expansion into ultra-high protein production should help provide the partnership with additional reliable cash-flow streams.