Green Plains Partners LP: Can You Count on This 13% Yield?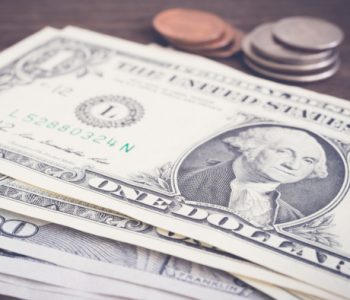 iStock.com/vinnstock
Is This Yield Safe?
A high-yield stock is a bit like a keeping a bowl of leftover Halloween candy on your desk—it's so tempting.
So it's no surprise that Green Plains Partners LP (NASDAQ:GPP) represents one of the most requested names readers ask me to review. This limited partnership yields 13%, which ranks as one of the highest payouts around today.
But big yields usually come with big risk. Can investors really count on this distribution? Let's dig into the financials and find out.
Green Plains gushes cash flow, to begin with.
The partnership provides logistical services for ethanol producers. This includes storing, processing, and shipping production across the country.
I love this business because it's so stable. Making ethanol constitutes a low-margin operation that suffers from wild swings in profitability. Green Plains, in contrast, charges a fee on every gallon of fuel that flows through its network, regardless of where commodity prices go.
That has translated into a steady income. Since the company went public in 2015, management has boosted the distribution on an annual basis. That kind of track record bodes well for unitholders.
The only thing that should give investors pause? Green Plains' income statement.
The partnership generated $15.0 million in distributable cash flow during the second quarter, down from $15.3 million during the same period last year. We don't want to see that kind of decline in profitability, especially for a business that pays a big dividend. (Source: "GREEN PLAINS REPORTS SECOND QUARTER 2018 FINANCIAL RESULTS," Green Plains Partners LP, August 1, 2018.)
Even worse, the partnership seems to be living beyond its means. Through the second quarter, management paid out $15.1 million in distributions to investors. That brings Green Plains' coverage ratio to a dangerous 0.97.
That said, I expect this problem will be temporary. You can blame most of the dip in profitability to an outage at two terminal facilities. As these operations come back online and more volume starts flowing through Green Plains' network, investors can expect a big rebound in cash flow.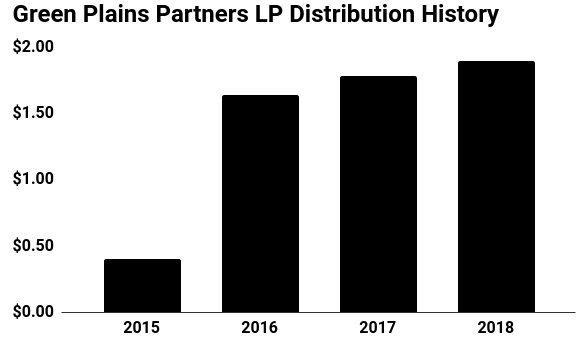 (Source: "Green Plains Partners LP (GPP)," Yahoo! Finance, last accessed November 5, 2018.)
If Wall Street estimates prove correct, the partnership's coverage ratio will rebound to 1.1x by the end of the year. That would leave the distribution on a much more solid foundation and well within my comfort zone.
Of course, we'll need to keep a close eye on Green Plains distributable cash flow. We don't want to see the partnership's coverage ratio stay below 1.0x for much longer. That would get me—and other investors—worried.
For now, this distribution looks safe. But keep a close eye on the cash flow going forward.