Green Plains Partners LP: 13.3%-Yielder in Correction Territory But Maybe Not for Long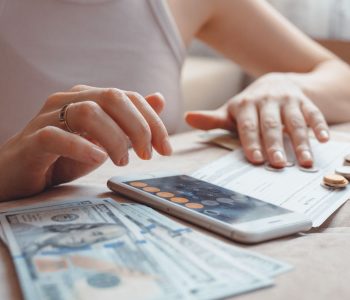 Green Plains Partners Stock Is Compelling Right Now
For investors who missed out on the spring 2020 stock market rally and who've been waiting to take advantage of another pullback, the current correction could be a wonderful opportunity. Stocks were at record levels heading into 2022, but fears of rising interest rates, soaring inflation, and the ongoing COVID-19 pandemic weighed down stocks early this year.
Global stocks took another hit when Russia invaded Ukraine on February 21. The U.S. stock market entered correction territory, which is defined as a 10% drop from its most recent peak. Growth stocks, meanwhile, entered bear market territory, which is defined as a drop of at least 20% from their highs.
U.S. stocks have rebounded slightly but are still deep in the red. Uncertainty and volatility have, it appears, led many investors to flee the village. That might be a mistake, though. History shows that, when it comes to geopolitical events like wars, stocks quickly rebound after knee-jerk sell-offs. That's good news for investors who are interested in ultra-high-dividend stocks like Green Plains Partners LP (NASDAQ:GPP).
Green Plains Partners is a fuel storage and transportation partnership formed by its parent company, Green Plains Inc (NASDAQ:PRE), to provide ethanol storage, fuel terminaling, and transportation services. (Source: "Operations," Green Plains Partners LP, last accessed March 1, 2022.)
The fee-based, limited partnership owns 32 ethanol storage facilities at or near Green Plains Inc's 13 ethanol production plants in Indiana, Illinois, Iowa, Minnesota, Nebraska, Tennessee, and Texas. The plants have an annual combined ethanol production capacity of approximately 1.1 billion gallons. The combined storage capacity of the company's ethanol assets is approximately 31.9 million gallons.
Through its fuel terminals, Green Plains Partners LP provides terminal and logistics services. Its eight fuel terminal facilities in seven south-central U.S. states have fuel holding tanks and access to major rail lines for transporting ethanol or other fuels. The partnership's current total storage capacity is approximately 7.2 million gallons.
Green Plains Partners LP's transportation assets include a leased railcar fleet of approximately 2,840 railcars, with an aggregate capacity of 85.2 million gallons. Its railcars are dedicated to transporting ethanol and other fuels under commercial agreements with Green Plains Inc to refiners throughout the U.S. and international export terminals.
And there's more to Green Plains Partners than just oil and gas. The company has been diversifying its operations to include sustainable biorefinery production of value-added ingredients used in livestock feed, aquaculture diets, and pet food. On top of that, the partnership has been focusing heavily on the production of clean sugar and renewable corn oil. (Source: "Green Plains Partners Reports Fourth Quarter and Full Year 2021 Financial Results," Green Plains Partners LP, February 11, 2022.)
Agricultural feedstock and renewable fuel prices have been on a tear due to growing demand for renewable diesel and specialty alcohol. Fuel refiners including Marathon Petroleum Corp (NYSE:MPC) and ExxonMobil Corp (NYSE:XOM) have begun adding renewable diesel to their product mix to take advantage of government incentives for cleaner fuels.
This new avenue should provide Green Plains Partners LP with an additional revenue stream and more predictable earnings compared to the more volatile ethanol market.
GPP Stock's Dividend Rises Again
Green Plains Partners stock has taken a hit, much like the rest of the stock market, weighed down by negative investor sentiment, not by soaring oil and gas prices. While GPP stock is up by 8.6% over the last six months and 43% year-over-year, it's down by 20% from its November 2021 high. This puts it right on the edge of bear market territory.
With history as our friend, the outlook for Green Plains Partners stock is solid. Thanks to high commodity prices, the stock's slide into bear market territory should be short-lived.
As an oil and gas midstream company, Green Plains Partners LP will see its share price fluctuate along with the economic cycle and in step with oil and gas prices. So, it shouldn't be a big surprise that GPP stock has cratered during the pandemic, nor should it be a surprise to see that its dividend has been slashed.
With the global economy grinding to a halt during the COVID-19 pandemic, the demand for oil plunged. In April 2020, Green Plains Partners LP cut its quarterly distribution by 75% to $0.12 per unit. That move freed up approximately $33.8 million on an annual basis. The company then used that freed-up cash to pay down its debt.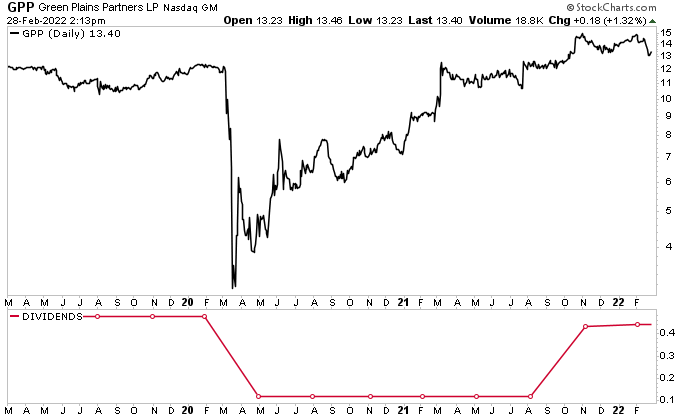 Chart courtesy of StockCharts.com
With the economy rebounding and crude oil prices at their highest level since 2014, it's reassuring to see that Green Plains Partners stock has resumed its dividend hikes. As you can see in the above chart, its dividend exploded in November 2021 from $0.12 to $0.435 per unit. (Source: "Green Plains Partners Declares Quarterly Distribution," Green Plains Partners LP, October 19, 2021.)
More recently, in January 2022, the company's board declared a fourth-quarter distribution of $0.44 per unit, for a yield of 13.3%. (Source: "Green Plains Partners Declares Quarterly Distribution," Green Plains Partners LP, January 20, 2022.
GPP stock's dividend is safe, too. The company's payout ratio is just 46.5%, which is way below my 90% threshold. Moreover, Green Plains Partners' fourth-quarter distribution coverage was 1.05x. This gives the company lots of room to raise its dividend again in 2022.
The outlook certainly looks good for this dividend stock. In the fourth quarter of 2021, Green Plains Partners reported net income of $9.9 million, or $0.42 per share. Its adjusted earnings were $12.2 million and its cash flow was $11.0 million. (Source: Green Plains Partners LP, February 11, 2022, op. cit.)
"Green Plains Partners executed on its plan during the year to refinance its debt and increase distributions to unitholders," said Todd Becker, president and CEO. "The partnership continues to deliver consistent cash flows for its unitholders driven by stable operating results and a strong balance sheet." (Source: Ibid.)
The Lowdown on Green Plains Partners LP
With the COVID-19 pandemic mostly in the rearview mirror, the outlook is great for Green Plains Partners LP. The global economy has been opening up again and commodity prices are on the rise.
Green Plains Partners stock is down on broad-based concerns about the Russia-Ukraine war, but that pullback should be short-lived. Despite the volatility, the company's fee-based structure provides it with reliable cash flow, which it uses to juice GPP stock's growing, ultra-high-yield dividends.