Green Plains Partners LP: Is This 10.7% Yield Safe?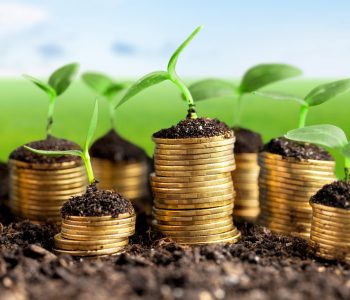 Can You Trust This 10.7% Yield?
Green Plains Partners LP (NASDAQ:GPP) wants to do a lot of good, both for the country and for unitholders.
The master limited partnership (MLP) stores and transports plant-based ethanol fuels to be burned in place of gasoline. It aims to reduce greenhouse gases while reducing the nation's reliance on foreign sources of energy.
That's a wonderful goal. But is the partnership's payout (which recently topped 10.7%) wonderful, too? Let's dig into this distribution.
Ethanol production has had a rocky history with investors. It's a commodity, low-margin business. This led to a string of bankruptcies a number of years ago, and most people have sworn off the industry ever since.
Green Plains Partners, however, doesn't actually make ethanol. Instead, the business owns the assets that ship and stores these fuels across the country. Moreover, all of these deals get done on fee-based, long-term contracts that have little exposure to commodity prices.
And these contracts can be quite profitable. Last year, Green Plains Partners generated $64.0 million in distributable cash flow. That more than covers the $59.1 million paid out to unitholders in distributions. (Source: "Green Plains Partners Reports Fourth Quarter and Full Year 2017 Financial Results," Green Plains Partners LP, February 7, 2018.)
Looking forward, that income stream will likely continue to grow. Ethanol volumes grow slowly but relentlessly over time. Management should be able to raise toll prices at or above the rate of inflation.
But the big growth driver will be new projects. Green Plains expects to buy a new ethanol export terminal from its parent company in the first half of 2018. The combination of acquisitions and organic growth should allow the partnership to increase earnings at a low- to mid-single-digit clip for the foreseeable future.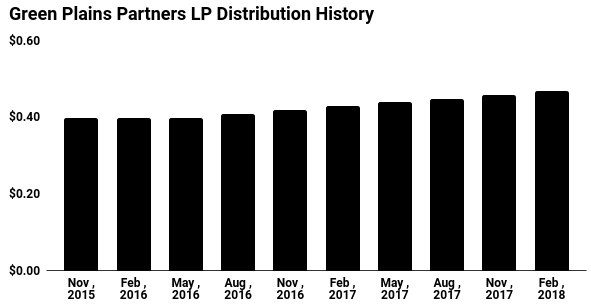 (Source: "Green Plains Partners LP (GPP)," Yahoo! Finance, last accessed April 16, 2018.)

The big risk here? Politics. While Green Plains is based in Omaha, investors need to keep their eyes on Washington. If politicians change fuel standards or clean energy subsidies, it could have an adverse impact on the business.
That said, farmers have a tight grip on beltway politics. If a politician starts making enemies in Nebraska, it won't be long until he starts making friends at the local unemployment office. Ethanol makes up a big chunk of income for growers, so lobbyists protect their turf quite seriously.
In other words, this dividend stock will likely keep producing green for investors.