GPC Stock: How to Collect Growing Dividends from the Auto Industry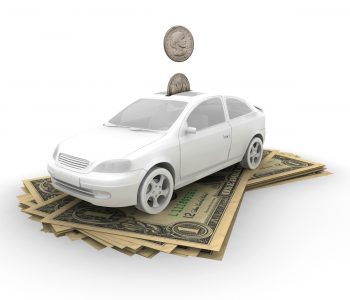 iStock.com/GoShiva
1 Top Dividend Growth Stock for 2017 and Beyond
Because of what happened to U.S. automakers in the last financial crisis, investors may have second thoughts about putting their money in the auto industry. Today, however, I'm going to show you a company in this sector that is worth considering, even for the most conservative income investors.
It offers a decent current yield and has a longer dividend increase track record than Johnson & Johnson (NYSE:JNJ) and The Coca-Cola Co (NYSE:KO).
I'm talking about Genuine Parts Company (NYSE:GPC), an automotive replacement parts distribution company headquartered in Atlanta, Georgia.
You may be wondering how a company in the auto sector can be a long-term dividend growth stock. After all, isn't the industry known for being cyclical?
Well, it's true that new car sales tend to be higher when the economy is booming and lower during recessions. But Genuine Parts Company is not making new cars. Instead, it is a distribution company with four operating segments: Automotive Parts Group, Industrial Parts Group, Office Products Group, and Electrical/Electronic Materials Group.
Right now, the company has 2,650 operations located in the U.S., Canada, Mexico, Australia, and New Zealand. The size of its distribution network and the expertise it has developed through nearly 90 years of operating history gives the company durable competitive advantage.
The company also benefits from having some well-known brands. When it comes to taking care of their cars, consumers prefer high-quality brands such as Genuine Parts Company's "NAPA."
Moreover, Genuine Parts Company could do well even if the economy enters a downturn. You see, when people don't have the money to buy new cars, they hold on to their old cars for longer. And the older the vehicle, the more likely that it will need some replacement parts, which would boost the business of this parts distribution company.
And don't forget that auto parts distribution is not the only business of Genuine Parts Company. As a matter of fact, the Automotive Parts Group contributes just 52% to the company's total net sales. So even if the demand for auto parts declines, GPC would still have three other segments to rely on.
A look at the company's distribution history would show why it is a top dividend growth stock. Genuine Parts Company has been paying uninterrupted dividends since its initial public offering in 1948 and has raised its payout in each of the last 61 years. That makes it a "dividend king," meaning a company with at least five decades of annual dividend increases. Among thousands of companies trading in the U.S. stock market, there are only 22 Dividend Kings.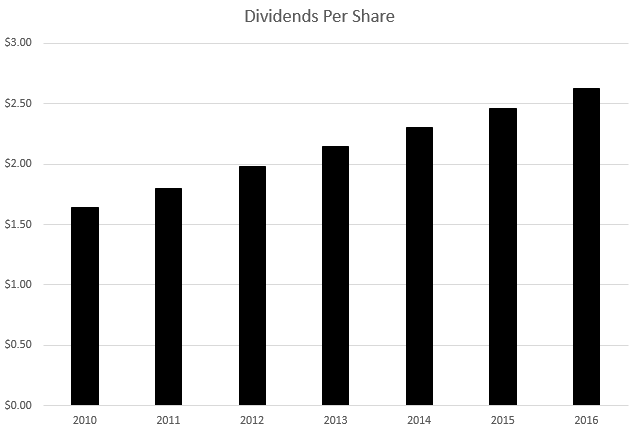 Source: "Dividends," Genuine Parts Company, last accessed September 8, 2017.
Recent increases have been quite substantial. In 2010, the company's total dividends were $1.64 per share. In 2016, the amount was $2.63 per share. That's an increase of more than 60%.
After GPC's latest dividend hike in February, the company's quarterly distribution rate is now at $0.675 per share. That gives this dividend growth stock an annual yield of 3.2%, which is pretty decent considering the average dividend yield of all S&P 500 companies right now is a measly 1.9%.
And that's why GPC stock could be worth owning for dividend growth investors, despite its exposure to the auto industry.
Also Read:
5 Top Dividend Growth Stocks for 2017
4 Best Long-Term Dividend Stocks to Watch in 2017