GPC Stock: 61 Years of Dividend Increases from an Auto Stock?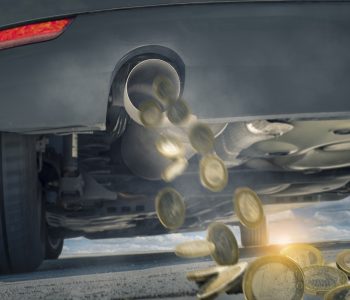 iStock.com/S_Bachstroem
This Auto Stock Deserves Income Investors' Attention
In this article, we are going to take a look at a company with one of the longest dividend increase streaks in America: Genuine Parts Company (NYSE:GPC).
Headquartered Atlanta, Georgia, Genuine Parts Company distributes automotive replacement parts. The company started in 1925 with just six employees and annual sales of $75,000. Over the years, it has grown tremendously. Today, GPC is a leading parts distributor with more than 2,650 operations and approximately 39,600 employees. Last year, sales totaled $15.7 billion. (Source: "Genuine Parts Company (GPC)," Yahoo Finance, last accessed October 2, 2017.)
For income investors, the reason to take a look at GPC stock is to collect its rising dividends. The company currently pays quarterly dividends of $0.675 per share. At today's price, that translates to an annual yield of 2.82%.
I know there are plenty of companies with much higher yields. But what makes Genuine Parts Company stand out is its ability to deliver dividend payments through thick and thin.
You see, in the world of dividend stocks, there is an elite group called "dividend kings." These are companies with at least 50 consecutive years of annual dividend increases.
Five decades of dividend hikes is no easy feat. With so many economic downturns and geopolitical events, not many companies can maintain such a track record.
And that's why Genuine Parts Company is special. The company not only made the list of "dividend kings," but it has raised its payout every year for the past 61 years. (Source: "Dividends," Genuine Parts Company, last accessed October 2, 2017.)
Despite decades of dividend growth, this dividend machine's momentum is still going strong. The chart below shows GPC's per share dividend history for the last 10 years:
GPC Stock Dividend History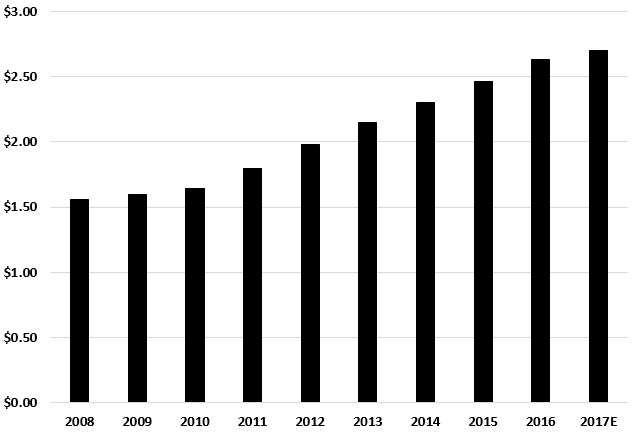 "Dividends," Genuine Parts Company, last accessed October 2, 2017.
In 2008, the company paid $1.56 per share. Fast forward to today, GPC's annualized dividends have grown to $2.70 per share for an increase of 73%.
If you are worried whether those payout increases were too aggressive, a look at the company's financials should be reassuring. In the second quarter of 2017, Genuine Parts Company generated $4.1 billion in sales, representing a five percent increase year-over-year and marking a new record. (Source: "Genuine Parts Company Reports Sales And Earnings For The Second Quarter Ended June 30, 2017," Genuine Parts Company, July 20, 2017.)
Earnings came in at $1.29 per share, up one percent from the year-ago period. Considering that GPC declared and paid total dividends of $0.675 per share during this period, the company achieved a payout ratio of 52.3%, leaving a wide margin of safety. In the first half of 2017, GPC's payout ratio was 57.2%–not a high number by any means.
Also Read:
5 Best Dividend Aristocrats ETFs for Income Investors
The Top 10 Dividend Aristocrat Stocks for High Yields
Final Thoughts on GPC Stock
When it comes to finding long-term dividend growth stocks, investors typically think of companies operating in recession-proof industries such as consumer staples and healthcare. Because demand for these goods and services tend to be relatively inelastic to how the economy is doing, companies can deliver solid performance regardless of economic cycles.
The auto industry, on the other hand, is far from being recession-proof. But Genuine Parts Company does not make cars, or even parts; it is a pure distributor. With a large distribution network and established brand names like "NAPA Auto Parts," GPC is well positioned to continue its success. And thanks to its growing business, higher dividends could be on the way for GPC stock investors.