Government Properties Income Trust: 9.3% Yielding Income Opportunity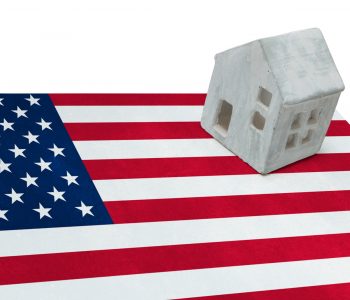 iStock.com/michaklootwijk
Earn a 9.3% Yield From the Government
It's enough to keep every landlord up at night: running into a deadbeat tenant.
You always have to chase them down for money. Who wants to deal with bounced checks, damaged appliances, and scratched-up countertops?
Now, picture a tenant who always pays their rent on time. That's practically the case with Government Properties Income Trust (NYSE:GOV). This partnership rents out office buildings to the government, with dozens of properties across the United States. For income investors, it's worth a look.
First, you can't find a better tenant than the U.S. government. I trust most renters, but a few bad apples make it a tough business. "Uncle Sam," on the other hand, never runs out of money and almost always makes the rent on time.
By square footage, the Internal Revenue Service (IRS) represents the trust's biggest tenant, with the Department of Customs and Immigration coming close behind. Needless to say, these agencies won't go out of "business" anytime soon.
Furthermore, these leases represent long-term commitments, usually 10 years or more. Most landlords jump for joy if a tenant signs for a year and actually pays on time. GOV, meanwhile, can circle the dates of the calendar when it's going to get paid for decades to come.
Better still, these deals gush profits. Over the past few years, Government Properties Income Trust has spent billions of dollars buying up properties. On average, these deals earn cap rate (a common return metric in the real estate business) of more than eight percent. That beats the pants off of most returns in stocks, bonds, and other assets today.
All of these leases include regular rent hikes baked into the contracts. Tenants cover most of the costs of maintaining these buildings. If inflation or property taxes get out of hand, GOV can pass these costs on to renters, too.
Take management's latest purchase, for example. In January, the trust bought one office building in Manassas, Virginia that's 100% leased to Prince William County. The tenant has a lease term of nine years. at a cap rate of 8.6%. (Source: "Government Properties Income Trust's (GOV) on Q4 2016 Results – Earnings Call Transcript," Seeking Alpha, February 22, 2017.)
It's a smoking deal. Once again, your average rental property earns a cap rate of five or six percent. Government Properties Income Trust pockets a far better return, and it doesn't even need to search for a new tenant.
Most of this cash gets paid out to owners. Today, GOV stock pays out a quarterly distribution of $0.43 per unit. That comes out to an annual yield of 9.3%.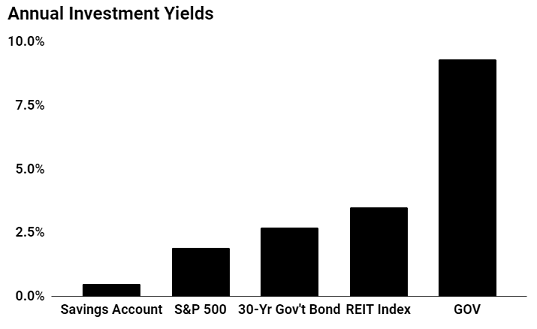 (Source: "Government Properties Income Trust," Google Finance, last accessed June 30, 2017)
This distribution should keep growing. As mentioned, rent hikes kick in each year. Management continues to scoop up valuable real estate.
The partnership's recent acquisition of First Potomac Realty Trust (NYSE:FPO) will provide a big boost to cash flow. The purchase doubles GOV's ownership of office properties leased to the government and contractors in the D.C. area. Traders don't like the deal, as it will be funded by issuing new units, but this equity financing keeps the balance sheet in tip-top shape.
Also Read:
10 Best Real Estate Stocks to Own in 2017
The Top 10 High-Dividend Stocks with Growing Payouts
The Bottom Line on GOV Stock
Landlording is a tough gig, but you can't find a better tenant than Uncle Sam. This 9.3% yield is backed up by the U.S. government. And hey, there's a certain satisfaction in getting a little money back from the Feds.