Government Properties Income Trust: Collect a 10.7% Yield From "Uncle Sam"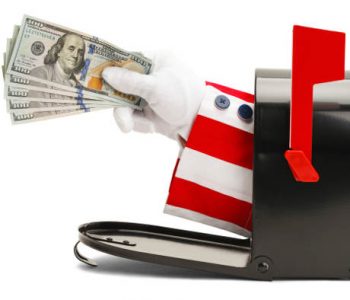 iStock.com/Michael Burrell
Can You Trust This 10.7% Yield?
I roll my eyes when readers ask me to evaluate most high-yield stocks.
Quite frankly, you just don't have many safe, double-digit yields out there. But once in a while, you find a high payout that has been overlooked by the market.
Government Properties Income Trust (NASDAQ:GOV) is a real estate investment trust (REIT) that rents out office buildings to the U.S. government. With a yield approaching 10.7%, the partnership has generated a lot of interest among income investors.
But can you really trust this double-digit payout? Actually, yes. Let take a deep dive into this partnership's financials.
For a landlord, you might not be able to find a better tenant in the world.
Each year, the General Services Administration spends roughly $70.0 billion on all of the things needed to keep our government humming. And although "Uncle Sam" owns thousands of buildings, rent still represents the agency's biggest expense.
Government Properties Income Trust has long appreciated that business. The government tends to pay its bills on time and prefers to lock in stable, long-term leases. This creates a steady, ongoing stream of rental income that rolls in like clockwork.
Moreover, the business generates ample cash flow.
Last year, Government Properties Income Trust generated $2.00 per share in funds from operations (FFO), a measure of profitability used for REITs. Over the same period, it paid out $1.72 per share in distributions.
That 86% payout ratio sits at the upper end of my comfort zone. In a more cyclical business, this would immediately disqualify this income trust. But, given the stable nature of GOV's cash flows, unitholders have little to worry about.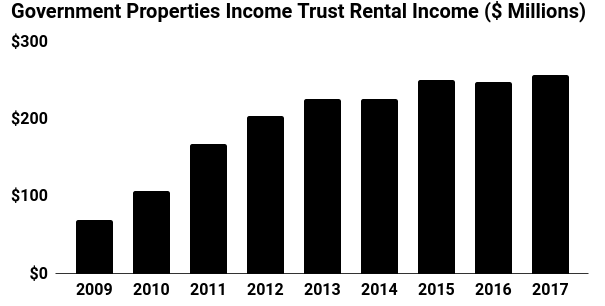 (Source: "Annual Reports," Government Properties Income Trust, last accessed July 3, 2018.)
The only real risk here: government spending cuts.
As you can see in the chart above, Government Properties Income Trust's rental income has flatlined over the past few years. As the federal government dials back its spending, the partnership's growth opportunities will be more limited, looking forward.
Investors need to understand that issue up front. You're getting a 10.7% yield here and not much else. But those who sit around reinvesting their distribution will likely beat the pants off the market as the years tick by.