GOV Stock: A 9.3% Income Stream From "Uncle Sam"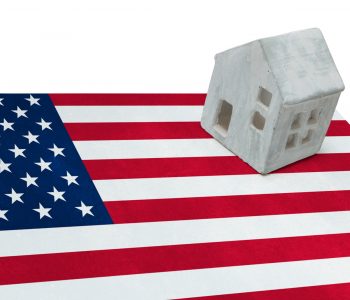 iStock.com/michaklootwijk
Tax Loophole Yields 9.3%
"Rob, low interest rates destroyed my retirement," my friend Patrick complained. "For most of my life, you could always find a good yield somewhere. If the wife and I could earn a safe five percent, we'd both retire."
Patrick is hardly the only one struggling.
Work hard, build a nest egg, and retire at 65 to enjoy the good life. At least, that was the idea. Financial planners called for stashing money in something safe, then buying a golf membership in Fort Lauderdale.
So, how did it go wrong? Central banks slashed interest rates to bail out their Wall Street cronies. Now a seven-figure savings account yields only enough to buy one round on the links each year, and not at any of those fancier golf courses.
The situation puts baby boomers in a bind. You can leave your cash in bank certificates of deposit, earning basically zero. Or you can buy junk bonds for extra yield and try to sleep through the stomach-churning ups and downs that brings.
Fortunately, I have found a better option.
The past few years, I've become a big fan of Government Properties Income Trust (NYSE:GOV). This partnership rents out office buildings to "Uncle Sam," with dozens of properties across the United States. And, while most people have never heard of it, a number of Wall Street money managers count on this firm for its safe, lucrative income.
Why? Well, first of all, this income stream is one of the safest around. The Internal Revenue Service (IRS) tops the trust's list of tenants by square feet. Citizenship and Immigration Services comes in at second. (Source: "Investor Presentation," Government Properties Income Trust, August 2017.)
Needless to say, these agencies represent pretty reliable renters. Other landlords struggle with vacant buildings when tenants go out of business. The federal government, on the other hand, never runs out of money and almost always makes the rent on time.
And it turns out that renting to Uncle Sam is quite profitable. All leases include regular rent hikes. If inflation or property taxes increase, GOV can pass on these costs too.
Capitalization rates, a common return metric in the real estate business, come in at eight percent, on average. That's far higher than the returns I find in stocks or bonds today. Bureaucrats, after all, spend taxpayer money, so they don't care about blowing cash on lease payments.
To be fair, the Trump administration could cap the need for new office space. Yet, Government Properties Income Trust has found new ways to grow anyways, expanding the business into state and municipal governments, as well as to government contractors. This explains why rental income jumped from around $81.0 million in 2009 to more than $258.1 million by 2016.
For owners, this has created a tidy income stream. Because GOV has structured itself as a real estate investment trust (REIT), the partnership pays no corporate income taxes. In exchange for this benefit, however, management must pay out all of the profits to investors.
Right now, units pay out a quarterly distribution of $0.43 each, which comes out to an annual yield of 9.3%. That payout should continue to grow following the partnership's recent acquisition of First Potomac Realty Trust (NYSE:FPO). The deal will provide a big boost to cash flow and doubles Government Properties Income Trust' footprint in the D.C. area.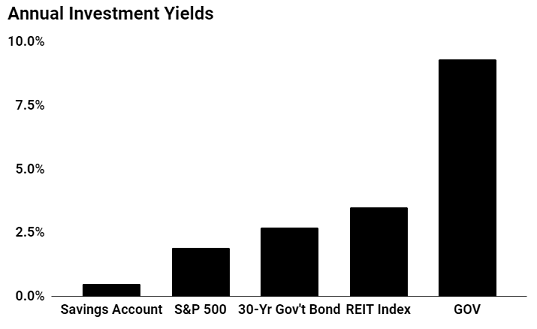 (Source: Yahoo! Finance, last accesses September 12, 2017.)
The Bottom Line on GOV Stock
Low interest rates have crushed many retirement plans. But, if you're willing to trek off the beaten path, you can still find some big, safe yields out there.
Government Properties Income Trust meets both of these criteria. Sure, you can find comparable yields if you look hard enough. Investors, though, would be hard-pressed to find another payout as reliable as this one.