Golden Ocean Group Ltd: 8.2% Yielder Rises 196% YOY & Doubles Dividend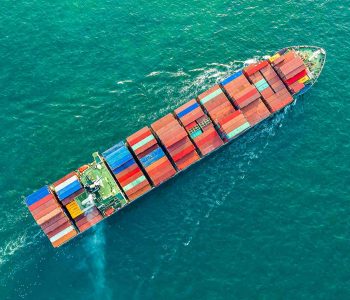 GOGL Stock Perfect for Growth and Income?
With the supply-chain crunch and global economic recovery, it's not a bad time to consider marine shipping stocks, especially one as bullish as Golden Ocean Group Ltd (NYSE:GOGL).
Not only is Golden Ocean stock on fire, up by 111% year-to-date and 196% year-over-year, but it resumed its dividend earlier in the year. The company says this reflects its expectation that the marine shipping market will remain bountiful for the foreseeable future.
Golden Ocean was able to do this after reporting the best first-quarter results in its history. The momentum carried into the second quarter, with management providing a bright outlook.
This allowed Golden Ocean Group Ltd to double its quarterly dividend to $0.50 per share, for a yield of 8.2% and a payout ratio of just 21.9%. The company could easily raise GOGL stock's dividend again in the third quarter.
Based on the demand for marine shipping, coupled with slowing fleet growth until at least 2023, the long-term outlook is bright for Golden Ocean stock. Its short-term outlook is also solid, with port and supply chain inefficiencies impacting rate volatility and periods of exceptionally high rates.
This has led Wall Street to issue high 12-month share-price targets for GOGL stock, with an average forecast of $15.50 and a high estimate of $18.00.
That suggests upside of 70% and 96%, respectively. Even the low estimate of $13.00 points to potential gains of 42%. It's highly unlikely that the S&P 500 will be able to compete with that in 2022.
Chart courtesy of StockCharts.com
Golden Ocean is a leading international dry bulk shipping company and the largest listed owner of Capesize vessels. Its fleet of 101 ships includes 56 Capesize, 42 Panamax, and three Ultramax vessels. (Source: "Pareto Energy Conference: September 2021," Golden Ocean Group Ltd, last accessed October 29, 2021.)
Capesize is the largest class of bulkship that's used to transport coal and iron ore. Because they're roughly 230 to 270 meters long (745 to 885 feet), only a few ports can accommodate them fully loaded. As a result, they cannot pass through the Panama Canal and need to go around the Cape of Good Hope, hence the name "Capesize." If you want to rent one, it will set you back approximately $33,500 per day. The breakeven price for Golden Ocean to operate one Capesize ship is $12,800 per day.
Panamax vessels are medium-sized ships mainly used for transporting products in the Caribbean and Latin America. As its name implies, the Panamax class comprises the largest ships that can travel through the Panama Canal. Or at least it used to; with the extension of the Panama Canal, there's a newer class of even larger ships cleverly titled New Panamax. At just $22,900 per day to charter, a Panamax vessel is much more affordable than a Capesize one. The breakeven point for a Panamax ship is $8,400 per day.
Commodities transported by Golden Ocean Group Ltd's vessels include iron ore (58% of total), coal (30%), grain (seven percent), bauxite (one percent), and "other" (four percent).
The average age of the company's fleet is about 6.5 years, with the average ship built to last at least 25 years.
Thanks to the significant demand for marine vessels, Golden Ocean has been reporting strong financial results. Its second-quarter 2021 adjusted earnings before interest, taxes, depreciation, and amortization (EBITDA) were $130.5 million, compared to $54.6 million in the first quarter. (Source: "GOGL – Second Quarter 2021 Results," Golden Ocean Group Ltd, August 26, 2021.)
The company's time charter equivalent (TCE) rates for Capesize and Panamax/Ultramax vessels were $29,372 and $18,987 per day, respectively. For the whole fleet, the reported TCE rate was $24,920 per day.
This is a big improvement over the company's first-quarter reported daily TCE rates for Capesize and Panamax/Ultramax vessels of $16,611 and $14,777, respectively. The reported TCE rate for its whole fleet in the first quarter was $15,886 per day. (Source: "GOGL – First Quarter 2021 Results," Golden Ocean Group Ltd, May 20, 2021.)
Golden Ocean's estimated TCE rates for the third quarter are approximately $33,500 per day contracted for 71% of the available days for Capesize vessels and approximately $22,900 per day contracted for 92% of the available days for Panamax vessels.
During the second quarter, Golden Ocean Group Ltd completed its previously announced acquisitions of 15 modern dry bulk vessels and three newbuildings, all of which have been delivered.
The company signed agreements to refinance an existing credit facility, securing up to $435.0 million of new long-term financing. The refinancing will lower the average cash breakeven rate for the acquired vessels with an estimated $415.00 per day.
Ulrik Andersen, CEO, commented, "Golden Ocean's result for the second quarter of 2021 reflects the dry bulk market's solid underlying fundamentals, but also our strategy of maintaining a significant portion of our fleet exposed to the spot market. As pleased as we are with the net profit for the second quarter of 2021, we are more excited about what lies ahead." (Source: Golden Ocean Group Ltd, August 26, 2021, op. cit.)
You can't ask for much more than that.
Golden Ocean Group Ltd Resumes Dividend
Suffice it to say, the COVID-19 pandemic hasn't been kind to the shipping industry. With much of the economy shuttered, demand for commodities dried up, and so did Golden Ocean's business. In the first quarter of 2020, the company reported a net loss of $160.8 million and adjusted EBITDA of $12.3 million. (Source: "GOGL – First Quarter 2020 Results," Golden Ocean Group Ltd, May 27, 2020.)
To help shore up its bottom line, the company suspended Golden Ocean stock's dividend. Despite volatility in freight rates, the company's operations improved throughout 2020. By the fourth quarter of that year, its net income had improved to $25.4 million and its adjusted EBITDA had improved to $59.4 million.
Again, the company reported the best first-quarter results in its history this year. Those results included net income of $23.6 million and adjusted EBITDA of $54.6 million. (Source: Golden Ocean Group Ltd, May 20, 2021, op. cit.)
Golden Ocean has a long history of returning value to its shareholders, which it did with the resumption of a $0.25 dividend in the first quarter of 2021. The better second-quarter results allowed the company to hike its dividend by 100% to $0.50 per share.
With no material capital expenses, debt maturities, or vessels on order, Golden Ocean is well positioned to continue to generate significant cash flows. That has been to the benefit of its shareholders. So far, the company has returned $150.0 million to GOGL stockholders in 2021.
The Lowdown on Golden Ocean Stock
Golden Ocean Group Ltd is a massive marine shipping company focused on larger-class vessels that have the greatest leverage to improving markets.
The company's ability to maintain extremely competitive cash breakeven levels will result in significant cash flow generation, which GOGL stock investors hope will result in continued, growing, high-yield dividends and underlying share-price growth.