GM Stock: 3 Simple Reasons to Own General Motors Company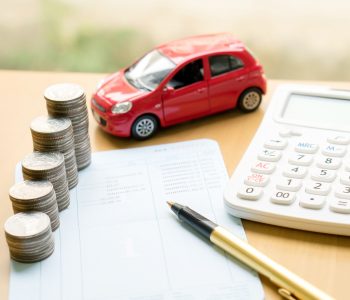 iStock.com/ImagePixel
With the stock market soaring past its all-time high, bargains are hard to find for yield-seeking income investors. And that's one of the reasons why General Motors Company (NYSE:GM) stock deserves special attention.
GM Stock: Attractive Valuations
It wasn't always sunshine and rainbows for the Detroit, Michigan-based automaker. In particular, due to heavy losses, the company had to file for Chapter 11 bankruptcy in 2009.
However, thanks to a government-backed reorganization, the new GM emerged and is running a much-improved business. Since GM stock got relisted on the New York Stock Exchange in 2010, the company has remained profitable every single year.
But, despite this solid progress, investors haven't really warmed up to GM stock. Trading at $36.40 apiece, General Motors stock has a price-to-earnings (P/E) multiple of 5.79 times, which is significantly lower than the industry's average P/E multiple of 13.05 times. Moreover, its price-to-book and price-to-cash-flow ratios are also much lower than the industry's averages. (Source: "General Motors Co (GM.N)," Reuters, last accessed August 31, 2017.)
Of course, the auto industry is known to be a cyclical one, and companies tend to have low valuations when auto sales are booming and profits are rising. But GM stock's valuations are low, even compared to other automakers. Having a low price compared to the company's intrinsic value creates a margin of safety, which could provide downside protection when the next economic downturn arrives.
Earn a 4.2% Yield from GM Stock
Since a company's dividend yield moves inversely to its share price, GM stock's lackluster performance means it could offer an opportunity for income investors.
With the stock trading at pretty much the same level as it did during its initial public offering (IPO) in 2010, the company has an annual dividend yield of 4.2%. With such great profits flowing into GM, I expect to see the dividend payout double.
Keep in mind that the average dividend yield of all S&P 500 companies right now is at just 1.9%. So, investors purchasing GM stock today would earn a yield more than double the benchmark index.
Also, while GM stock hasn't really climbed much, it's a totally different story for its dividends. The company reinstated its dividends in 2014. From its initial quarterly dividend rate of $0.30 per share to today's $0.38 per share, GM stock's payout has increased 26.7%.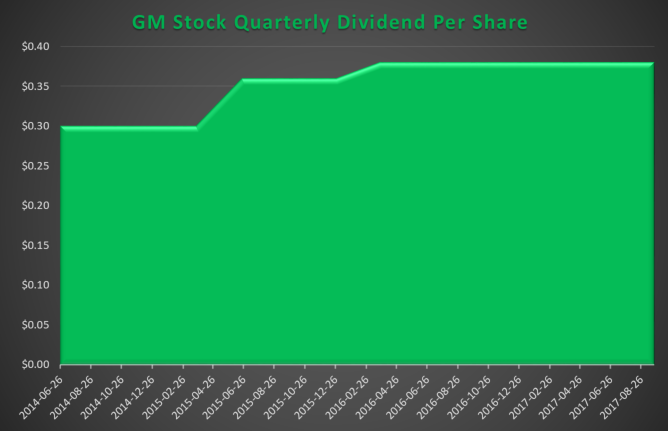 (Source: "Historical Dividends," General Motors Company, last accessed August 31, 2017.)
And if you are concerned about General Motors' dividend safety, don't worry. Last year, the company generated adjusted earnings of $6.12 per share while paying total dividends of $1.52 per share. That translates to a payout ratio of less than 25%, leaving a sizable margin of safety. (Source: "GM Reports Record Full-Year Earnings Per Share," General Motors Company, February 7, 2017.)
Booming EV Business
The third, and perhaps most overlooked, reason to consider GM stock is the booming electric vehicle (EV) market. Over the last several years, we have seen a huge increase in electric car sales, not just in the U.S., but around the world. The company making the most headlines in the booming EV market has been Tesla Inc (NASDAQ:TSLA), but GM has been capitalizing on this trend as well.
Also Read:
GM Stock: Dividend Yield, Splits, Prediction, and Everything You Need to Know
GM Stock: Does Warren Buffett Like General Motors Company?
You see, in the first seven months of this year, Tesla has sold 12,620 units of its "Model S," making it the number-one-selling plug-in vehicle in the United States. Immediately following the "Model S" is the "Chevrolet Volt," made by GM. From January to July, General Motors sold 12,450 units of the Volt. (Source: "Monthly Plug-In Sales Scorecard," Inside EVs, last accessed August 31, 2017.)
And that's not all. GM also makes the "Chevrolet Bolt," the fifth-best-selling plug-in vehicle in the U.S., with 9,563 units sold in the first seven months of 2017. So, among the top five best-selling plug-in vehicles in the U.S. year-to-date, two were made by General Motors.
If the trend of growing EV adoption continues, it could become a major catalyst for GM stock. Adding in its generous dividend yield and attractive valuations, this automaker could represent an opportunity for income investors.