GM Stock 2017 Outlook: Dividend Yield, Splits, Prediction, and Everything You Need to Know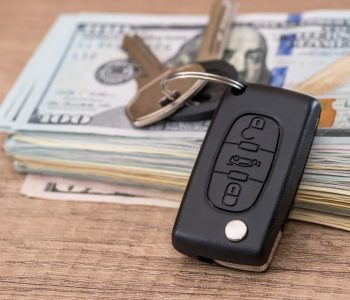 GM Stock Dividend Outlook
The automotive industry is probably not the first one to come to mind when investors are looking for income ideas. But General Motors Company (NYSE:GM) is now running a solid business and offers a decent dividend yield. Should investors consider this Detroit, Michigan-based automaker? Well, for those that are searching for "GM stock forecast" and "GM stock dividend outlook," here is everything you need to know about the company from an income investor's perspective.
The Company
General Motors' history can be traced all the way back to 1908. Today, it is one of the largest automakers in the world. It designs, builds, and sells cars, trucks, crossovers, and auto parts. The company operates through five business segments: GM North America, GM Europe, GM International Operations, GM South America, and General Motors Financial Company. There are over 19,000 dealers selling GM vehicles in 125 countries. Last year, the company delivered 10 million vehicles worldwide.
GM is a century-old name, but it wasn't always smooth sailing for the company. As a matter of fact, due to heavy losses, General Motors Corporation (the old GM) filed for Chapter 11 bankruptcy in 2009. The current General Motors Company was formed after a government-backed reorganization. It purchased most of the assets of the "old GM," including the brand.
The restructuring also resulted the company closing several of its brands, including "Saturn," "Pontiac," and "Hummer." Today's General Motors has 10 automotive brands: "Chevrolet," "Buick," "GMC," "Cadillac," "Opel," "Vauxhall," "Holden," "Baojun," "Wuling," and "Jiefang."
On November 17, 2010, the new General Motors Company completed its initial public offering (IPO) on the New York Stock Exchange (NYSE). The IPO raised $20.1 billion for the company at $33.00 per share.
GM Stock Current Dividend Policy
General Motors Company pays quarterly dividends of $0.38 per share. At the current price, that translates to an annual dividend yield of 4.43%.
In order to receive GM stock's next dividend payment, an investor must own shares of the company before the ex-dividend date, which is usually set to be two business days before the record date. The next General Motors stock quarterly dividend is going to be paid on June 23, 2017, with the record date set to be June 9. The ex-dividend date was June 7.
Dividend History
| | | | |
| --- | --- | --- | --- |
| Declaration Date | Record Date | Payment Date | Amount |
| 04/27/2017 | 06/09/2017 | 06/23/2017 | $0.38 |
| 02/06/2017 | 03/10/2017 | 03/24/2017 | $0.38 |
| 10/24/2016 | 12/07/2016 | 12/22/2016 | $0.38 |
| 07/20/2016 | 09/09/2016 | 09/23/2016 | $0.38 |
| 04/20/2016 | 06/10/2016 | 06/23/2016 | $0.38 |
| 02/02/2016 | 03/11/2016 | 03/24/2016 | $0.38 |
| 12/08/2015 | 12/18/2015 | 12/29/2015 | $0.36 |
| 09/02/2015 | 09/14/2015 | 09/29/2015 | $0.36 |
| 04/13/2015 | 06/10/2015 | 06/23/2015 | $0.36 |
| 01/21/2015 | 03/11/2015 | 03/24/2015 | $0.30 |
| 10/07/2014 | 12/10/2014 | 12/23/2014 | $0.30 |
| 08/12/2014 | 09/10/2014 | 09/26/2014 | $0.30 |
| 04/08/2014 | 06/10/2014 | 06/26/2014 | $0.30 |
| 01/14/2014 | 03/18/2014 | 03/28/2014 | $0.30 |
Because the new GM stock has only been trading for a few years, it doesn't have a very long dividend growth history. However, the rate at which the company has raised its payout is still quite impressive.
General Motors Company started paying a dividend in 2014. Since then, it has raised its quarterly payout twice. From its first quarterly dividend of $0.30 per share to today's $0.38 per share, GM stock's dividend has increased 26.7%. (Source: "Historical Dividends," General Motors Company, last accessed June 14, 2017.)
Will GM Raise Its Dividend?
Dividends come from a company's profits. In order to keep raising dividends, General Motors needs to run a profitable business. So let's take a look at the company's financials.
The first thing to note is that since GM stock's relisting on the NYSE, the company has remained profitable every single year.
In 2016, General Motors generated a record $166.4 billion in revenue, representing a 9.2% increase year-over-year. Adjusted earnings before interest and taxes (EBIT) grew 15.9% to $12.5 billion, also setting a new record. (Source: "GM Reports Record Full-Year Earnings Per Share," General Motors Company, February 7, 2017.)
Earnings per share (EPS), a widely followed metric by stock market participants, came in at a record $6.12 for the full year, excluding certain one-time items. This represented a 21.9% increase from 2015.
The company expanded its market presence globally in 2016. In the U.S., GM expanded its retail share by 0.5 percentage points, an increase that's larger than any other full-time automaker. In China, deliveries of General Motors vehicles increased 7.1% to a record 3.87 million. In Europe, the company's "Opel" and "Vauxhall" brands grew their sales by four percent.
On the dividend front, General Motors declared and paid total dividends of $1.52 per share in 2016. Since the company generated adjusted earnings of $6.12 per share, that gives a payout ratio of just 24.8%. This leaves a margin of safety and the potential for future dividend hikes.
For the current year, things have been going well so far. GM's first quarter earnings report showed that revenue increased 10.6% year-over-year to $41.2 billion. The bottom line was even more impressive, as adjusted earnings per share grew 34.9% from the first quarter of 2016 to $1.70. (Source: "GM Reports Strong Net Income, Up 33.5 Percent to $2.6 Billion," General Motors Company, April 28, 2017.)
Going forward, GM's forecasted earnings per share for full year 2017 is in the range of $6.00 to $6.50, which at the midpoint would represent a 2.1% increase from last year. Given that General Motors' annualized dividend payout is just $1.52 per share, a dividend increase in 2017 is certainly a possibility.
However, investors of GM stock should also note that the auto industry is a cyclical one. Automakers have been firing on all cylinders in the past several years because auto sales have been booming. In 2016, auto sales in the U.S. reached a new all-time high of 17.55 million units, breaking the previous record set in 2015. (Source: "U.S. December auto sales surprisingly strong, 2016 sets new high," Reuters, January 5, 2017.)
Our economy moves in cycles. Right now, things look great. But at some point, there will be a downturn. When that happens, people may not be buying as many new cars as before, and auto sales would likely ake a hit. Therefore, auto makers like GM may not want to raises its dividend to unsustainable levels. Fortunately, with the company's currently dividend payout ratio, there is a sizable margin of safety.
GM Stock Price History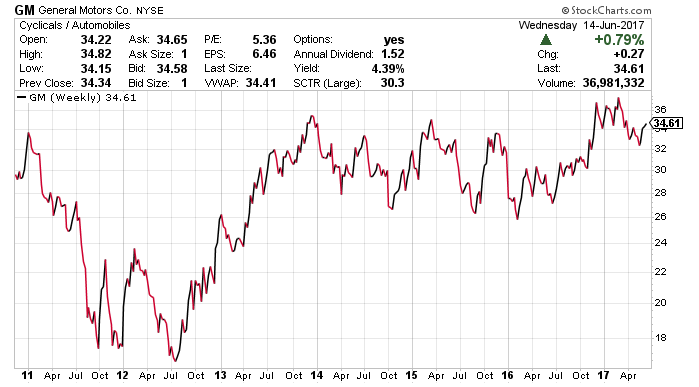 Source: StockCharts.com
Despite the company's handsome dividend yield and impressive dividend growth, GM stock hasn't really been a hot commodity. Shares of General Motors are now trading at $34.61 apiece, which is just slightly above its IPO price back in November 2010.
What to Expect from GM in 2017
There are many factors affecting a company's share price performance. Macroeconomic news, geopolitical headlines, or simply a shift in market sentiment can deliver unexpected shocks to individual stocks as well as to the overall stock market. So instead of looking for a GM stock prediction for 2017, let's focus on what the company could actually do to improve its business.
Approximately 85% of General Motors' revenue come from vehicle sales. One of the potential catalysts for the company is its upcoming vehicle lineup. In the past five years, sales from new or refreshed model introductions accounted for around 26% of GM's volume. From 2017 to 2020, the company expects launch cadence to account for 38% of its total volume.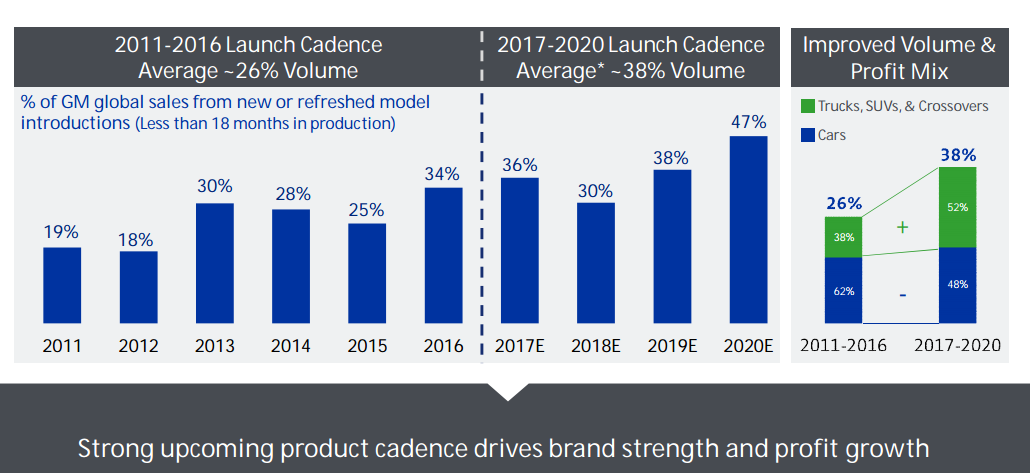 Source: "Citi Industrials Conference," General Motors Company, last accessed June 14, 2017.
Crossovers are currently the fastest-growing segment of new car sales. For the 2018 model year, General Motors has four new, completely redesigned crossovers in its lineup: the "Chevrolet Equinox," "Chevrolet Traverse," "GMC Terrain," and "Buick Enclave."
Don't forget that the company recently launched its mass market electric vehicle, the "Chevrolet Bolt," which can travel 238 miles on a single charge. It has also invested $500.0 million in ride-sharing company Lyft Inc. The two are working together to develop self-driving cars.
Sure, investors may still have bad memories about the "old GM." But based on what the company is working on right now, the new General Motors Company does have quite a few things going for it.
GM Stock Split History
A stock split increases the number of shares outstanding for a company. This usually happens when the market price per share rises to a point where it may deter smaller investors from investing in the company, especially when there is a minimum trading parcel. A company may also choose to split its shares when its price becomes high compared to similar companies in its sector. Even though valuation involves much more than just stock price alone, a higher price can make a company look more expensive compared to its peers.
Because a stock split only increases the number of shares outstanding and does not change the fundamentals of the company, the share price usually decreases immediately after the split. For instance, if a company conducts a two-for-one split, its share price would theoretically be halved.
GM stock completed its IPO in 2010 and has not conducted any stock split since then. Will GM stock split in 2017?
Well, the first thing to note is that since the company's relisting on the NYSE, investors haven't really warmed up to it. In fact, General Motors stock is currently trading at a similar price level as it did in November 2010. So there was no dramatic stock price increase to support the idea of a GM stock split in 2017.
However, also note that the other two of Detroit's "Big Three," Ford Motor Company (NYSE:F) and Fiat Chrysler Automobiles NV (NYSE:FCAU), both trade at around $11.00 per share. So from a peer group perspective, the stock price of General Motors is higher than two of its main competitors in the U.S.
Recently, an activist investor of GM stock, David Einhorn from Greenlight Capital, proposed a rather interesting stock split idea for the company. He suggested that GM split its shares into two classes, with one class paying the dividend while the other focuses on capital appreciation. However, shareholders of the company rejected Einhorn's proposal. (Source: "Einhorn's GM stock Split Fails as Holders Side With Barra," Bloomberg, June 6, 2017.)
Due to this recent news and the lackluster performance of GM stock, I don't think the company will split its shares in 2017.
GM Dividend Reinvestment Plan
Many dividend investors have been using something called dividend reinvestment plans (DRIPs) to boost the return of their income portfolios. Basically, a DRIP allows investors to reinvest a company's cash dividends by using it to purchase additional shares of the company. Companies that offer DRIPs usually allows investors to reinvest their dividends without any fees or commissions.
Unfortunately, General Motors does not offer a DRIP. However, that doesn't mean you cannot reinvest GM stock's dividends. Many brokerages allow investors to reinvest dividends at little to no cost. Investors interested in creating their own DRIP for GM stock may want to consider this option.