GLP Stock: Earn a Double-Digit Yield from This Energy Partnership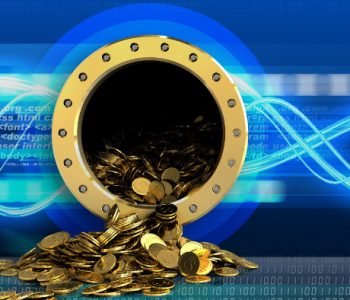 iStock.com/Madmaxer
GLP Stock: 1 Unique Energy Play You Likely Haven't Considered
Today's chart shows why a particular energy partnership deserves the attention of income investors.
Unless you've been living under a rock, you would have heard about the downturn in the energy sector. Due to the massive drop in commodity prices over the last three years, the share prices of oil and gas companies got crushed. Massive layoffs and dividend cuts were not uncommon.
One of the consequences of their plunging stock prices was an increase in yields. For investors who are willing to do the research, it's now possible to find solid dividend-paying stocks in the energy sector that offer much higher yields than the market average.
Global Partners LP (NYSE:GLP) could be one of these opportunities. Headquartered in Waltham, Massachusetts, Global Partners is a master limited partnership (MLP) involved in the midstream logistics and marketing of energy products.
The number-one reason to take a look at GLP stock is its high dividend yield. With a quarterly distribution rate of $0.4625 per unit, the partnership offers an annual yield of 10.1% at the current price. Considering that the average S&P 500 company yields less than two percent at the moment, an investor purchasing GLP shares today would lock in a yield more than five times the benchmark's average.
Of course, a high dividend yield could simply be a sign of trouble. But, unlike many double-digit yielders, Global Partners' payout is actually backed by a solid business.
The unique thing about Global Partners is that it has a diversified business. The partnership runs one of the largest terminal networks of petroleum products and renewable fuels in the Northeast. With 25 refined petroleum bulk product terminals capable of storing 12.2 million barrels, GLP is essentially operating a storage depot for energy products. (Source: "Second Quarter 2017 Investor Fact Sheet," Global Partners LP, last accessed October 11, 2017.)
Moreover, GLP is one of the largest independent owners, suppliers, and operators of gas stations and convenience stores in the Northeast, with approximately 1,500 locations in 11 states. GLP has multiple site brands, including well-known names such as "Shell," "Mobil," and "Sunoco."
On top of that, the partnership also has a commercial segment. It delivers gasoline, heating oil, kerosene, diesel, and residual fuel to government agencies, states, towns, municipalities, shipping companies, and large commercial clients.
With so many lines of business, GLP has created multiple sources of revenue. This gives the partnership an opportunity to generate fee income at different stages of the value chain. At the same time, having diversified sources of revenue also adds stability to the partnership's business.
Also Read:
MLP Stock List: Earn Reliable Income From These Energy Partnerships
Despite the downturn in the energy sector, GLP still runs a profitable business. As the chart below shows, the partnership's total product margin (measured by cents per gallon) has been consistently improving.
GLP Product Margin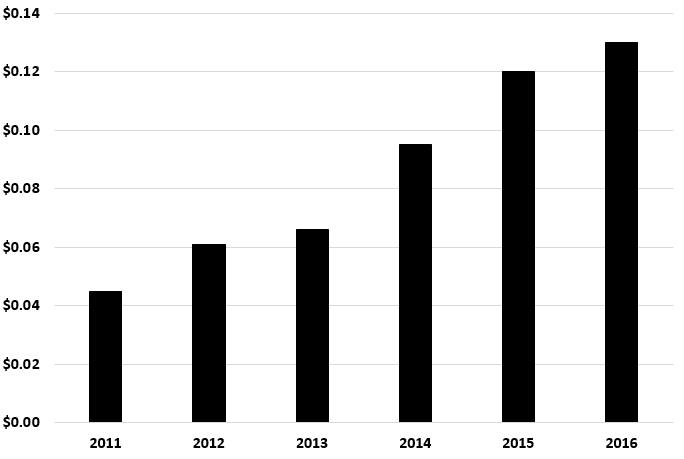 (Source: "Q2 2017 Investor Presentation," Global Partners LP, last accessed October 11, 2017.)
With a diversified, profitable business and generous payouts, GLP could represent an opportunity for yield-seeking investors.