Global Partners LP Up 113% YoY & Still Provides 9.9% Dividend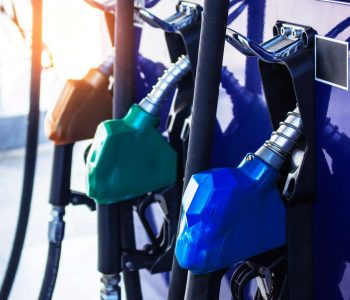 Global Partners LP Stock Raises Dividend by 10%
Income-starved investors certainly can't be happy with the current interest-rate environment. The yield on the benchmark 10-year Treasury note recently fell to 1.6% after it was announced that claims for unemployment insurance rose more than expected. That paltry payout isn't even worth saving for. There are much better alternatives out there.
With the U.S. economy expected to rebound sharply in 2021, investors might want to take a look at Global Partners LP (NYSE:GLP).
Global Partners is a midstream oil and gas company that manages a diverse portfolio of businesses. It's one of the largest independent owners, suppliers, and operators of gas stations and convenience stores in the Northeast U.S. (Source: "Q4 2020 Investor Presentation," Global Partners LP, March 11, 2020.)
In December 2020, the company announced plans to acquire the retail fuel and convenience store assets from Consumers Petroleum of Connecticut. The deal, which is expected to close in the first half of 2021, includes 27 company-operated gas stations with "Wheels"-branded convenience stores in Connecticut. (Source: "Global Partners to Acquire Retail Fuel and Convenience Store Assets in Connecticut From Consumers Petroleum," Global Partners LP, December 14, 2021.)
The transaction also includes fuel supply agreements for approximately 25 gas stations in Connecticut and New York. The stations operate under the "Citgo" and "Sunoco" brands.
Global Partners LP also owns, controls, or has access to one of the largest terminal networks in New England and New York. On top of that, the company is a leading wholesale distributor of petroleum products in New England and New York.
To that end, Global Partners secured a grant from the U.S. Department of Agriculture to upgrade and expand five of its liquid energy terminals in the Northeast to handle larger volumes of biofuel.
Global Partners' portfolio consists of:
25 petroleum bulk product terminals
11.8 million barrels of storage capacity
About 361,000 barrels of product sold daily
About 1,550 gas stations owned, leased, or supplied
277 company-operated convenience stores
Gasoline sales that fill 907,000 automobile tanks every day
Diesel fuel sales that fill 23,000 trucks daily
Heating oil that heats 32,000 homes every day during winter
(Source: Global Partners LP, March 11, 2020, op. cit.)
Because Global Partners is so well diversified, it can weather economic cycles better than most businesses. In 2020, the company posted year-over-year increases to its net income attributable to the partnership, to $102.2 million; its adjusted earnings before interest, taxes, depreciation, and amortization (EBITDA), to $287.7 million; and its distributable cash flow, to $156.4 million. (Source: "Global Partners Reports Fourth-Quarter and Full-Year 2020 Financial Results," Global Partners LP, March 5, 2021.)
Commenting on the company's 2020 results, Eric Slifka, president and CEO, said, "Our performance in the face of a global pandemic underscores the resilience of our business model and highlights our fundamental role as a critical infrastructure company." (Source: Ibid.)
The company's strong performance during one of the worst economic crises since the Great Depression and the worst health crisis in a century explains why GLP stock has been on fire and why it can grow its already frothy dividend.
Global Partners LP stock has been providing investors with a safe, high-yield dividend for years. Right now, its annual dividend yield stands at 9.9%, with an annual payout rate of $2.20 per share. And it's safe; the company's payout ratio is only 68.5%.
While GLP stock's quarterly payout fluctuates from time to time (the energy sector is cyclical, after all), it remains strong. The trailing annual dividend yield is 8.7% and the five-year average dividend yield is 11.9%. This shows that Global Partners is actually going out of its way to ensure it pays a consistently high dividend yield.
In fact, in January, the company announced that it was increasing the cash distribution on its common units by 10% to $0.55 from $0.50 in the previous quarter. As you can see, even during a pandemic or global recession, Global Partners LP stock's payout remains reliably strong.
So does its share price. Not surprisingly, GLP stock took a big hit at the start of the COVID-19 pandemic, but it's been uphill since then. The stock has soared 305% since bottoming in March 2020, 113% year-over-year, and 30% year-to-date.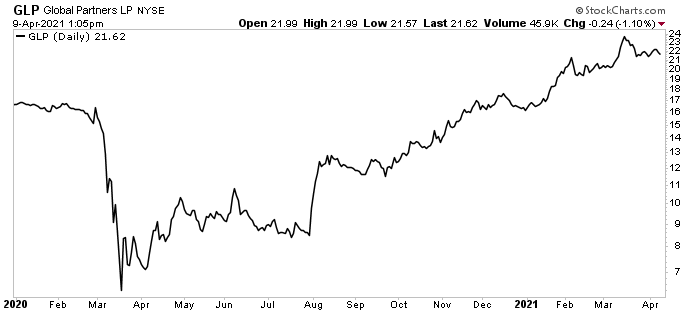 Chart courtesy of StockCharts.com
The Lowdown on Global Partners LP
An oil and gas midstream stock, Global Partners LP stock took an exaggerated dive during the early days of the pandemic.
Yes, the demand for oil and gas and in-store purchases declined in 2020, but the company's diverse network, strategic acquisitions, and adaptability helped it execute its long-term growth strategy. This helped GLP stock rebound quickly and allowed the company to raise its dividend.