Global Partners LP: 11.7% Dividend Provides Safety During COVID-19 Storm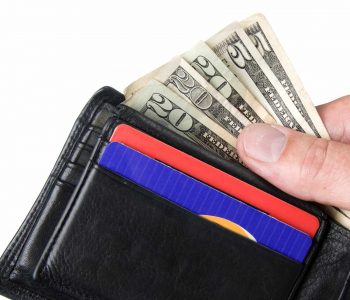 GLP Stock's 5-Year Average Dividend Yield Is 12.4%
Global Partners LP (NYSE:GLP) is an excellent example of a safe high-yield dividend stock that provides investors with shelter during times of economic upheaval. Admittedly, "safe" is a tough word to use when it comes to high-yield dividends, but Global Partners has proven itself when times have been good, bad, and brutal.
While there remains a lot of uncertainty around the COVID-19 pandemic and its impact on the U.S. and global economies, Global Partners continues to perform well. That bodes well for the midstream oil and gas company—and for income-starved investors.
Global Partners is one of the largest independent owners, suppliers, and operators of gas stations and convenience stores in the northeast U.S. It also owns, controls, or has access to one of the largest terminal networks in New England and New York. On top of that, the company is a leading wholesale distributor of petroleum products in New England and New York. (Source: "Q3 2020 Investor Presentation," Global Partners LP, last accessed December 31, 2020.)
Global Partners' portfolio consists of:
25 petroleum bulk product terminals
8 million barrels of storage capacity
376,000 barrels of product sold daily
1,550 gas stations owned, leased, or supplied
278 company-operated convenience stores
Gasoline sales that fill 947,000 automobile tanks daily
Diesel fuel sales that fill 23,000 diesel trucks daily
Heating oil that heats 33,000 homes daily in the winter
Global Partners basically has its fingers in every aspect of the midstream oil and gas industry. The company didn't get there overnight; since 2007, it has forked out more than $2.0 billion for acquisitions and investments.
Despite the company's large size, there's still a lot of room for growth. Case in point: despite Global Partners LP being one of the biggest operators of gas stations and convenience stores in the northeast U.S., the industry remains seriously fragmented, with only 19% of operators owning 500+ stores. A whopping 73% of the industry is made up of operators with fewer than 50 stores. And Global Partners has a strong track record of integrating acquisitions.
The point is, Global Partners isn't some fly-by-night company enticing investors with a high dividend yield. It's an excellent company with a huge footprint in a competitive market with high barriers to entry.
It's also important to note that Global Partners is structured as a master limited partnership (MLP), which means it's not subject to federal or state income tax. This allows Global Partners to pay out the majority of its earnings to its shareholders.
The MLP's current annual dividend yield stands at 11.5%, or $2.00 per unit ($0.50 paid quarterly). The industry average is about eight percent. Global Partners' trailing annual dividend yield is 11.1% and its five-year average dividend yield is 12.4%. (Source: "Global Partners Declares Increased Cash Distribution on Common Units for the Third Quarter of 2020," Global Partners LP, October 26, 2020.)
Those are spectacular numbers. Keep in mind, when it comes to dividend investing, there's a risk/reward trade-off. The higher the dividend yield, the greater the risk.
With most companies, an 11% dividend yield is tempting, but your capital is on the line. If the company runs into money troubles, the first thing to go will be the dividend—which tends to kill the company's share price.
But Global Partners is a well-established industry giant with a market cap around $600.0 million. The company is currently ranked 364 in the Fortune 500. And it has a history of raising its dividend yield.
Admittedly, the company's share price has taken a hit during the pandemic (down 17.8% year-over-year), but GLP stock has rallied 170% since bottoming in March. It's not surprising, really. The demand for oil has dwindled in light of the global recession. But that shall pass, which means Global Partners will likely provide investors with both strong capital appreciation and dividend growth over the coming quarters.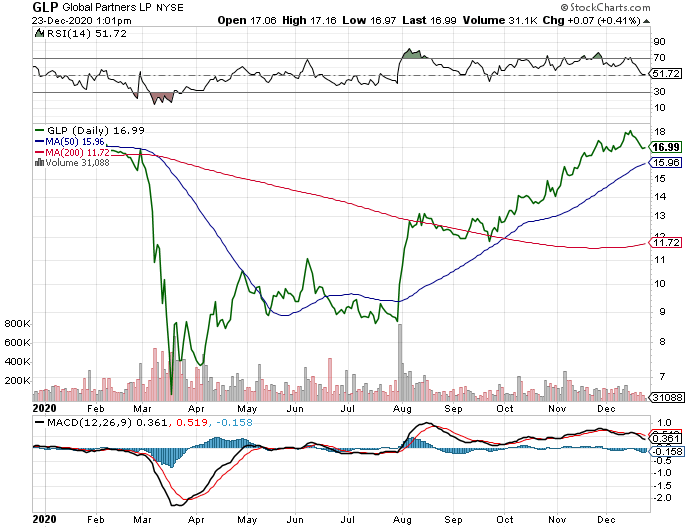 Chart courtesy of StockCharts.com
The COVID-19 pandemic has had an outsized impact on Global Partners LP's operations, with reduced demand for fuel and in-store purchases, but the company's strong network and adaptability allows it to continue to execute its long-term growth strategy. The MLP's strong balance sheet also allows it to take advantage of opportunities in the market to grow its business organically and through acquisitions.
As the economy begins to reopen, Global Partner's business should return to normal profitability, which would translate to more money flowing to investors in the form of frothy, high-yield, dividends.