Global Net Lease Inc: International Landlord Pays 8.7% Dividend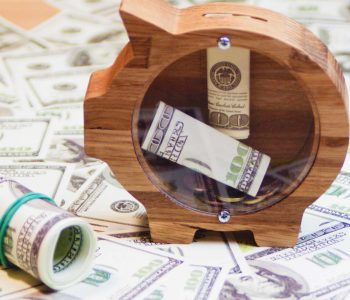 Global Net Lease Stock: High Dividend & Rising Share Price
Many people love the idea of having a property portfolio, seeing their investments rise in value and earning a steady income stream through rent. That's a lot of work and stress, though—even more so if you want to own property in the U.S., Canada, or Europe. Instead of all that hassle, it might make more sense to invest in a real estate investment trust (REIT) with a growing, international portfolio—one that provides a frothy dividend and rising share price.
If that sounds like a good idea, take a good look at Global Net Lease Inc (NYSE:GNL).
Global Net Lease is a REIT that acquires, owns, and manages a diverse portfolio of commercial properties, net-leased on a long-term basis to investment-grade and creditworthy tenants in the U.S., Canada, and Western Europe. (Source: "Fourth Quarter 2020 Investor Presentation," Global Net Lease Inc, last accessed April 5, 2021.)
Global Net Lease's properties are mostly located in the U.S. (64%), followed by the U.K. (17%); Netherlands (five percent); Finland (four percent); France (four percent); Germany (three percent); Luxembourg (two percent); and Italy, Canada, and Spain (one percent).
The REIT's portfolio consists of 278 properties covering 31.6 million rentable square feet diversified across 124 tenants in 48 industries.
The property types are industrial/distribution (46%), office (49%), and retail (five percent). With a 99.6% occupancy rate, the REIT's weighted average remaining lease term is 8.3 years.
Global Net Lease's top tenants include FedEx Corporation (NYSE:FDX), Waste Management, Inc. (NYSE:WM), Whirlpool Corporation (NYSE:WHR), and Penske Automotive Group, Inc. (NYSE:PAG).
Despite the coronavirus virtually shutting down the global economy in 2020, Global Net Lease was able to report strong financial results for the fourth quarter and full-year 2020. (Source: "Global Net Lease Reports Fourth Quarter and Full Year 2020 Results," Global Net Lease Inc, February 24, 2021.)
2020 Highlights
Revenue from tenants increased 7.8% to $330.1 million
Net loss was $7.8 million ($0.09 loss per share), compared to net income of $34.5 million ($0.39 per share) in 2019
Net operating income (NOI) grew 7.1% to $297.7 million
Core funds from operations (core FFO) were $135.2 million ($1.51 per diluted share)
Adjusted funds from operations (AFFO) were $160.5 million, compared to $159.7 million in the prior year
Dividends paid to common stockholders were $155.1 million ($1.73 per share)
AFFO per diluted share were $1.79, compared to $1.85 in 2019
More than $461.0 million of acquisition deals were closed
A $500.0-million senior unsecured note offering with a 3.75% coupon was completed
Liquidity was $218.8 million.
Fourth-Quarter Highlights
Revenue from tenants grew 13.5% to $87.0 million
Net loss attributable to common stockholders was $13.3 million ($0.15 loss per share), compared to net income of $9.3 million ($0.10 per share) in Q4 2019
Core FFO were $26.3 million ($0.29 per diluted share)
NOI rose by nine percent to $77.4 million
AFFO were $40.1 million, compared to $39.9 million in Q4 2019
AFFO per diluted share were $0.45, compared to $0.44 per diluted share in Q4 2019
99% of fourth-quarter cash rents were collected, including 100% from the top 20 tenants
Seven properties were acquired, for an aggregate contract purchase price of $292.8 million
The strong financial results have helped GNL stock accelerate 53.1% year-over-year. Despite the strong gains, Global Net Lease stock still needs to climb an additional eight percent to get to its record pre-COVID-19 sell-off levels.
Wall Street believes it will. Of the four analysts providing a 12-month price forecast, the median target for GNL stock is $23.00, with a low estimate of $20.00 and a high estimate of $25.00. Even the low estimate is higher than Global Net Lease stock's previous record level from February 2020.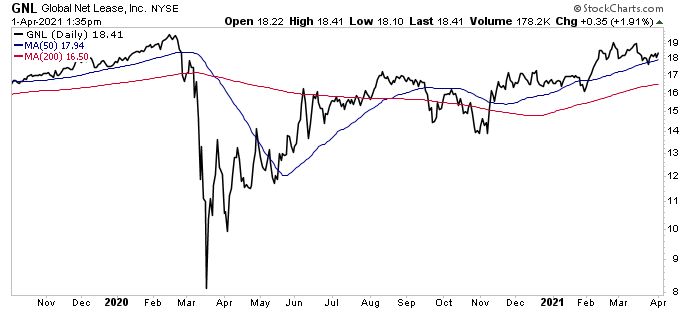 Chart courtesy of StockCharts.com
Thanks to the company's diverse tenants, all of which have strong sovereign debt ratings, Global Net Lease has a steady income stream that provides it with more than enough liquidity to pay juicy dividends.
On April 1, Global Net Lease announced a second-quarter dividend of $0.40 per share, at an annualized rate of $1.60. This translates to an annual dividend rate of 8.7%.
The company has a long history of providing big dividends. GNL stock's trailing annual dividend yield is 9.6%, and its five-year average dividend yield is 10.3%.
The payout remains safe. As listed earlier, the REIT's full-year 2020 AFFO were $1.79 per share.
The Lowdown on Global Net Lease Inc
Global Net Lease Inc had a strong 2020, despite unprecedented disruptions caused by the global COVID-19 pandemic.
The company strengthened its balance sheet, enhanced its already high-quality portfolio through lease extensions, expanded into Italy and Spain, and collected almost all of the cash owed to it. Each lease set to expire in 2020 was extended, and the company signed early long-term lease extensions with 12 tenants. The early extensions have given Global Net Lease stock significant momentum in 2021.