Global Net Lease Inc: Can You Trust This 11.2% Yield?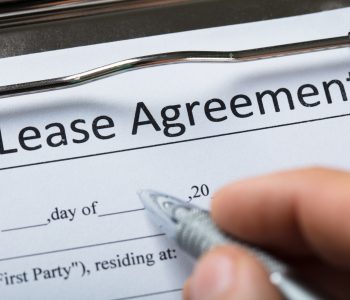 iStock.com/AndreyPopov
Is Global Net Lease Inc's 11.2% Dividend Safe?
If you want to earn higher yields, you have to be willing to take higher risks.
The stock market now sits at near record highs. That has bid up the price for most "safe" dividend payers, and lowered their yield in proportion.
Those conditions might force some income hunters to start picking through lower-quality businesses. That doesn't make these companies bad investments, per se. It just means prospective shareholders have to do more homework first and understand all of the risks ahead of time.
Take Global Net Lease Inc (NYSE:GNL). The partnership has carved out a lucrative niche in the real estate business buying properties from companies and leasing those assets back to them.
The deal actually serves as a win-win for everyone involved. Companies free up money to invest in their core operations and Global Net Lease locks in a steady stream of rental income, earning returns far higher than real estate deals elsewhere.
Is GNL Stock a Safe Bet?
But with a payout approaching 11.2%, savvy readers will do a double-take before buying this one. After all, a high yield can often carry quite a bit of risk. But does that apply to Global Net Lease Inc?
Let's address the biggest problem with GNL stock right off the bat: the high payout ratio.
Last year, the business generated $147.3 million in adjusted fund flows from operations. Over the same period, it paid out $147.4 million in distributions.
Generally, as often noted, I like to see companies pay out 90% or less of their income as dividends. This leaves management with a little bit of wiggle room to keep making payments in the event of a downturn.
In the case of Global Net Lease Inc, executives have pushed the distribution to the red zone. Any interruption in the partnership's business could put the distribution at risk. This could be anything from higher interest rates to a tenant missing payments.
That said, those cash flows will likely grow.
Global Net Lease's rental agreements come with rent hikes built into the contracts. That provides an automatic, predictable boost to income every single year.
The growth rate can be boosted further through acquisitions. Last year, Global Net Lease Inc purchased 23 new properties totaling more than $478.0 million in value.
Those deals will add an extra $33.0 million to the partnerships bottom line in 2019. That should leave executives with a bit more financial flexibility. (Source: "Global Net Lease Reports Fourth Quarter And Full Year 2018 Results," Global Net Lease Inc, February 27, 2019.)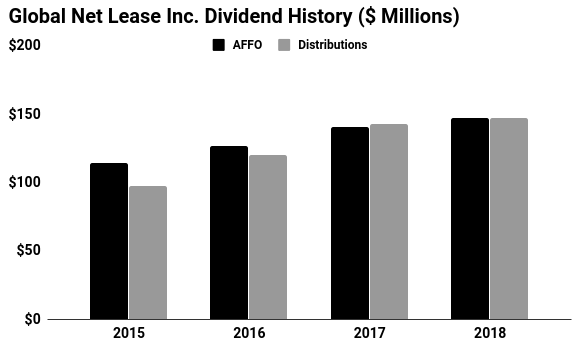 Source: "Dividend History," Global Net Lease Inc, last accessed April 5, 2019.

Savvy investment decisions also minimize the downside risk here, too.
The partnership's largest tenant, FedEx Corporation (NYSE:FDX), accounts for only five percent of rental income. Management has leased out most of their buildings to investment-grade companies which generally pay their bills on time. (Source: "Fourth Quarter Investor Presentation," Global Net Lease Inc, February 27, 2019.)
Moreover, tenants have to pay most of the costs of maintaining their properties. That means renters—not Global Net Lease—have to stomach most of the cost of renovations or tax hikes.
Finally, the partnership's average remaining lease term stands at eight years. This means management can literally circle the dates on the calendar for when they'll get paid for almost a decade to come.
The Bottom Line on GNL Stock
I can't slap a "safe" rating on Global Net Lease Inc due to the partnership's high payout ratio. Prospective shareholders will have to keep a close eye on the partnership's financials from quarter to quarter. But with a yield this high, investors get well compensated for the risks they're taking.
Income hunters may want to investigate GNL stock further.