Global Medical REIT Stock: 8.6%-Yielder Up 7% in 2023 & Has 30% Upside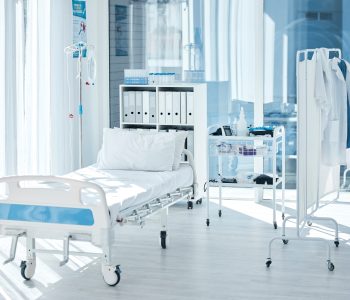 Why GMRE Stock Has a Bright Future
Global Medical REIT Inc (NYSE:GMRE) is an overlooked health-care real estate investment trust (REIT) that pays growing, high-yield dividends. Moreover, it recently reported solid financial results.
The company's name pretty much gives away what it does. It owns medical facilities that it leases out to leading physician groups, as well as regional and national not-for-profit and for-profit health-care systems. (Source: "Investor Presentation: June 2023," Global Medical REIT Inc, last accessed August 29, 2023.)
It primarily invests in off-campus medical offices and post-acute, in-patient medical facilities with acquisition capitalization rates between 7.5% and 8.0%.
Its portfolio currently includes 188 buildings with a net leasable area of 4.9 million square feet, which is the equivalent of about 85 NFL fields. Three of Global Medical REIT Inc's properties are City Hospital at White Rock in Dallas, Texas; Southlake Heart & Vascular Institute in Clermont, Florida; and Encompass in Mesa, Arizona.
The REIT has a history of making real estate acquisitions since its initial public offering (IPO) in June 2016. Since then, its gross real estate assets have grown from $94.0 million to $1.5 billion, expanding at a compound annual growth rate (CAGR) of 41%.
Its facilities, which currently have an occupancy rate of 97%, are rented to 274 tenants for an annualized base rent of $111.3 million. The properties come with a weighted average of 2.1% in rent escalations, and the portfolio has an average weighted lease term of six years.
Property Portfolio Generates Consistent Results
For the second quarter, Global Medical announced that its net income increased to $11.8 million, or $0.18 per share, from $2.2 million, or $0.03 per share, in the same period last year. (Source: Ibid.)
Its second-quarter funds from operations (FFO) came in at $14.7 million, or $0.21 per unit, compared to $16.4 million, or $0.24 per unit, in the comparable prior-year period. Its adjusted funds from operations (AFFO) were $15.9 million, or $0.23 per unit, versus $17.6 million, or $0.25 per unit, in the comparable prior-year period.
Global Medical REIT Inc's second-quarter revenues increased by 7.9% year-over-year to $36.4 million. The revenue gains were primarily fueled by the company's acquisition activity and the performance of its portfolio.
In April, the REIT completed its acquisition of two medical office buildings in Redding, California for $6.7 million. In June, it sold four medical offices in Oklahoma City, Oklahoma for gross proceeds of $66.0 million, resulting in a gain of $12.8 million. After the second quarter, in August, Global Medical REIT sold a medical office building in North Charleston, South Carolina for gross proceeds of $10.1 million.
Commenting on the results, Jeffrey M. Busch, Global Medical REIT Inc's chairman, president, and CEO, said, "During the second quarter, we took a significant step forward in reducing our variable rate debt and leverage by selling a medical office building portfolio in Oklahoma City, Oklahoma for gross proceeds of $66 million. We used the net proceeds from this disposition to pay down the balance of our variable rate debt, resulting in a leverage ratio as of June 30, 2023 of 44.5%." (Source: Ibid.)
He added, "Within the current acquisition environment, we will remain disciplined as transaction markets evolve, and we are well-positioned with ample liquidity to ramp up acquisitions once spreads return to an attractive and accretive level."
Dividend Maintained at $0.21/Unit for Q2
Thanks to its stable cash flow and property occupancy rate of 97%, Global Medical REIT Inc has been able to provide investors with reliable, growing dividends.
In fact, it's because of the company's strong tenant base that it didn't reduce its payouts during the COVID-19 pandemic.
Since then, the REIT has raised its dividend twice. At the start of 2021, Global Medical REIT Inc raised its quarterly distribution from $0.20 to $0.205 per unit. In the first quarter of 2022, it raised the dividend to $0.21 per unit.
It has held the distribution at that level since then. On June 9, 2023, the board of directors again declared a cash dividend of $0.21 per unit, for a yield of 8.6%. That's almost triple the current U.S. inflation rate of about 3.1%.
Global Medical REIT Stock Up in 2023 & Has High Upside Potential
Shares of Global Medical REIT Inc were trading at record-high levels when the pandemic kicked the economy over a cliff. Like the broader stock market, Global Medical REIT units took a big hit. They managed to recover fairly quickly, though.
By June 2021, GMRE stock was again trading at record-high levels. It continued to trade higher over the coming quarters. In January 2022, GMRE units hit a record high of $16.36. But the tailwinds could not be sustained. Rising interest rates, inflation, and fears of a recession sent the broader market lower.
Global Medical REIT stock has since recovered in 2023. It's currently up by 19% over the last three months and 7.1% year-to-date.
Big moves, and additional gains are expected. Wall Street analysts have provided a 12-month unit-price target in the range of $10.94 to $12.50, which points to gains of approximately 13% to 30%.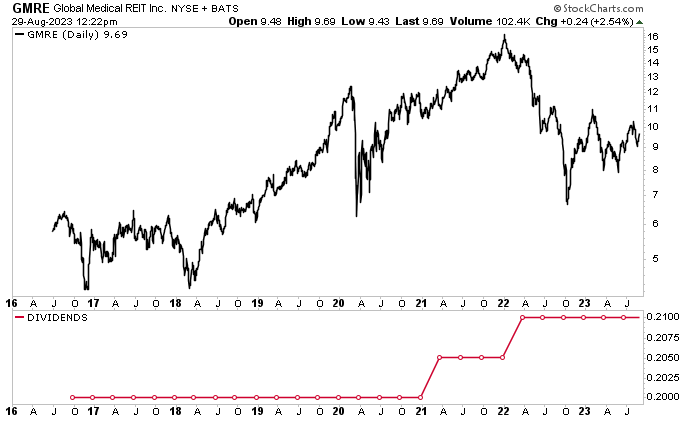 Chart courtesy of StockCharts.com
The Lowdown on Global Medical REIT Inc
Global Medical REIT was a great company before the COVID-19 pandemic and it continues to be one now. It's expanding its property portfolio, it has built-in rent escalators, it reports solid financial results (including a strengthened balance sheet), and it rewards buy-and-hold investors with reliable, high-yield dividends.
Because of industry dynamics, the outlook for this dividend stock is robust. A whopping 90% of Americans aged 50 years and older want to age in place, while 65% of Americans between the ages of 60 and 70 find it "very easy" to live independently. With more and more Americans choosing to age in place, the demand for Global Medical REIT Inc's conveniently located health-care facilities will continue to rise.
That bodes well for the future of Global Medical REIT units' price and dividends.