Global Medical REIT Inc: This 8% Yielder Could Be a Bet for the Future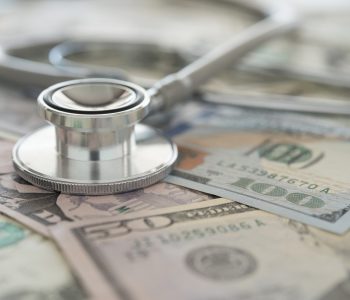 iStock.com/utah778
Is GMRE a High-Yield Stock Worthy of Attention?

It's no secret that most investors who buy high-yield stocks are looking for income. But every once in a while, yield hunters may come across a high-dividend company that also has strong growth prospects.
Global Medical REIT Inc (NYSE:GMRE) is a real estate investment trust (REIT) headquartered in Bethesda, Maryland. The company provides investors with one of the highest dividend yields in the current stock market and also happens to be in a booming industry.
Of course, real estate is nothing new. By owning properties and collecting rental income, REITs have been using the same business model for decades. What makes GMRE stock special is the type of properties it owns.
You see, the company doesn't invest in shopping centers or apartment buildings. Instead, it buys purpose-built healthcare facilities and leases these facilities to clinical operators with dominant market shares. The company's goal is to earn an increasing stream of rental revenue by leasing each of its properties to a single market-leading operator through a long-term, triple net lease.
And as we know, healthcare is a recession-proof industry. No matter where the economy is going, when people get sick, they need to see a doctor or check into a hospital. This means Global Medical REIT Inc's tenants/operators are running a recession-proof business and the company can collect reliable rental income.
As it turns out, healthcare is also a growing industry. According to the U.S. Centers for Medicare & Medicaid Services, U.S. healthcare spending is projected to grow 5.5% per year from 2018 to 2027. And by 2027, our national health spending would reach almost $6.0 trillion. (Source: "National Health Expenditure Projections 2018-2027," U.S. Centers for Medicare & Medicaid Services, last accessed April 12, 2019.)
One of the main factors driving the increasing demand for healthcare services is an aging population. Ten thousand baby boomers are turning 65 every day. As people get older, healthcare expenses tend to go up.
In the above projection, the Centers for Medicare and Medicaid Services noted specifically the rates of growth for hospitals spending and physician and clinical services spending, which are expected to be at 5.7% and 5.4% per year from 2020 to 2027, respectively. (Source: Ibid.)
And it just so happens that hospital tenants and physician group tenants make up the bulk of Global Medical REIT's tenant base. Together, these two groups contribute 70% to the company's annualized base rent. (Source: "Fourth Quarter 2018 Earnings Results and Operating Information," Global Medical REIT Inc, last accessed April 12, 2018.)
When most of its tenants are set to grow their business substantially over the next decade, the REIT is well positioned to generate higher rental income.
This Healthcare REIT Pays Oversized Dividends
With a market capitalization of around $331.0 million, GMRE isn't really a big player in the REIT business. However, the company does have the resources to diversify.
As of December 31, 2018, Global Medial REIT Inc owned and operated 83 healthcare properties totaling more than 2.1 million net leasable square feet. They are diversified across 48 high-quality tenants. No single tenant/operator contributes more than 12% to the company's annualized base rent. (Source: Ibid.)
Being a landlord allows the company to collect regular rent payments from the tenants. Right now, the company generates around $50.2 million in annualized base rent. That translates to a weighted average capitalization rate (cap rate) of 7.9%.
In the real estate business, cap rate is a measure of rate of return generated on an investment property. Most real estate investors would agree that in today's market, a cap rate of six percent is considered pretty good. With a cap rate of 7.9%, Global Medical REIT Inc is running a quite lucrative business.
And keep in mind that to maintain its status as a REIT (so that it pays little to no income tax at the corporate level), the company needs to pay out at least 90% of its profits to shareholders through regular dividend payments.
To investors of GMRE stock, that has translated to a tidy income stream.
Paying quarterly dividends of $0.20 per share, the REIT offers an annual yield of 8.2%.
Global Medical REIT Inc: Running a Fully Leased Portfolio
One of the main reasons for income investors to consider REITs is the recurring nature of the business. As a landlord, Global Medial REIT Inc doesn't just make one-time sales. Instead, it collects rental income from tenants on a regular basis.
By the end of 2018, Global Medical REIT Inc's portfolio was 100% occupied with a weighted average lease term of around 10.1 years. (Source: Ibid.)
Combining a perfect occupancy rate with long-term lease agreements, Global Medical REIT should be able to generate recurring cash flow down the road.
Still, in an era where most companies pay less than four percent, an 8.2% yielder is probably not going to be perfect. In the case of GMRE stock, we see that while the company has a durable business model, its distribution coverage could use some improvement.
In the fourth quarter of 2018, Global Medical REIT Inc generated $0.20 per share in adjusted funds from operations, representing a solid improvement from the $0.15 per share earned in the year-ago period.
For the quarter, the company paid a dividend of $0.20 per share. So while the company's adjusted funds from operations was enough to support the dividend, it did not leave any room for error.
In full-year 2018, Global Medical REIT's adjusted funds from operations came in at $0.76 per share, also marking a substantial increase from the $0.54 per share generated in the prior year. (Source: Ibid.)
However, since the company paid total dividends of $0.80 per share for the year, its adjusted funds from operations didn't quite cover its payout for the full year.
So where does that leave us?
Well, what we have here is a REIT with a sustainable business model and growing financials. The company is also well positioned to benefit from tailwinds in the healthcare industry. If Global Medical REIT Inc can improve its dividend coverage, its 8.2% yield would be very attractive to income investors.