GlaxoSmithKline plc: A High-Yield Stock You Likely Haven't Considered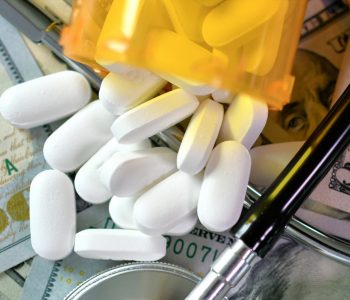 Earn a 5.8% Yield from a Health-Care Stock?
In a world of soaring tickers, GlaxoSmithKline plc (NYSE:GSK) seems to have been left behind. But if you're an income investor, this overlooked company could offer a serious opportunity.
GlaxoSmithKline is a British health-care company that researches, develops, and manufactures pharmaceutical medicines, vaccines, and consumer health-care products. Being a foreign stock, GlaxoSmithKline doesn't always get as much investor attention as its American counterparts. While the company's stock is listed on the London Stock Exchange, its American Depositary Receipt (ADR) trades on the New York Stock Exchange, which makes it convenient for U.S. investors to buy and sell its shares.
What makes GSK stock worth considering right now is that, at its current share price, it offers a yield that's higher than most other health-care stocks.
GlaxoSmithKline stock provides quarterly dividend payments. However, rather than pay the same amount each quarter—which is what most American dividend stocks do—GSK stock usually makes smaller dividend payments in July, October, and January—followed by a bigger dividend in April.
For instance, over the past several years, GlaxoSmithKline stock's July, October, January, and April dividends were £0.19, £0.19, £0.19, and £0.23 (as per its U.K.-listed share), respectively. (Source: "Dividend calculator (GBP)," GlaxoSmithKline plc, last accessed January 14, 2020.)
Of course, because the dividends are denominated in pounds sterling, American income investors need to take exchange-rate fluctuations into consideration.
Furthermore, on the New York Stock Exchange, one GSK ADR represents two ordinary shares of the company's U.K.-listed stock. So, for an American investor, the July, October, January, and April dividends from the company would be £0.38, £0.38, £0.38, and £0.46 per ADR, respectively. Note that there's also an annual fee of $0.03 per ADR charged by a depositary bank.
Still, it could be worth the hassle. Added up, GlaxoSmithKline's four quarterly dividends total £0.80 per U.K.-listed share—or £1.60 per ADR annually. At the current exchange rate and stock price, that gives the NYSE-listed GSK stock an annual dividend yield of 5.7%.
One of the reasons the company can offer such a generous yield is that its shares haven't been hot commodities. We know that, despite experiencing a pandemic-induced sell-off early last year, the U.S. stock market had a strong rally in 2020, and that rally has extended into 2021.
GlaxoSmithKline's ADR, on the other hand, did not enjoy the same investor enthusiasm. Over the past 12 months, GlaxoSmithKline stock has tumbled by nearly 20%. The inverse relationship between dividend yield and stock price pushed the company's yield up.
Looking at its financials, we see that GlaxoSmithKline plc generated £8.6 billion in sales in the third quarter of 2020, which was a three-percent decline year-over-year on a constant-exchange-rate basis.
The company's Pharmaceuticals division experienced a three-percent sales decline, its Vaccines division had a nine percent sales decline, and its Consumer Healthcare division delivered two percent sales growth—all on a constant-currency basis. The company recorded strong sales growth in its Respiratory, HIV, Oncology, and Consumer Healthcare divisions, but that was partially offset by the expected disruption from COVID-19. (Source: "GSK Delivers Resilient Performance, Strong Commercial Execution and Further Strategic Progress in Q3," GlaxoSmithKline plc, October 28, 2020.)
At the bottom line, the company generated adjusted earnings of £0.356 per share in the third quarter of 2020, marking a one-percent increase from the previous year in constant currency. Note that the amount was well above the £0.19-per-share dividend declared for the quarter.
Furthermore, the company has a robust research and development pipeline. In the third quarter, it had 40 new medicines and 18 new vaccines in development.
Regarding GSK stock's dividend policy, the company said, "The Board currently intends to maintain the dividend for 2020 at the current level of 80p per share, subject to any material change in the external environment or performance expectations. Over time, as free cash flow strengthens, it intends to build free cash flow cover of the annual dividend to a target range of 1.25-1.50×, before returning the dividend to growth." (Source: Ibid.)
Bottom Line on GlaxoSmithKline plc
And there you have it: GlaxoSmithKline stock is a health-care stock whose recent lackluster share-price performance has led to an oversized yield.
It's hard to say when GlaxoSmithKline plc's share price will bounce back, but because health care is known as a recession-proof industry, GSK stock could provide an opportunity to yield-seeking investors.