Gladstone Investment Stock: High-Yielder Pays 4th Special Dividend in a Year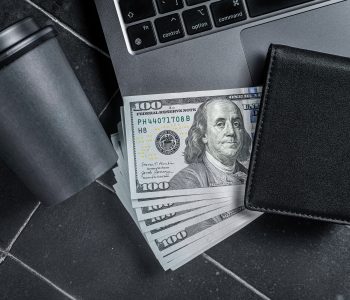 GAIN Stockholders Get Monthly Dividends & Special Dividends
During university, I worked midnights at an auto plant. The best part of the job was getting paid every Friday, which was much better than having to wait every two weeks. I feel the same way about dividend stocks. It's better to get paid monthly than having to wait every three (or even 12) months.
That's what you get with Gladstone Investment Corporation (NASDAQ:GAIN): reliable, growing, monthly high-yield dividends.
Gladstone Investment stock has paid more than 200 consecutive monthly distributions. In October 2022, management increased GAIN stock's annualized regular dividends by 6.7% to $0.96 per share. The stock currently has a yield of seven percent.
Better still, Gladstone Investment stock also pays special dividends—seven since the start of 2021, four of which were in the last year. GAIN stock's most recent special dividend was $0.24 per share, which was paid out on March 15.
Moreover Gladstone Investment stock has been outperforming the broader market in terms of share-price appreciation. As of this writing, GAIN stock is up by:
Five percent over the last three months
9.5% year-to-date
2.5% year over year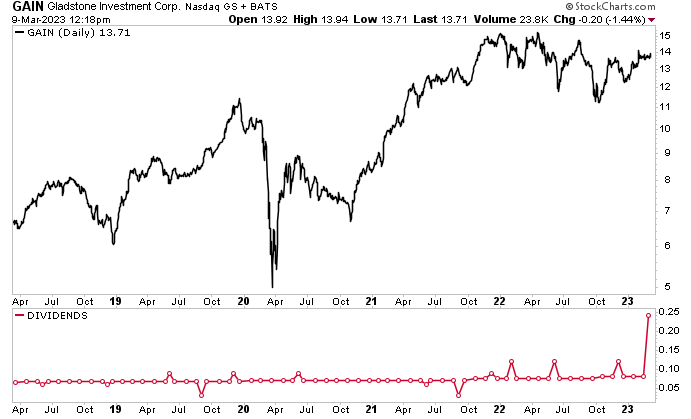 Chart courtesy of StockCharts.com
About Gladstone Investment Corporation
Gladstone Investment is a private equity fund that acquires mature, middle-market companies with attractive fundamentals and strong management teams. The fund typically invests up to $70.0 million worth of debt and equity in a transaction. (Source: "Investment Criteria," Gladstone Investment Corporation, last accessed March 9, 2023.)
Most of the companies that Gladstone invests in are located in the continental U.S., are market leaders in stable industries, have profitable operations, have predictable and stable cash flows, and perform well during various economic cycles. This increases certainty and the speed of closing deals. It also provides Gladstone Investment stockholders with high-yield monthly dividends and the potential for significant capital gains.
Five of the companies that are currently in Gladstone Investment Corporation's investment portfolio are:
Brunswick Bowling Products, Inc., which provides supplies to bowling centers and individual bowlers
B+T Group Acquisition, Inc., a leading provider of engineering and field services to the wireless telecom industry
Diligent Delivery Systems, a nationwide transportation and logistics provider
The Maids International, LLC, a franchisor of the home service brand "The Maids," which operates in more than 40 U.S. states and three Canadian provinces
Nocturne Luxury Villas, Inc., which acquires luxury vacation rental management companies
(Source: "Current Investment Portfolio," Gladstone Investment Corporation, last accessed March 9, 2023.)
Three companies that Gladstone has invested in and since exited are Funko Inc (NASDAQ:FNKO) (which designs and sells pop culture collectibles), Head Country, Inc. (which has the No. 1 barbeque sauce in Oklahoma), and Jackrabbit, Inc. (a manufacturer of nut harvesting equipment). (Source: "Exited Select Portfolio Companies," Gladstone Investment Corporation, last accessed March 9, 2023.)
In June 2022, the company announced its sale of Bassett Creek Services, a provider of restoration and renovation services across the U.S. The terms of the sale were not provided, but the company did say it received repayment of its debt at par and "realized a meaningful capital gain on its equity investment." (Source: "Gladstone Investment Corporation Exits Its Investment in Bassett Creek Services," Gladstone Investment Corporation, June 27, 2022.)
Between March 31, 2018 and December 31, 2022, Gladstone invested roughly $329.0 million in 11 new companies. Over the same time frame, it exited 17 companies, returning about $271.0 million of invested capital and realizing approximately net gains of $179.0 million. (Source: "Quarterly Overview," Gladstone Investment Corporation, December 31, 2022.)
Another Solid Fiscal Quarter
Gladstone's astute investments have resulted in a reliable cash flow, which has helped the company pay growing, high-yield dividends.
For its third quarter of fiscal 2023 (ended December 31, 2022), Gladstone Investment reported net investment income of $8.6 million, or $0.26 per share. That's compared to $11.4 million, or $0.34 per share, in the second quarter of fiscal 2023 (ended September 30, 2022). The company's total investment income in its third fiscal quarter was $21.6 million, compared to $20.8 million in its second fiscal quarter. (Source: "Gladstone Investment Corporation Reports Financial Results for its Third Quarter Ended December 31, 2022," Gladstone Investment Corporation, February 1, 2023.)
During its fiscal 2023 third quarter, Gladstone Investment:
Recapitalized its investment in Old World Christmas, Inc. and invested an additional $15.5 million in the form of secured first-lien debt (from this investment, Gladstone received proceeds of $17.9 million, of which $13.4 million was recognized as a realized gain and $4.5 million was recognized as dividend income)
Entered a new $3.2-million secured second-lien term loan with The Mountain Corporation, replacing Gladstone's previously outstanding second-lien term loan and second-lien delayed draw term loan with an aggregate cost basis of $13.2 million, which resulted in a realized loss of $10.0 million
Invested an additional $8.4 million (in the form of secured first-lien debt) in Nocturne Luxury Villas, Inc. to fund an add-on acquisition
Received a repayment of its $1.5-million secured second-lien debt in Country Club Enterprises, LLC at par (in conjunction with this, Gladstone Investment received "success fee income" of $1.1 million, and its $1.0-million guaranty was released)
The Lowdown on Gladstone Investment Stock
Gladstone Investment Corporation is an asset management firm with an enviable investment portfolio and a solid balance sheet.
The company's strategy as a buyout fund allows it to realize gains on equity while generating high income from debt investments alongside equity investments. This allows the company to reward GAIN stockholders with significant share-price appreciation and dividend growth.