Gladstone Capital Corporation Declares Distribution, Now Yields 9.1%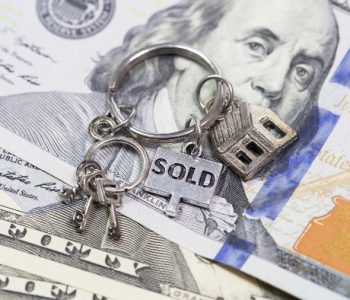 iStock.com/magical_light
Gladstone Capital Corporation Yields 9.1%
Today's chart highlights our favorite place to find high yields: business development corporations (BDCs).
What BDCs do is provide money to very small businesses and receive interest in return. And thanks to a number of favorable tax rules, these firms pay out yields that can range from seven percent to even 15%.
One of our favorites? Gladstone Capital Corporation (NASDAQ:GLAD). The company has carved out a lucrative niche, lending to small real estate developers. And, with a yield in the high single digits, it looks like a tempting target for income hunters.
Gladstone has their pick of hundreds or thousands of great deals. Banks have largely given up on small- and mid-sized businesses. It's far easier to make one big loan to a large customer than dozens of small deals with the little guys.
Also Read:
REIT Definition: What is a REIT?
That's good news for BDCs. With less competition, Gladstone can charge higher interest rates. Better still, it can demand more stringent conditions to protect their money. Most of these profits get passed on to unitholders.
In a press release made public on Tuesday, Gladstone declared monthly cash distributions for January, February, and March. The board set each of these payments at $0.07 per unit. (Source: "Gladstone Capital Announces Monthly Cash Distributions for January, February and March 2018," Business Insider, January 9, 2017.)
For owners, that has created a steady income stream. On an annualized basis, these distributions represent a yield of 9.1%. And as you can see in the chart below, these payments have added up to impressive returns for investors.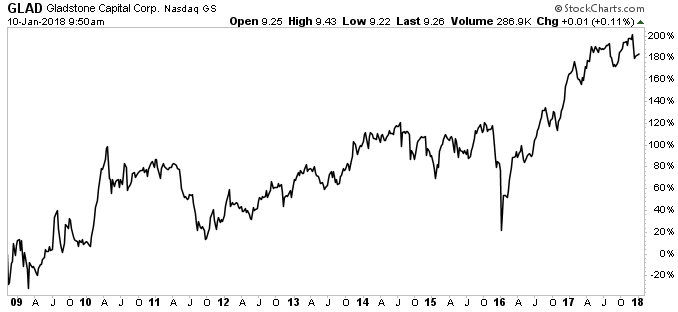 Chart courtesy of StockCharts.com
As we talk about over and over again on Income Investors, a well-run BDC can make a lucrative income stream.