GHL Stock: Earn a 9.6% Yield from This Alternative Bank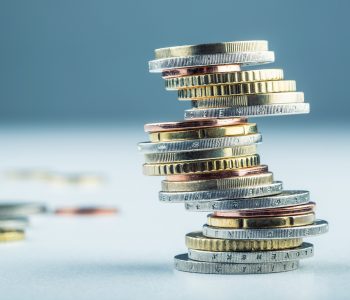 iStock.com/MarianVejcik
Top Dividend Stock with a 9.6% Yield
Today's article highlights a top dividend stock that's currently yielding 9.6%.
Yes, I know: high-yield stocks are not known to be the safest bets. Quite often, a stock's high yield stems from investor concerns about its business.
But that's not exactly the case here. However, the high dividend stock I'm about to show you is actually a top performer in its industry.
The company in question is Greenhill & Co., Inc. (NYSE:GHL), an investment bank headquartered in New York City.
Simplicity is the key here. As we have seen in the last financial crisis, complicated financial engineering is not always the safest practice for a bank.
The good news is that even though Greenhill is an investment bank, its business is incredibly simple. The company's entire business is providing advisory services on mergers, acquisitions, financings, restructurings, and capital raising. It has no underwriting, trading, or investing business.
Greenhill's specialization means it is running a very nimble business. In fact, around the world, the company has just 363 employees.
But this simple business is making some serious money. In the 12-month period ended March 31, 2017, the company generated $325.0 million in total revenue.
Now keep in mind that Greenhill stock's market capitalization is just $557.0 million at the moment. In fact, both the company's price-to-earnings ratio and price-to-sales ratio are much lower than the industry's averages.
Also Read:
10 High-Dividend Bank Stocks to Invest Into in 2017
5 Cheap High Dividend Stocks for 2017
But despite being a small player in the advisory business, Greenhill has been gaining market share. The chart below compares the company's advisory revenue growth with that of the biggest M&A advisor and the biggest independent advisor: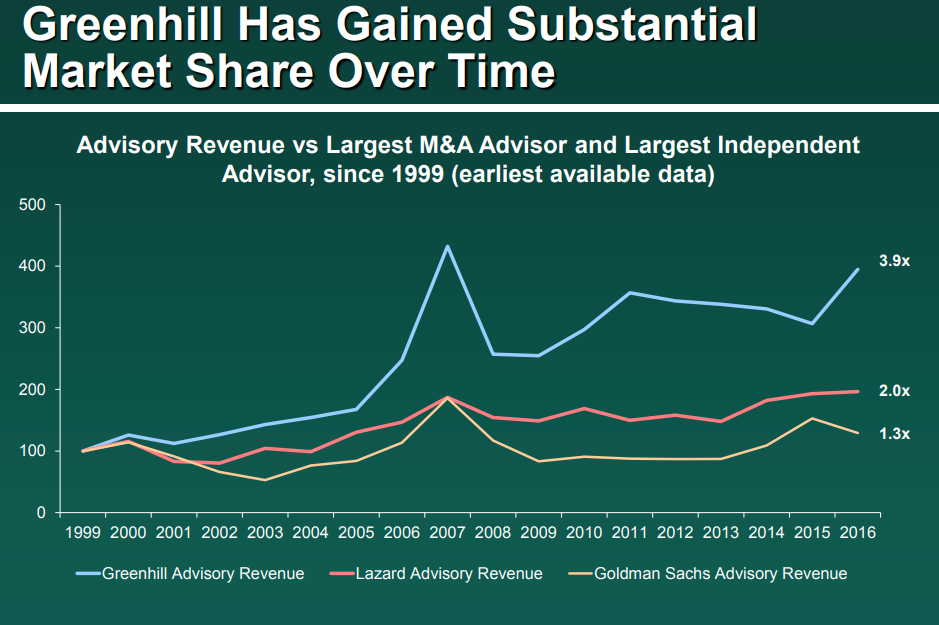 Source: "Mid-Year 2017 Update on Performance, Outlook & Strategy," Greenhill & Co Inc, last accessed July 31, 2017.
The company has also won some big-name clients. Over the years, Greenhill has provided advisory services to AT&T Inc. (NYSE:T), Wells Fargo & Co (NYSE:WFC), Visa Inc (NYSE:V), and the governments of the U.S., the U.K., and Australia, just to name a few.
High Dividends Backed by a Solid Business
The number-one reason to consider Greenhill is its dividends. Recent years of investors searching for yield means the most well-known dividend stocks don't pay much at their current prices. In fact, the average S&P 500 company yields less than two percent.
Greenhill, on the other hand, offers a much more generous yield. Paying $0.45 per share on a quarterly basis, this top dividend stock has an annual dividend yield of 9.6%.
And if you are wondering about Greenhill's dividend safety, a look at the company's financials should be reassuring. The table below shows the investment bank's cash flows and dividends for the past nine years:

Source: Ibid.
Despite its oversized dividends, the company only paid out 58% of its cash flow in 2016. Since 2008, Greenhill has paid over $500.0 million in dividends, using just 62% of its cash flow.
Greenhill is also well-diversified for a small investment bank. The company has 14 offices on five continents and has earned about half of its historical revenue from outside of the U.S.
Furthermore, while having only 363 employees, the company has developed its expertise in many different industries. In the last two years, there were eight sectors that each contributed more than eight percent to Greenhill's total deal count.
With this level of diversification, it's unlikely that a downturn in a specific region or industry will cause too much damage to the company's entire business.
And that's why investors looking for a high-dividend stock should take a serious look at this alternative bank.