Getty Realty Stock: Market-Crushing High-Yielder Trading Near Record Level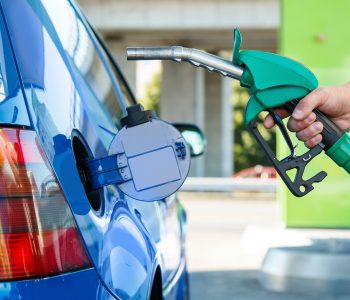 Why GTY Stock Is Worth Watching
Investors are a little sheepish when it comes to equity real estate investment trusts (REITs) right now, believing that high interest rates, record consumer debt, and a looming recession will take the wind out of the sails of the retail industry.
Admittedly, some stores simply won't be able to weather the storm. According to analysts, up to 50,000 of the current 940,000 stores in the U.S. will close down. There's a caveat, though: this number excludes gas and food service stations. (Source: "Retail Store Closures 'to Sharply Accelerate Going Forward': UBS Research," Yahoo! Finance, April 24, 2023.)
Speaking of gas and food service stations, Getty Realty Corp. (NYSE:GTY) is the leading publicly traded U.S. REIT that specializes in the ownership, leasing, and financing of convenience stores, gas stations, and other single-tenant retail real estate (car washes, auto service centers, auto part retailers, etc.). (Source: "Corporate Profile: April 2023, "Getty Realty Corp., last accessed May 17, 2023.)
Getty Realty's $2.3-billion real estate portfolio includes 1,047 properties in 39 states and D.C. The majority of them (70.8%) are convenience stores and gas stations, followed by car washes (14.2%), legacy gas and repair centers (10.2%), auto service centers (3.1%), drive-throughs (0.9%), and auto part retailers (less than one percent).
The REIT's properties are located in 64% of the top U.S. metropolitan statistical areas, with 70% of them located on corner lots. With a 99.7% occupancy rate, the company's retail properties are e-commerce-resistant and recession-resistant. Getty Realty Corp.'s leases come with 1.6% annual rent escalations.
A few of its tenants are 7-Eleven, BP plc (NYSE:BP), CrossAmerica Partners LP (NYSE:CAPL), Global Partners LP (NYSE:GLP), and Valvoline Inc (NYSE:VVV).
Getty Realty Corp.'s active acquisition strategy helps diversify its tenant base, property types, and geographic reach. In 2022, Getty Realty invested $157.5 million across 52 properties. This included $137.3 million for 16 car washes, 14 auto service centers, nine convenience stores, and one drive-through quick-service restaurant.
In the first quarter of 2023, Getty Realty Corp.:
Acquired eight car washes and one convenience store for $48.1 million
Acquired four under-construction car washes for $8.5 million and committed additional funds to completing the projects
Advanced construction loans totaling $8.5 million for 13 new-to-industry car washes and convenience stores
As of April 26, the company had a committed investment pipeline of more than $105.0 million for the acquisition and development of 34 convenience stores, auto service centers, car washes, and quick-service restaurants.
Getty Realty Corp. Builds on Momentum in 2023
For the first quarter ended March 31, Getty Realty reported net income of $14.0 million, or $0.28 per share, compared to $18.7 million, or $0.39 per share, in the same prior-year period. (Source: "Getty Realty Corp. Announces First Quarter 2023 Results," Getty Realty Corp., April 26, 2023.)
Its funds from operations (FFO), a term used to define a REIT's cash flow from operations, went up in the first quarter by five percent year-over-year to $24.4 million, or $0.50 per share. Its adjusted FFO (AFFO) increased by 9.3% year-over-year to $21.7 million, or $0.56 per share.
Christopher J. Constant, Getty Realty Corp.'s president and CEO, noted, "Getty continues to build momentum in 2023, as we started the year by recognizing nearly 8% growth in first quarter AFFO per share, investing more than $73 million in high quality convenience and automotive retail assets, and completing several successful capital markets transactions." (Source: Ibid.)
Thanks to strong year-to-date activity and investments, Getty Realty Corp. raised its 2023 AFFO guidance to the range of $2.22 to $2.24 per diluted share, from a prior range of $2.19 to $2.21 per diluted share.
"Our investment and capital markets activity is leading to accelerated earnings growth that has enabled us to raise our annual outlook for 2023," said Constant. "We also continue to underwrite new opportunities and maintain a significant, and fully funded, pipeline of committed investments."
Management Raises Dividend for 11th Consecutive Year
Dividend hogs looking for reliable annual raises should keep an eye on Getty Realty stock.
On January 5, the company raised its quarterly dividend by 4.9% to $0.43 per share, for a current yield of 5.1%. This represents the 11th straight year that Getty Realty has raised its dividend. (Source: "Dividends," Getty Realty Corp., last accessed May 17, 2023.)
There's every reason to believe that GTY stock will continue its winning ways. Although Getty Realty's payout ratio is 94.9%, which some investors might consider too high, different companies follow different rules. Note that, in order to qualify as a REIT, a company is legally required to distribute at least 90% of its taxable income.
When it comes to REITs and their dividends, it's important to look at the AFFO, which is a measure of its true cash flow. As mentioned earlier, Getty Realty Corp.'s first-quarter AFFO was $0.56 per share. That's more than enough for the company to comfortably afford its quarterly payout of $0.43 per share.
Getty Realty Stock Up 34% Year-Over-Year
Not only has GTY stock's high-yield dividend been raised for 11 consecutive years, but its share price has also been crushing the stock market, up by 8.5% over the last six months and 34.1% year-over-year.
Getty Realty stock's long-term dividend growth is even more impressive. Since the start of 2012, Getty Realty Corp. has increased its quarterly dividend by 251% from $0.1222 to $0.43. Over that time frame, GTY stock, with dividends reinvested, has provided returns of 315%.
In comparison, since the start of 2012, the S&P 500 has provided returns of 229%. Moreover, the average dividend yield on the S&P 500 is just 1.7%, which is far lower than Getty Realty stock's dividend yield of 5.1%.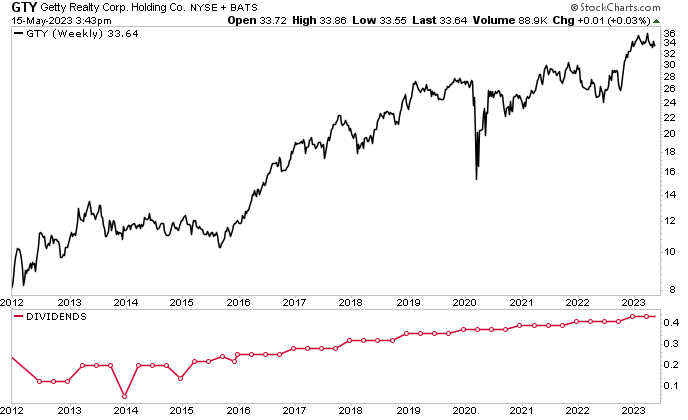 Chart courtesy of StockCharts.com
The Lowdown on Getty Realty Corp.
What's not to love about Getty Realty stock?
For more than a decade, it's been an excellent stock for both income and growth. The company operates in an industry that has proven to be both recession-resistant and pandemic-resistant. To that end, Getty Realty Corp. has reported solid financial results for 2020, 2021, and 2022.
That momentum has carried into 2023, with the company's first-quarter FFO up by five percent year-over-year and its first-quarter AFFO up by 9.3% year-over-year. Furthermore, the REIT has raised its full-year AFFO guidance.
For-yield hungry investors, Getty Realty recently increased GTY stock's high-yield dividend for the 11th straight year. This, coupled with a share price near record levels, is just another reason to love Getty Realty Corp.