Getty Realty Corp.: 5%-Yielding REIT Set to Raise Dividend Again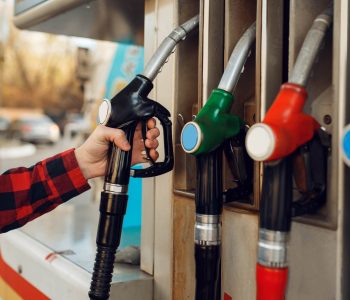 Why I'm Bullish on Getty Realty Stock
The most popular way to get from point A to point B in America is by road. Unfortunately, because of COVID-19 restrictions, most of us were forced to sit at home in 2020, leaving highways and city streets nearly empty and dust piling up on the hoods of our vehicles. That wasn't exactly a great economic environment for real estate investment trusts (REITs) that own massive portfolios of convenience-store and automotive real estate, like Getty Realty Corp. (NYSE:GTY).
But it has been a different story in 2021, thanks to the successful rollout of coronavirus vaccines, the lifting of restrictions, and the reopening of the U.S. economy. More and more Americans have again taken to the road, and Getty Realty Corp. has been there to welcome weary travelers, their dirty vehicles, their empty gas tanks, and their open wallets. And GTY stock investors have been (and are expected to continue to be) among the biggest winners.
Getty Realty is the leading publicly traded, net lease REIT that specializes in the ownership, leasing, and financing of convenience stores, gas stations, and other single-tenant retail real estate (car wash, auto service, auto part, etc.). (Source: "Corporate Profile: June 2021, "Getty Realty Corp., last accessed August 30, 2021.)
As of this writing, Getty Realty's portfolio includes 1,005 properties in 35 states and Washington, D.C. Some of the company's tenants are ConocoPhillips (NYSE:COP), Sunoco LP (NYSE:SUN), BP plc (NYSE:BP), Royal Dutch Shell plc (NYSE:RDS.A), and Valvoline Inc (NYSE:VVV).
While some companies have been taking it easy in 2021, licking their wounds following COVID-19, Getty Realty Corp. has been busy spending money and expanding its national footprint.
During the first half of 2021, the company:
Invested $73.0 million across 59 properties
Acquired nine car washes for $32.0 million
Acquired 46 oil-change centers for $30.0 million
Funded construction loans of $11.0 million for four new-to-industry convenience stores
Normalized its rent collections
Moreover, five percent of Getty Realty Corp.'s property portfolio is occupied.
For the most part, convenience-store and automotive real estate is recession-resistant, providing REITs like Getty Realty with consistent revenue streams. The company typically raises its rents by 1.6% per year. The majority of its triple net leases have 15-year initial terms with extension options of 15 to 20 years. (Source: Ibid.)
As of this writing, Getty Realty stock is up by:
15% year-to-date
13% year-over-year
105% since bottoming in March 2020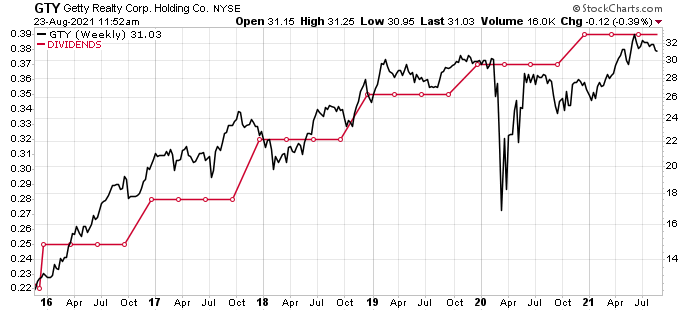 Chart courtesy of StockCharts.com
Strong Results for 2020 & First Half of 2021
Because of its reliable rent escalators, increasing acquisition activity, and completion rate of redevelopment projects, Getty Realty was able to report year-over-year fourth-quarter adjusted funds from operations (AFFO) growth of 12% (to $21.0 million, or $0.48 per diluted share) and full-year AFFO growth of seven-percent (to $79.1 million, or $1.84 per diluted share). (Source: "Getty Realty Corp. Announces Fourth Quarter and Full Year 2020 Results," Getty Realty Corp., February 23, 2021.)
The REIT's monthly rent collections were maintained at or above 95% throughout 2020, with stable occupancy of more than 99%.
That momentum has continued in 2021. In the first quarter, the company announced that its AFFO increased by 8.6% year-over-year to $20.9 million, or $0.47 per share.
In the second quarter, its AFFO climbed by approximately 19% year-over-year to $22.1 million, or $0.49 per share. (Source: "Getty Realty Corp. Announces Second Quarter 2021 Results," Getty Realty Corp., July 28, 2021.)
In the first six months of the year, the REIT's AFFO advanced by 14% to $43.1 million, or $0.96 per share. This was more than enough to cover the company's high-yield dividend.
In late July, Getty Realty announced that its board of directors declared a cash dividend of $0.39 per share, or $1.56 on an annual basis. This works out to an annual dividend yield of five percent. The payout ratio is just 88.5%, which suggests that the company's dividend payout and yield are safe.
The company has raised its dividends every year since 2016, and there's every reason to believe Getty Realty will raise its quarterly dividend again in the fourth quarter.
Getty Realty Corp. Raises AFFO Guidance
As a result of the company's strong year-to-date investment and capital market activity, management increased their 2021 AFFO guidance to the range of $1.89 to $1.91 per diluted share. During the first quarter, the company reaffirmed its 2021 AFFO guidance of $1.86 to $1.88 per diluted share.
Christopher J. Constant, president and CEO, commented, "With an improving cost of capital, a strong track record of investing in freestanding properties offering essential goods and services, and attractive tailwinds in the convenience and broader automotive industries, we are confident in our platform's ability to deliver continued growth." (Source: Ibid.)
The Lowdown on Getty Realty Corp.
Getty Realty Corp. is an excellent REIT that operates in an industry that has proven to be both recession- and pandemic-resistant. The company reported strong 2020 financial results and has done so well in 2021 that it raised its full-year AFFO guidance range.
This should help juice the price of GTY stock and allow the company to continue providing investors with reliable, growing, high-yield dividends.