Getting Paid 12 Times a Year, with a Yield of 12%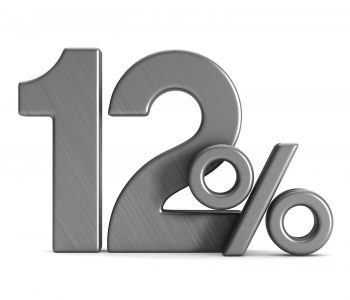 iStock.com/ISerg
A Monthly Dividend Stock You Likely Haven't Considered
For income investors, few things are better than a high-yield monthly dividend stock.
Consider that most of our bills have to be paid every month, yet most companies pay dividends on a quarterly basis. For investors living off their dividends, it would make life much easier if they had some stocks that also distribute cash every month.
Yield is another issue. The average dividend yield of all S&P 500 companies stands at just 1.8% at the moment. If an investor wants to earn an annual dividend income of $10,000 from an S&P 500 portfolio, they would need  $543,478 to start with.
If you think spending over half a million dollars just to earn $10,000 a year is too much, you are not alone.
That's why I'm going to show you a company that not only offers a much higher yield than the benchmark's average, but also pays investors every month. I'm talking about Horizon Technology Finance Corp (NASDAQ:HRZN).
Headquartered in Farmington, Connecticut, Horizon Technology Finance Corp is a closed-end investment company. It focuses on investing in four target industries: technology, life science, healthcare information and services, and cleantech.
These are fast-growing industries that also come with risks. The good news is that, while Horizon Technology Finance Corp's portfolio consists of both debt and equity investments, it invests mainly in senior-term loans that are secured by first lien.
When you are a first-lien lender, you'll be the first one standing in line to get paid if the borrower defaults.
Secured Lending Portfolio
As of March 31, 2018, Horizon Technology Finance Corp's portfolio included 32 secured loans with an aggregate fair value of $193.0 million. Its warrant, equity, and other investments totaled just $18.9 million. (Source: "Horizon Technology Finance Announces First Quarter 2018 Financial Results," Horizon Technology Finance Corp, May 1, 2018.)
With most of its portfolio invested in secured debt, the company can collect a steady stream of interest income. In the first quarter of 2018, Horizon's annualized portfolio yield on its debt investments was 14.4%.
With this kind of yield on its debt portfolio, you might think that Horizon was lending to risky startups, but that's not really the case. The technology market is currently the company's largest sector exposure. In that market, Horizon only invests in later stage and venture growth stage companies.
In the life science market—Horizon's second-largest exposure—it focuses on later stage, venture growth stage, and public companies.
The portfolio is well diversified, too. The company's $193.0-million debt portfolio consisted of 32 secured loans, while its $18.9-million warrant, equity, and other investments come from 80 different portfolio companies.
Generous Dividends
Here's the best part: Horizon chooses to be regulated as a business development company (BDC). This means it must pay out at least 90% of its profits to investors in the form of dividends. In return, the company can generally avoid paying federal income taxes on the corporate level.
Right now, Horizon pays monthly dividends of $0.10 per share. That gives HRZN stock a jaw-dropping annual yield of 12%.
Back to the original question: if an investor wants to earn $10,000 a year from a 12% yielder, they would need just $83,333 to start with.
For investors looking for monthly dividend stocks, Horizon Technology Finance Corp's double-digit payout could be worth considering.