The GEO Group Inc.: Collect an 8.7% Yield From This "Hated" Company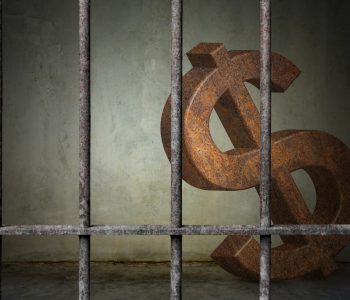 iStock.com/holwichaikawee
The GEO Group Inc.'s Distribution Keeps Growing
If you want to make more money in the stock market, it pays to invest in "hated" industries. At least, that's according to the findings of one study by a pair of professors from Princeton and New York University.
Their analysis revealed investors in "sin stocks" like gambling, alcohol, and cigarettes crushed the broader market. During the 20th century, these companies beat the S&P 500 by more than 2.5% per year. (Source: "The price of sin: The effects of social norms on markets," Journal of Financial Economics, July 2009.)
That news won't surprise regular readers. Some subscribers balked at buying detested companies like Diageo plc (NYSE:DEO), Altria Group Inc (NYSE:MO), and Brown-Forman Corporation (NYSE:BF.A, NYSE:BF.B). These hated stocks, however, have delivered outsized returns—and dividends—for their shareholders.
Another example is private prison operator The GEO Group Inc (NYSE:GEO). No doubt, the idea of funding mass incarceration makes some people squeamish. But for those that put the moral qualms aside, the stock represents an income machine for investors.
The GEO Group Inc: Profit From Prison
The government subsidizes the construction for most of GEO's facilities. Occupancy quotas, wherein the state agrees to provide a minimum number of offenders, ensure a steady stream of income.
You can see that predictability in the company's financial results. Between 2007 and 2009, earnings from companies in the S&P 500 plunged by almost a third. GEO, in contrast, management to boost profits by 21% over that same period.
That income stream will likely continue to grow.
From 2000 to 2016, the number of inmates housed in private prisons grew five times faster than the wider prison population. That growth rate could accelerate in upcoming years as cash-strapped governments look to cut costs. (Source: "Capitalizing on Mass Incarceration: U.S. Growth in Private Prisons," The Sentencing Project, August 2, 2018.)
As one of the largest players in the industry, GEO will get much of that new business. Over the next five years, analysts project fund flows from operation to grow at a high single-digit annual clip. Management could boost that growth rate even faster through acquisitions or expanding into new correctional businesses.
Much of that money has gotten past on to shareholders.
Since GEO went public in 2012, management has boosted the distribution almost fourfold. Today, shares pay a quarterly distribution of $0.48 a piece, which comes out to an annual yield of 8.7%.
"Our financial performance was driven by higher occupancy rates across our diversified real estate portfolio, and particularly throughout our federal facilities for ICE and U.S. Marshals Service," said GEO Group Inc CEO George Zoley.
"We believe our strong quarterly results are indicative of the stability of our cash flows and the sustainability of our annual dividend payments, which are now below our guided payout ratio of 75% of our projected 2019 outflow." (Source: "Geo Group, Inc. (GEO) CEO George Zoley on Q1 2019 Results – Earnings Call Transcript," Seeking Alpha, April 30, 2019.)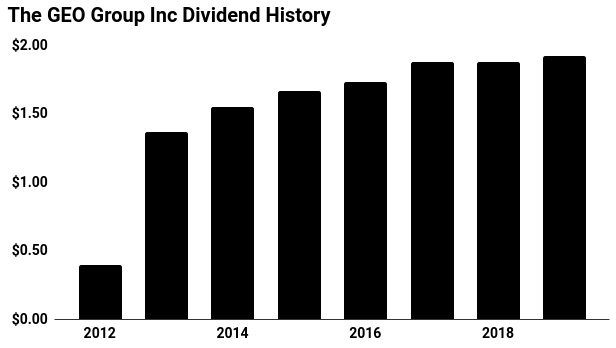 Source: "Dividends," The GEO Group Inc, last accessed May 22, 2019.

The Bottom Line on GEO Stock
Of course, the private prisons industry isn't perfect. A tight labor market has forced GEO Group to pay more for prison guards and other staff. That could bite into the company's robust profit margins down the road.
Private prisons also face political risks. Democrats by and large distrust the industry, so a wave of blue victories at the state or federal level could take a chunk out of GEO's future business.
Yet despite these risks, the company continues to gush dividends for shareholders. For some, an investment in The GEO Group Inc presents a host of moral questions. But for those that don't see an issue with the prison-industrial complex, GEO stock presents a lucrative opportunity.