Genuine Parts Company (NYSE:GPC): 61 Years of Dividend Increases and Continuing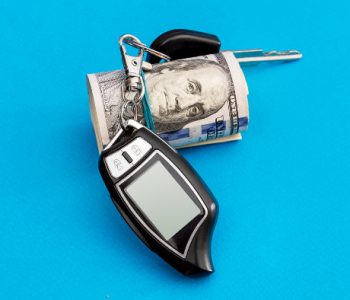 iStock.com/LIgorko
The Best Income Investment in the Automotive Industry?
For income investors, few things are better than a steadily increasing stream of dividends. And Genuine Parts Company (NYSE:GPC) provides exactly that.
Headquartered in Atlanta, Georgia, Genuine Parts Company is an automotive parts distributor. It was founded in 1928 and now has approximately 2,650 operations across the U.S., Canada, Mexico, Australia, and New Zealand.
Due to the cyclical nature of new car sales, the automotive industry doesn't really have the best reputation when it comes to being a good long-term investment. However, Genuine Parts Company has been an exception.
Look at the chart below. It shows GPC stock's dividend history for the past 10 years:
Genuine Parts Company Dividend History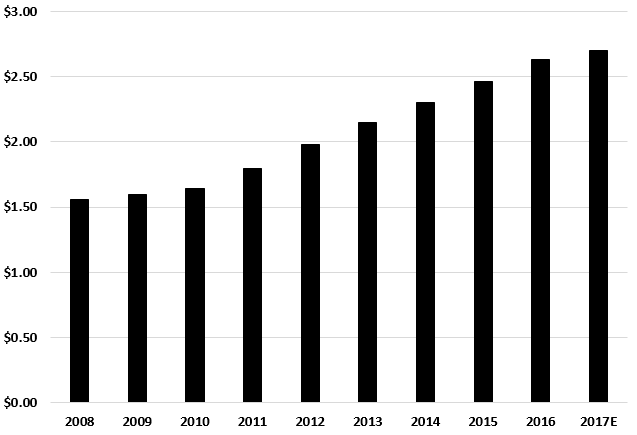 (Source: "Dividends," Genuine Parts Company, last accessed October 30, 2017.)
And that is just small part of what the company has achieved through its nearly nine-decades-long operating history. Consider this: 2017 marked the 61st consecutive year in which Genuine Parts Company has raised its payout to investors.
Also Read:
GPC Stock: How to Collect Growing Dividends from the Auto Industry
Now, you may be wondering: how can a business in the automotive industry have such an amazing track record, given the cyclical nature of the business?
The answer is simple. Genuine Parts Company does not make new cars. In fact, it doesn't even make automotive parts. The company is a pure distributor. It buys auto parts for low prices and sells them at higher prices. It's a simple but profitable business model.
This makes GPC a unique investment opportunity. When cars get older, they will need replacement parts. So, when people hold on to their cars for longer as opposed to buying new ones, they will probably need replacement parts more often.
In other words, Genuine Parts Company doesn't have to rely on new car sales to make money. That's one of the reasons why it can keep delivering solid returns to investors through thick and thin.
The company also has an established position in its industry. It owns several well-known brand names, such as NAPA Auto Parts in the U.S., UAP in Canada, and AutoTodo in Mexico. When it comes to getting replacement parts for their vehicles, consumers prefer to go to reputable stores. With some of the most popular store brands in the business, GPC has become the go-to choice for people who want to buy replacement parts.
In addition, GPC's rising dividends are backed by solid financials. In the first nine months of 2017, the company generated diluted net income of $3.44 per share. Considering that GPC declared $2.025 of total dividends per share during this period, it had a payout ratio of 58.9%, leaving a wide margin of safety. (Source: "Genuine Parts Company Reports Sales and Earnings for the Third Quarter Ended September 30, 2017," Genuine Parts Company, October 19, 2017.)
Final Thoughts on GPC Stock
Don't forget that new car sales in the U.S. reached a record high of more than 17.5 million vehicles last year. A few years from now, these car are going to need some replacement parts. With one of the largest distribution networks in the auto parts business, Genuine Parts Company stands to capitalize on the opportunity.
Trading at $88.44 apiece, GPC stock offers an annual dividend yield of 3.05%. While there are plenty of higher-yielding names in the market, few companies can match GPC's ability to provide a consistent and growing stream of dividends. And that's why income investors should consider it.