General Motors Company: Triple-Digit Upside for GM Stock?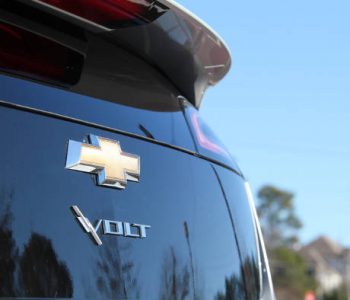 Here's Why General Motors Stock Could Double
When investors think of future-proof stocks, General Motors Company (NYSE:GM) might not be the first one to come to mind. With what happened to the automotive industry a few years ago, we know too well how vulnerable automakers could be. The outlook gets even worse for traditional automakers when you consider the upcoming boom of the electric vehicle (EV) industry.
But if you decide to bail on GM stock because of that, you'd be missing a huge opportunity.
You see, General Motors is not just making cars powered by V8 gasoline engines. As a matter of fact, it also makes a plug-in hybrid vehicle—the "Chevrolet Volt."
The Volt can operate as a pure battery electric vehicle. But unlike pure electric cars on the market today, you don't have to worry about its range. This is because once the battery capacity drops to a certain threshold, an internal combustion engine kicks in and powers an electric generator to extend the vehicle's range.
Of course, when it comes to electric cars, investors seem to favor Tesla Motors Inc (NASDAQ:TSLA) stock. Just take a look at how much Tesla stock has gone up in the last five years and you'll see what I mean.
However, Tesla is not having the market all to itself. In fact, General Motors is a serious contender. In November, GM sold 2,191 units of the Chevrolet Volt, more than double the number of Tesla "Model S" vehicles sold in the period. (Source: "Monthly Plug-In Sales Scorecard," Inside EVs, last accessed November 30, 2016.)
Year-to-date, General Motors has sold over 18,000 units of the Chevrolet Volt, making it the second-best-selling plug-in model in the U.S., only behind Tesla's Model S.
Going forward, GM is going to release a fully electric car, the "Chevrolet Bolt." With an EPA-estimated range of 238 miles per charge and a starting price of $37,495, it looks like Tesla's upcoming "Model 3" will have to face some serious competition.
Of course, betting on the future might not be the priority for dividend investors. But when it comes to current performance, General Motors stock does not disappoint either.
Since GM stock was relisted on the stock market in 2010, the company has been profitable every single year. The reality is that consumers still love to buy cars from this Detroit, Michigan-based automaker. In October, four of the 20 best-selling vehicles in the U.S. were made by GM. (Source: "Auto Sales," The Wall Street Journal, last accessed November 30, 2016.)
The key to note here is that General Motors' business is already established, which means it can return some value to shareholders. Right now, the company pays $0.38 per share on a quarterly basis, translating to an annual dividend yield of 4.38%.
Last but certainly not least, despite being in the auto industry, General Motors might be more resilient that you think. Last year was a tremendous year for car sales in the U.S. But even if things slow down, the company could still be fine.
According to Charles Stevens, chief financial officer of General Motors, the company could still break even if U.S. auto sales fall from 17 million units in 2015 to just 10 or 11 million units. (Source: "General Motors (GM) Mary Teresa Barra on Q4 2015 Results – Earnings Call Transcript," Seeking Alpha, February 3, 2016.)
The Bottom Line on GM Stock
When a company is providing great dividends and also has future potential, you'd expect it to be expensive. But that's not the case for GM stock. Trading at $34.69 on Wednesday, General Motors stock has a price-to-earnings multiple of less than four times.
If the company keeps growing its business and increasing shareholder returns, investors might be able to reward it with higher valuations. If they are willing to pay, say, $8.00 for one dollar of GM's earnings—not a high multiple by any means—GM stock could see triple-digit upside.