General Motors Company Earnings: Will GM Stock Increase Its Dividend?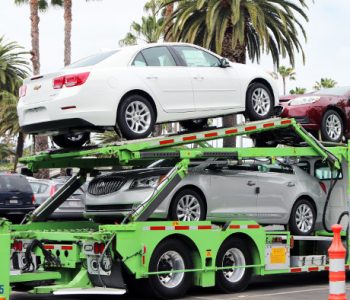 iStock.com/TennesseePhotographer
GM Stock Dividend Forecast
Due to the cyclical nature of the business, automakers aren't known as the most solid dividend payers. But since General Motors Company's (NYSE:GM) restructuring, the company has made a strong comeback and has started returning cash to investors again. Now that the company is reporting earnings, let's see what the latest GM stock news could mean for dividend investors.
On average, Wall Street is pretty upbeat about General Motors' profits. Analysts expect the Detroit, Michigan-based automaker to earn a net income of $1.38 per share for the fourth quarter of 2017, which would represent a 7.8% increase year-over-year. (Source: "General Motors Company (GM)," Yahoo! Finance, last accessed February 2, 2018.)
Note that GM stock has a solid track record of beating earnings expectations. Over the past year, the company has beat Wall Street's earnings per share (EPS) estimates in all four quarters.
The top line, however, is expected to decline. The consensus estimate is that General Motors Company would be generating $36.55 billion of revenue for the quarter, down 16.8% from the $43.92 billion generated a year ago.
Stats on GM Stock
| | |
| --- | --- |
| Analyst EPS Estimate | $1.38 |
| Change from Year-Ago EPS | 7.8% |
| Revenue Estimate | $36.55 Billion |
| Change from Year-Ago Revenue | -16.8% |
| Earnings Beats in Past 4 Quarters | 4 |
Source: Ibid.
When a company is expected to report a double-digit drop in sales, its share price usually tanks. But in the case General Motors Company, that's far from being the case. In the last 12 months, the GM stock price actually surged 16.5%.
GM Stock Chart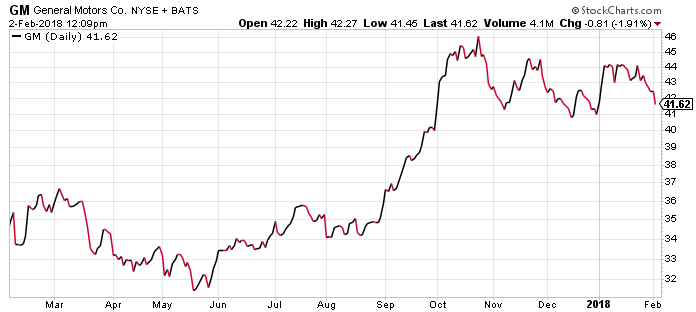 Chart Courtesy of StockCharts.com
So, how it is possible that a company expected to report a sizable sales decline can enjoy a rally in its share price? Well, because the expected revenue drop does not come from GM's own mistake. Instead, it would be the result of the cyclical nature of the industry.
Also Read:
General Motors Company: 3 Reasons Why Warren Buffett is Bullish on GM Stock
You see, U.S. auto sales reached a record of 17.6 million units in 2016. But in 2017, the number slipped to 17.2 million units. While that's still a lot of cars, it marked the U.S auto industry's first annual sales decline since 2009. (Source: "Annual U.S. Car Sales Drop for First Time Since Financial Crisis," The Wall Street Journal, January 3, 2018.)
Despite being in a less-than-stellar market environment, General Motors still managed to sell a whopping 3,002,241 vehicles in the U.S. in 2017. There were impressive results across the board.
First, the company managed to capitalize on the growing crossover market. Thanks to record sales of the "Chevrolet Equinox," "Traverse," and "Trax," as well as the "Buick Envision," "Buick Encore," and "GMC Acadia," GM's crossover deliveries grew 17% in 2017. According to J.D. Power, General Motors expanded its retail share of the crossover market more than any other automaker in 2017. (Source: "Three-peat: Chevrolet's Retail Share Grows for Third Consecutive Year – up 1 point since 2015," General Motors Company, January 3, 2018.)
Moreover, GM's unique three-truck strategy continues to pay dividends. The company's Chevrolet and GMC have been the only brands to offer mid-size, light- and heavy-duty pickup trucks since 2014. With the widest range of offerings, GM sold 948,909 units of pickup trucks in America last year, more than any other automaker.
At the same time, the company also achieved a record-high average selling price of $35,400 for 2017. This was much higher than the industry's average of $31,600 for the year.
The big question now, of course, is what all this could mean for General Motors Company's dividend policy.
Will General Motors Company Increase Its Dividend?
In today's market, General Motors Company is considered a quite generous dividend payer. The average dividend yield of all S&P 500 companies right now stands at 1.75%. GM stock, on the other hand, offers an annual yield of 3.63% at the current share price.
The company has also been growing its payout. General Motors Company reinstated its dividend policy in 2014. Since then, it has increased its quarterly dividend rate twice. From the initial payout of $0.30 per share to today's $0.38 per share, GM stock dividend has grown by 26.7%.
One of the most important metrics in dividend analysis is the payout ratio. The good news here is that even though GM has been raising its dividends, it actually has a very conservative payout ratio. In the first nine months of 2017, the company generated adjusted earnings of $4.91 per share. It declared and paid total dividends of $1.52 per share during this period. (Source: "General Motors Company Dividend Date & History," NASDAQ, last accessed February 2, 2018.)
A simple calculation shows that GM stock had a payout ratio of just 31% in the first three quarters of 2017, which leaves a wide margin of safety.
The company also updated its earnings guidance last month. Management projects record 2017 adjusted EPS at the high end of its previous guidance range of $6.00 to $6.50. Mary Barra, GM's chairperson and chief executive officer, said that the company is, "positioned for another strong year in 2018 and an even better one in 2019." (Source: "GM Forecasts Strong Earnings in 2018," General Motors Company, January 16, 2018.)
Normally, when a company has such a low payout ratio and a growing bottom line, the expectation is that it would raise its dividend. However, as I mentioned earlier, General Motors Company operates in a cyclical industry. Auto sales in the U.S. are near record highs, but there's still uncertainty going forward, even if the company itself maintains competitive. That's why management will probably want to keep its payout ratio at a conservative level so that even when business deteriorates, it would still have enough profits to cover its dividends.
GM stock has been paying the same dividend rate for eight consecutive quarters. Maintaining a conservative payout ratio in an uncertain market environment, meaning massive dividend hikes, will be unlikely. But, given the company's growing business and its dividend growth history, a moderate payout increase in 2018 could be in the works.