GEL Stock (NYSE:GEL): A Top Dividend Stock with a 10.7% Yield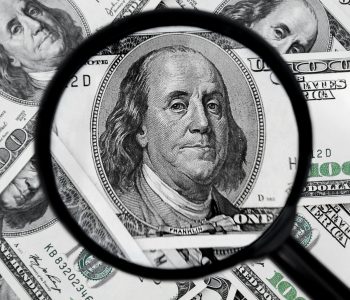 iStock.com/SergioProvilskyi
Collect Rising Payouts from This High-Yield Stock
In today's market, high-yield stocks are not known to be the safest investments. But investors willing to do the research can still find solid companies with decent returns. Today's top dividend stock, for instance, offers a 10.7% yield, and its payout has been growing.
The stock in question is Genesis Energy, L.P. (NYSE:GEL), a master limited partnership (MLP) headquartered in Houston, Texas.
For those not in the know, MLPs are a unique set of entities usually in the oil and gas business. They receive special tax treatment by not having to pay any tax at the corporate level. In return, MLPs are legally required to distribute almost all their available cash to investors in the form of dividends. That's why they have become the higher-yielding instruments in today's stock market.
Genesis Energy provides midstream energy infrastructure and logistics services for refineries, oil producers, and industrial and commercial enterprises. The partnership operates through four main segments: offshore pipeline transportation, refinery services, marine transportation, and onshore facilities and transportation.
With a quarterly distribution rate of $0.7225 per unit, Genesis Energy has an annual yield of 10.7%. When savings accounts pay next to nothing, a double-digit yield could certainly do a lot to help boost the return of an income portfolio.
Of course, one of the reasons why the partnership has such a high yield at the moment is the lack of investor enthusiasm towards the stock. You see, with oil and gas prices falling deep into the doldrums, many energy companies are still struggling. This makes investors cautious about putting their money in the sector.
The thing is, though, the situation at Genesis Energy may not be as bad as people think. The partnership does not have any drilling activity, so its business is not correlated to oil prices. In particular, Genesis Energy's onshore and offshore pipeline business is tariff-based, meaning it is essentially running energy toll roads.
Furthermore, its crude oil and refined products services are usually done through back-to-back monthly purchase/sales contracts, and the partnership carries a low level of crude inventory. The refined products held by the partnership for blending are also hedged.
In the marine transportation segment, most of the business is conducted through term contracts, which are contracts that continue for a long duration. Last year, approximately 62% of Genesis Energy's marine transportation revenue was generated from term contracts. (Source: "Investor Presentation August 2017," Genesis Energy LP, last accessed September 11, 2017.)
Limited commodity price exposure is a key reason why Genesis Energy deserves income investors' attention. Having a stable business has allowed the partnership to pay a steadily increasing stream of dividends, despite the downturn in commodity prices.
The chart below shows GEL stock's distribution history since 2010.
GEL Stock Distribution History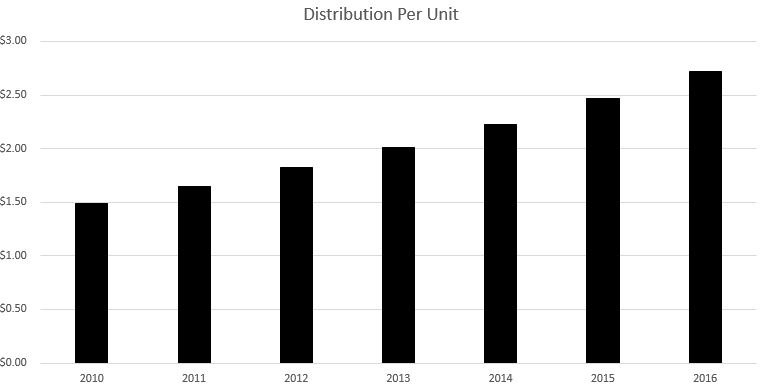 Source: "Distribution History," Genesis Energy LP, last accessed September 11, 2017.
As you can see, Genesis Energy has been consistently raising its payout. Moreover, while most dividend growth companies increase their payout once a year, Genesis Energy was able to do so more frequently; in the past 12 years, the partnership has raised its per unit distribution rate every single quarter.
If you check out the most recent earnings report, you might be a bit disappointed about the partnership's financials. In particular, Genesis Energy reported a lower margin due to "extraordinary planned and unplanned downtime by [its] producer customers at several major fields in the Gulf of Mexico." (Source: "Genesis Energy, L.P. Reports Second Quarter 2017 Results," Genesis Energy LP, August 2, 2017.)
However, despite this negative impact, the partnership was still able to cover its rising distributions. In the second quarter of 2017, Genesis Energy generated $90.2 million in available cash before reserves, which provided 1.02 times coverage of its quarterly distribution.
Final Thoughts on This High-Yield Stock
At the end of the day, keep in mind that Genesis Energy is not a risk-free investment. But due to its generous payout and low commodity price exposure, it is a high-yield stock that's worth considering for income investors.
Also Read:
The Best Pipeline Stocks for Retirement Income