GasLog Partners LP: Time to Lock in This 8.7% Yield?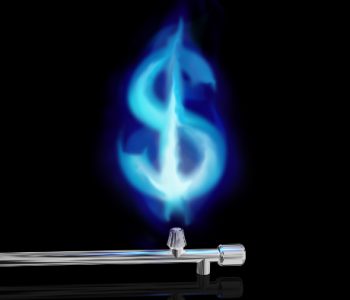 This Partnership Yields 8.7%
Today's chart highlights a big opportunity in the energy business: liquefied natural gas (LNG).
Vast new supplies have sent natural gas prices plunging in the United States. But due to limited inventories and fast-growing economies, the commodity still trades for a premium overseas.
This trend has created one of the largest booms in American history. Across the industry, we've seen booming profits for any company that can ship, store, or process LNG. That has resulted in double-digit returns from firms like Golar LNG Limited (NASDAQ:GLNG), Cheniere Energy, Inc. (NYSEAMERICAN:LNG), and Hoegh LNG Partners LP (NYSE:HMLP).
Today, we check in on one more name in GasLog Partners LP Unit (NYSE:GLOP). This partnership owns a fleet of tanker ships that transport LNG across the ocean. And with a yield approaching nine percent, some income investors have started to take notice.
The business is rather straightforward: GasLog owns 11 vessels chartered mostly to Royal Dutch Shell Plc (NYSE:RDS.A, NYSE:RDS.B). These deals get done under fixed-fee, long-term contracts, some for terms of up to 10 years or more. In other words, management can circle the date as to when they'll get paid for years to come. And as a result, GasLog Partners has little to nothing in the way of commodity price or volume risk. This results in a predictable stream of cash flows.
This has created a stable income stream for investors. Overall, the company distributes about 85% of its cash flow to unitholders. That comes out to a quarterly distribution of $0.52 per unit or an annual yield of 8.7%.
Management plows the remaining profits back into the business to acquire additional LNG vessels. These investments have allowed GasLog Partners to grow cash flow, and by rough extension the distribution, at a 10% compounded annual clip since going public in 2014. This growth rate looks sustainable going forward thanks to additional vessels, higher shipping rates, and other cost-cutting measures.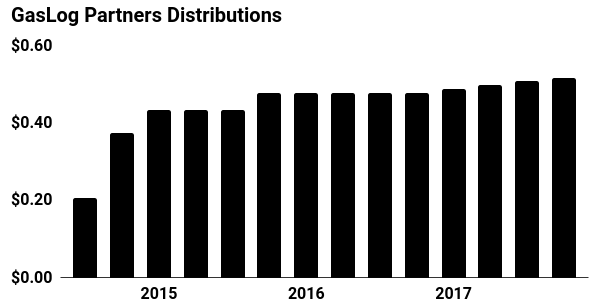 (Source: "Distributions," GasLog Partners LP, last accessed April 15, 2018.)

So, can you call GasLog a sure thing? Not really. Investing in any shipping business comes with operational risks (strikes, unexpected downtime, etc.). Higher interest rates would increase borrowing costs, biting into the partnership's bottom line.
That said, executives have maintained a light debt load. And with what little debt they've taken on, management has locked in today's low interest rates through long-term bond issues. This should allow the partnership to stomach any rise in interest rates without putting the distribution at risk.
In other words, GasLog Partners looks like a safe (and quite lucrative) way to invest in the LNG boom.