GasLog Partners LP: This Stock Pays Out 8.9%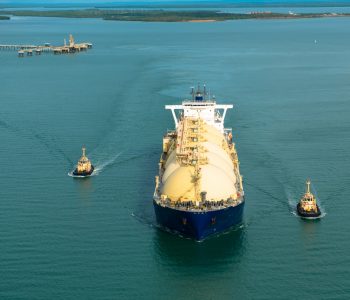 iStock.com/fjasefvb
Upside for This Dividend Payer
Over the coming decades, few businesses will likely make more money than liquified natural gas (LNG) exports.
New technologies have unlocked vast supplies of energy across the country. Natural gas prices have fallen so low, drillers literally burn off excess supplies at the wellhead.
Overseas, the situation looks completely different. Developing nations need a clean-burning fuel to power their economies. Customers pay four or five times more for natural gas as we do stateside.
Companies that can connect these two markets see a big opportunity. One of the big winners from this spread? GasLog Partners LP (NYSE:GLOP). This firm owns a fleet of tanker ships, which transport LNG across the ocean.
And business, it seems, is booming. GasLog posted a record $100.5 million in distributable cash flow for 2017, up 20% from the previous year. Management credited the strong results to recent acquisitions, more shipments, and higher rates for LNG vessels. (Source: "GasLog Partners LP Reports Financial Results for the Three-Month Period and the Year Ended December 31, 2017 and Increases Cash Distribution," Gaslog Partners LP, January 31, 2018.)
This could be just the beginning. Looking forward, management sees growing LNG exports sparking a shortage of tanker vessels. Over the next few years, they see cash flows growing at a low-teen annual clip. For unitholders, this has created quite the income stream.
Buying a new vessel comes with a big price tag upfront. But once you have one in your fleet, they actually don't cost that much to maintain. As a result, GasLog can pass on most of its profits to unitholders. Since going public in 2014, management has boosted the distribution on seven occasions. Today, investors collect a quarterly distribution of $0.52 per unit, which comes out to an annual yield of 8.9%.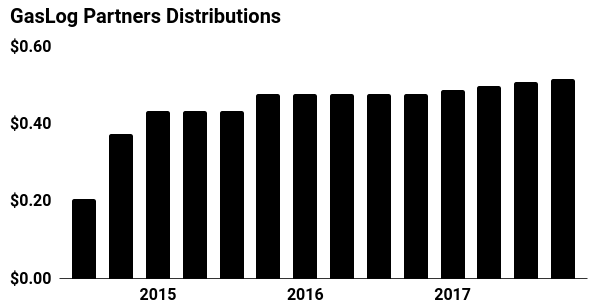 Source: "Investor Relations," GasLog Partners LP, last accessed March 5, 2018.

The big risk here? LNG prices. If the spread between U.S. and overseas LNG prices narrows, America's export boom could come to a halt. That, by extension, would crimp demand for tanker ships moving supplies across the ocean.
That said, GasLog Partners usually locks in customers to long-term contracts. This means management can circle the dates as to when they'll get paid for years to come. That helps unitholders sleep at night.
In other words, income hunters should give this 8.9% yielder a second look.