GasLog Partners LP: Where I'm Finding 9%+ Yields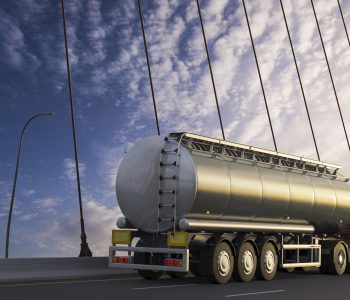 iStock.com/Pixelci
Small-Cap Stock Yields 9.1%
Call it a case of "idea incest."
For the most part, income hunters don't look beyond the standard list of dividend darlings. The same old group of big, reliable stocks come up in every conversation.
But in the same way inbreeding leads to health problems, investing like everyone else leads to issues, too. A flood of money pushes up prices, leading to mediocre returns. It doesn't hurt, therefore, to search out fresh ideas.
One name I'd like to introduce to the dividend gene pool: GasLog Partners LP (NYSE:GLOP). This limited partnership owns a fleet of liquefied natural gas (LNG) tanker ships, which throw off generous cash flow. And due to its small size and obscure industry, most investors haven't caught on to this 9.1% yield.
GasLog has only traded publicly traded for four years, so it doesn't have much of a track record, but its short distribution history looks impressive. Since it began paying one in August 2014, the partnership has raised its payout on eight occasions.
That tradition will likely continue. Over the next few years, executives have pledged to increase the distribution at a five percent annual clip. And those increases, depending on industry conditions, could be even bigger.
The numbers support this outlook. Outside of the United States, natural gas prices have surged on growing demand for clean-burning fuels. By 2040, the International Energy Agency predicts consumption will increase by more than 50%.
Good news for ship owners: GasLog plans to take advantage of this growing demand by increasing the size of its fleet. A shortage of LNG tankers should also allow management to hike prices.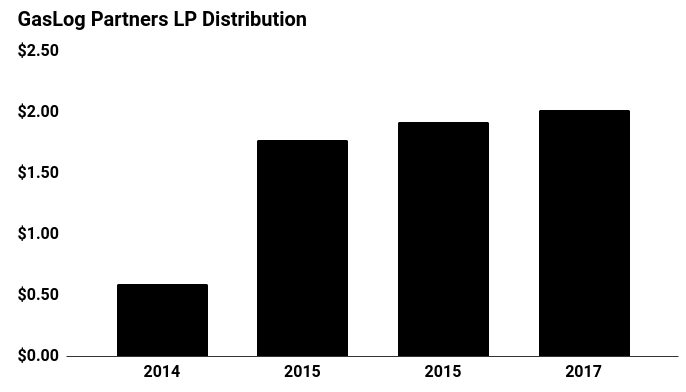 Source: Corporate Filings
Of course, we can't call GasLog a slam dunk. Higher interest rates could clip units. And commodity prices can swing around industry participants like a rag doll.
That said, the business has less exposure than most. The partnership owns 11 vessels, all chartered to Royal Dutch Shell plc (ADR) (NYSE:RDS.A, NYSE:RDS.B) under fixed-fee contracts. So GasLog Partners has limited commodity price or volume risk.
Moreover, I like management's conservative approach. Today, the partnership pays out only $0.86 in distributions for every dollar generated in cash flow. This leaves executives with a little wiggle room, even if business sours for a year or two.
All that cash means this GasLog Partners could outperform the incestuous list of dividend payers.