GasLog Partners LP: This 10% Yield is Still Growing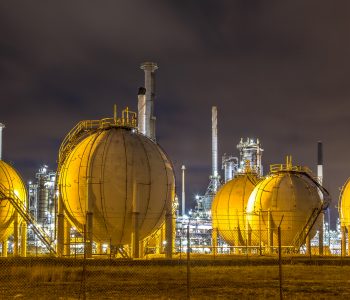 iStock.com/CreativeNature_nl
A High-Yield Stock Most People Are Unfamiliar With
Beaten-down stocks can provide some of the biggest yields.
Think about it. We calculate dividend yield by dividing a company's cash payout by its stock price. So if shares are soaring and the cash payment remains the same, the company's yield would be trending lower.
At the opposite end, if a company's stock price takes a tumble and maintains its dividend, the yield would shoot up.
In the latest market sell-off, plenty of stocks were plunging. For yield-seeking investors, there might be some dividend opportunities to pick up from the floor.
GasLog Partners LP (NYSE:GLOP) could be one of those opportunities.
The partnership's unit price dipped towards the end of last year and has yet to make a full recovery. Over the past three months, GLOP stock is down 16.7%.
Note that GasLog Partners was already paying generous distributions before the market downturn. Due to the latest tumble, the stock's yield has climbed above the double-digit mark.
With a quarterly distribution rate of $0.53 per common unit, GLOP now offers a jaw-dropping yield of 10.2%.
Of course, an ultra-high yield could simply be a sign of trouble. Over the years, we have seen plenty of dividend cuts from double-digit yielders.
If you are a risk-averse investor like me, you would want to stay as far away from dividend cuts as possible. This is because when a company reduces its dividend, not only do shareholders see their income stream decline, but the disappointing news could also lead to a drop in stock price. Again, there are countless examples of companies with plunging share prices after management announced dividend cuts.
Therefore, when you see a stock offering a yield substantially higher than what an average company would pay, it's of utmost importance to check whether the payout is safe.
GasLog Partners LP: Can This High Yield Stock Cover Its Payout?
On that front, let's take a look at the partnership's business.
GasLog Partners LP in the business of transporting liquefied natural gas (LNG). Headquartered in Monaco, the partnership was created by GasLog Ltd (NYSE:GLOG) in 2014 to own, operate, and acquire LNG carriers.
Right now, GasLog Partners has a fleet of 14 vessels, most of which operate under long-term charters.
Despite being a relatively new player in the industry, GasLog Partners has signed multi-year charters with some high-quality customers, including a subsidiary of Royal Dutch Shell plc (NYSE:RDS.A), and Cheniere Energy, Inc. (NYSEAMERICAN:LNG).
With business backed by multi-year contracts, GasLog Partners can return cash to investors on a regular basis. In fact, because the company is structured as a master limited partnership (MLP), it is required by law to distribute most of its available cash to unitholders.
The best part is that the business not only provided GLOP stock investors with a steady income stream, but an increasing one.
When the partnership went public in May 2014, it had a quarterly distribution rate of $0.38 per unit. Today, the amount stands at $0.53 per unit, translating to a total increase of 39.5%. (Source: "Distributions," GasLog Partners LP, last accessed January 23, 2019.)
If you think those distribution hikes might be a bit too aggressive, a look at the financials should be reassuring. In the third quarter of 2018, GasLog Partners generated $27.2 million in distributable cash flow while declaring $25.7 million in actual cash distributions. (Source: "Gaslog Partners LP Reports Financial Results For The Three-Month Period Ended September 30, 2018, Declares Cash Distribution And Announces Methane Becki Anne Acquisition," GasLog Partners LP, October 25, 2018.)
That translated to a distribution coverage ratio of 1.06 times, meaning the partnership generated more than enough cash to cover the payout.
GLOP Stock: More Distribution Hikes on the Way?
And the best could be yet to come. At GasLog Ltd (GLOP's sponsor), there are 13 vessels that are eligible for dropdown. If GasLog Partners acquires some of those vessels, many of which are already under multi-year contracts with a sizable revenue backlog, it could significantly boost its financials.
At the latest investor presentation, management reiterated that they plan to increase the partnership's per unit cash distribution by two to four percent in 2019. (Source: "GasLog Partners LP Wells Fargo Midstream Conference," GasLog Partners LP, last accessed January 23, 2019.)
If they follow through on that plan, investors who locked in a 10.2% yield today from GLOP stock would receive an even higher yield on cost before the end of this year.
At the end of the day, you can find companies with even bigger yields than GLOP. But if you take a closer look, you'd see that not many of them have the ability to cover their payout, let alone increase it. With a solid business and projected distribution hikes, GasLog Partners LP is one of the few double-digit yielders worth considering for an income investor today.