Gaming and Leisure Properties Inc: High-Yielding Stock to Pay Special Dividend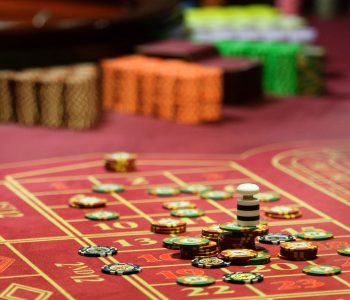 GLPI Stock Bullish as Gambling Ramps Up
After taking a big hit during the early days of COVID-19, gaming stocks rebounded as quarantine orders were lifted and international travel returned.
One company that has done well over the last year is Gaming and Leisure Properties Inc (NASDAQ:GLPI), a real estate investment trust (REIT) with 48 gaming venues spread across 16 U.S. states.
The company has been reporting earnings growth, it recently hiked its quarterly dividend, it announced the acquisition of three casinos, and it announced a special dividend. On top of that, Gaming and Leisure Properties Inc's four publicly traded tenants, which account for an aggregate of 99% of its annual rent contributions, have significantly bolstered their balance sheets and enhanced their liquidity since COVID-19 hit our shores in early 2020.
These developments plus investor enthusiasm have helped send Gaming and Leisure Properties stock higher in 2021. As of this writing, GLPI stock is up by 13.8% year-to-date. That's solid, but not a market-trumping gain. The S&P 500 is up by 21% year-to-date.
That said, the outlook for GLPI stock over the next year is bullish, with analysts providing an average 12-month share-price estimate of $55.71 and a high estimate of $57.00 for Gaming and Leisure Properties Inc. That points to upside of 20.1% and 25%, respectively.
Those are healthy gains, especially when you consider that Goldman Sachs Group Inc (NYSE:GS) expects the S&P 500 to only rise by nine percent in 2022. Moreover, Morgan Stanley (NYSE:MS) predicts that the S&P 500 will slide by six percent in 2022.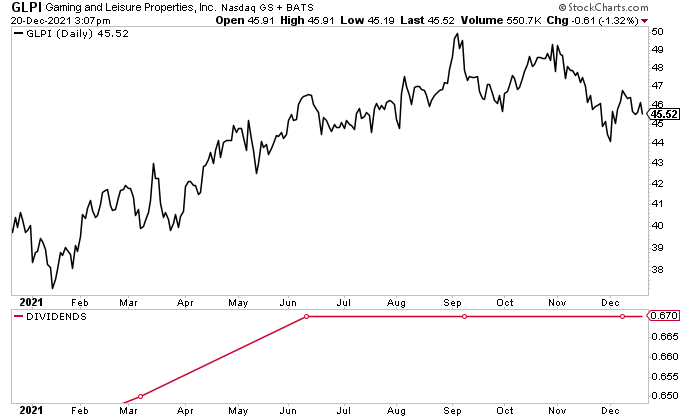 Chart courtesy of StockCharts.com
About GLPI Gaming and Leisure Properties Inc
Gaming and Leisure Properties is a self-administered, self-managed REIT that buys and finances property that it leases to gaming operators in triple net lease arrangements. (Source: "Portfolio," Gaming and Leisure Properties Inc, last accessed December 21, 2021.)
With a triple net lease, the tenant pays all of the expenses for the property, including taxes, building insurance, and maintenance. This is on top of rent and utilities.
Gaming and Leisure Properties Inc's property portfolio currently consists of 50 gaming and gaming-related facilities in 17 states, including Delaware, Illinois, Iowa, Louisiana, Maine, Mississippi, Nevada, New Jersey, Pennsylvania, and West Virginia.
The properties cover 25.3 million square feet (roughly the size of 440 NFL fields) and include more than 15,000 hotel rooms. Its tenants include Bally's Corp (NYSE:BALY), Boyd Gaming Corporation (NYSE:BYD), Caesars Entertainment Inc (NASDA:CZR), and Penn National Gaming, Inc (NASDAQ:PENN).
Acquisition of 3 Casino Properties
Like all good REITs, Gaming and Leisure Properties is always looking to expand and diversify.
In early December, the company announced that it had entered definitive agreements to acquire the real property assets of Live! Casino & Hotel Maryland, Live! Casino & Hotel Philadelphia, and Live! Casino Pittsburgh from affiliates of The Cordish Companies for $1.8 billion. (Source: "Gaming and Leisure Properties and The Cordish Companies Announce Strategic Relationship," Gaming and Leisure Properties Inc, December 6, 2021.)
The Maryland transaction is expected to close by the end of 2021, and the two Pennsylvania transactions are expected to close in early 2022.
The Cordish Companies will immediately lease back all the properties and continue to own, control, and manage all the gaming operations at the facilities. The transaction includes a binding partnership on future Cordish casino developments, as well as potential financing partnerships between Gaming and Leisure Properties and The Cordish Companies on a range of other strategic opportunities.
The master lease and single asset lease will have an initial term of 39 years, with a maximum term of 60 years, inclusive of tenant renewal options.
The initial annual rent for all three properties will be $125.0 million, with a 1.75% fixed yearly escalator on the entirety of the rent commencing upon the leases' second anniversary.
Fabulous Q3 Earnings Growth
For the third quarter ended September 30, Gaming and Leisure Properties reported income from operations of $225.1 million, up by 12.2% over the $200.7 million recorded in the same period of 2020. (Source: "Gaming and Leisure Properties, Inc. Reports Third Quarter 2021 Results," Gaming and Leisure Properties Inc, October 28, 2021.)
The REIT's net income advanced 17.3% to $149.1 million, or $0.63 per share, from $127.1 million, or $0.58 per share, in the third quarter of 2020.
Gaming and Leisure Properties Inc's funds from operations (FFO) came in at $209.1 million, or $0.89 per share, versus third-quarter 2020 FFO of $182.2 million, or $0.83 per share. Its adjusted FFO, which is where dividend payments come from, were $207.2 million, or $0.88 per share, compared to third-quarter 2020 adjusted FFO of $194.6 million, or $0.89 per share.
Peter Carlino, chairman and CEO, commented, "The strong earnings growth GLPI achieved in the first half of 2021 continued with another period of consistent earnings in the third quarter." (Source: Ibid.)
Carlino added, "Our third quarter net income and AFFO exceeded the comparable period in 2020 by 17.3% and 6.4%, respectively, demonstrating our ability to consistently build value by working creatively and collaboratively with existing tenants through the pandemic, while establishing new relationships with leading regional gaming operators."
Special Dividend Announcement
Gaming and Leisure Properties Inc's earnings growth helps it not just provide investors with high-yield dividends, but also special dividends.
On November 30, the company declared a fourth-quarter dividend of $0.67 per share, for a yield of 5.8%.
Then on December 17, Gaming and Leisure Properties declared a special dividend of $0.24 per share. The special dividend is payable on January 7, 2022 to shareholders of record as of December 27, 2021. The special dividend increases the company's annual payout from $2.68 to $2.92, for a yield of 6.4%.
The Lowdown on Gaming and Leisure Properties Stock
Gaming and Leisure Properties Inc is a REIT with a diverse portfolio of gambling properties located across the U.S. The company recently announced a blockbuster acquisition of three casino properties, it continues to report wonderful earnings growth, and it has a history of providing high-yield dividends.
Furthermore, while many casino operators have cut their dividends during the COVID-19 pandemic and have yet to restore them, GLPI stock's dividend has increased, and the company even announced a special dividend.
What's better than a bullish stock that provides growing, high-yield dividends plus special dividends?