GameStop Corp.: This Turnaround Stock Yields 10.3%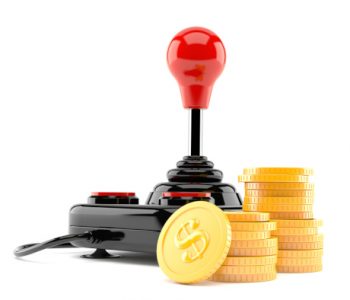 iStock.com/Talaj
GameStop Corp. Has Upside
I love turnaround situations.
Once in a while, good firms run into problems. During these times, you can often buy up great assets for pennies on the dollar.
For proof, you only need to look at case studies like Apple Inc. (NASDAQ:AAPL), McDonald's Corp (NYSE:MCD), and Citigroup Inc. (NYSE:C). Of course, some turnarounds never actually turn. But if you can stomach the risk, these opportunities can really pay off.
Case in point: video game retailer GameStop Corp. (NYSE:GME). Over the last few years, the rise of e-commerce has pushed this company to the brink. But with a new diversification strategy, improving fundamentals, and a 10.3% yield, investors may want to give this business a second look.
Management's new turnaround plan appears to be bearing fruit.
GME stock has plunged in recent years as executives have worked to offset the slow demise of its core used video game resale business. To put a floor underneath sales, management has opened a chain of third-party phone stores, broken into the booming collectibles business, and launched a number of online gaming sites.
The long-term vision looks pretty simple: diversify away from selling gaming gear, disks, and consoles. In 2010, for instance, non-physical video game sales accounted for only 10% of the company's revenue. By 2019, management wants to boost this figure to 50%.
And so far, those efforts have paid off. Last year, non-physical video game sales grew to 40% of GameStop's revenue. Collectible sales, in particular, jumped 24.4% during the first quarter to $142.4 million. (Source: "GameStop Reports First Quarter Fiscal 2018 Results," GameStop Corp., May 31, 2018.)
In the meantime, investors will get well paid while they wait.
Today, GameStop pays a quarterly dividend of $0.38 per share. That comes out to an annual yield of 10.3%.
At first glance, this payout doesn't look sustainable. Over the past 12 months, GME stock has lost $0.43 per share. For that reason, some prospective shareholders might assume the distribution will get slashed.
I consider that headline number a bit misleading, though. Much of the company's losses last year came from a $430.0-million write-down of its technology business. Once you back out these non-cash charges, GameStop reported a profit.
And despite declining sales, the business remains a cash machine. In 2018, analysts project Gamestop to earn $3.04 per share. That's more than enough to fund the company's dividend and turnaround efforts.
Of course, such a high payout comes with high risk.
GameStop's turnaround depends on replacing declining used-game sales with new revenue sources. If management can't build up enough new income streams, this distribution could be in jeopardy.
That said, the company's recent financial results give me some confidence. No, this payout doesn't look to be the safest around. But for investors that can stomach the risk, GME stock may be worth more investigation.